In the months since Nora was born, I've received a crazy number of emails asking what items I would suggest for soon-to-be-moms looking to stay clutter-free and stick to a tight budget. While I definitely don't have ALL the answers; after almost 5 months, I can at least share the items we regularly used for the newborn/infant stage.
All week long, I'll be sharing my "must-have" items for infants.
Monday = Nursery Items
Tuesday = Baby Gear
Wednesday = Food, Medicine, Toiletries
Thursday = Clothing
Friday = Items for the New Mom
Saturday = Recap, a few more tips, and a FREE Printable!
I'm sure there are tons of different opinions on what you do and don't need; so I just want to stress that these are the things that worked for us. They might not work for everyone!
My Must-Have Baby Gear Items for Infants
These days, there is practically an unlimited number of items new parents are told we NEED to have for our new babies — and while many of these products might make life a little easier, most of them really aren't necessities!
Here are some of the items we use regularly.
CAR SEAT & STROLLER
We actually got an amazing deal on 2 car seats, 2 car seat bases, and a double stroller from a friend. And yes, I would recommend purchasing a double stroller right away if you're planning to have multiple children. We also found a small umbrella stroller for $5 that we can use if we don't want to lug the double stroller around.
I know there are lots of opinions on purchasing a USED car seat, so I just thought I should mention that you can have used car seats properly inspected by your local fire department to make sure they are safe (which both of ours are). We saved a ridiculous amount of money and have a "back-up" car seat just in case!
PACIFIER
I know there is some debate about using a pacifier, but we used one from the very first day Nora was born and it has saved our sanity time and time again!
BURP CLOTHS
I didn't register for any burp cloths because Dave's mom made a bunch for us. We also ended up getting several more from other friends and family members. I would say you want at least 15 burp cloths (I ended up with 40!)
BLANKETS
I didn't register for any blankets either because I knew people would make them for us. We ended up getting close to 10 blankets — which was MORE than enough. I think you probably only need 3 or 4.
Nora didn't like to be swaddled, but if you want to swaddle your baby, then you might want a couple swaddle blankets as well.
BOPPY PILLOW
These are pretty pricey if you buy them new, but of course, I found one for $10 on Craigslist (with 2 covers). I love that they are completely washable… and can be used through the entire infant stage. When she was teeny-tiny, we used the Boppy for nursing and to prop her up while laying on the ground. As she got older, we used it to strengthen her neck for "tummy time" and now we're using it to help her sit up!
BABY CARRIER
There are probably 100 different types of baby carriers out there, but I didn't BUY any of them. After Nora was born, I borrowed a couple different types to see which one we liked best. So far, we really like the Moby wrap and I was fortunate enough to borrow one from a friend at church. We don't use it a ton, but it's still nice to have.
Eventually, we will probably invest in some type of "baby back-pack" that we can use to carry her around when a stroller wouldn't be convenient.
SWING and/or BOUNCY SEAT
Nora LOVES her swing and bouncy seat… but again, all babies are different. As a newborn, we used the swing all day long, and now that she's getting a bit older, we're using the bouncy seat all day long! I really wanted the Baby Bjorn bouncy seat because it's completely washable and it folds totally flat, but they are super expensive. Thankfully, I found one on Craigslist for a fraction of the price!
Also, I should mention that we borrowed these items from friends before we actually purchased them (via Craigslist). We wanted to make sure Nora would actually use them before spending any money.
CD's or MUSICAL TOY
Nora really loves flashing lights and music so we try to "stimulate" her by playing baby CD's and musical toys.
DIAPER BAG
I don't have a "real" diaper bag, but instead, just use this bag I got from my cousin as a gift.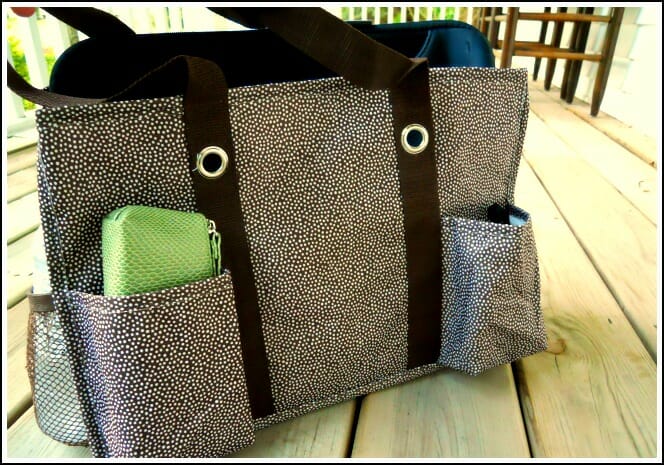 It seems that different babies prefer different types and amounts of "gear", so it's nice to have a few different items on hand… at least for the first few weeks and months.
What were/are your must-have baby gear items?