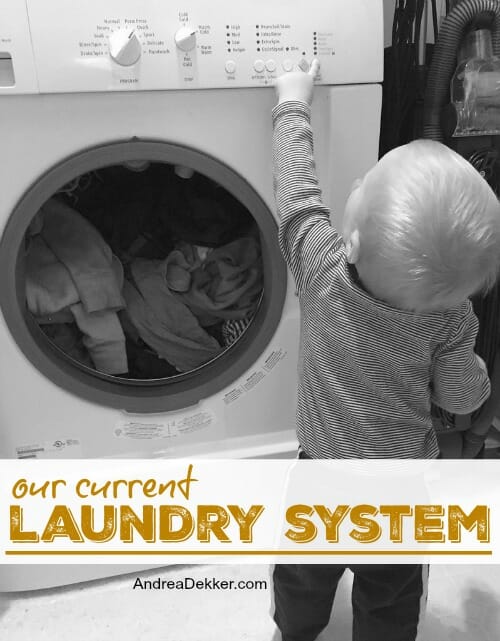 Over the years, I have shared quite a bit about my family's laundry… everything from why I don't sort our laundry and my favorite DIY laundry detergent, to my tip to eliminate lost socks and how we manage with only one set of sheets per bed and one bath towel per person.
Even still, I get so many requests for laundry-related posts (probably because we all dislike the never-ending piles of laundry)!
Normally, I'm NOT one to assign certain days for certain household chores. I have an "I'll clean it when it's dirty" mentality that allows me to keep my home fairly neat, clean, and organized without much extra effort (keep in mind I really enjoy cleaning and organizing).
That said, for the past year or so, I have felt like our laundry system could be simplified… but I wasn't exactly sure how. I didn't want to lock myself into a strict laundry routine or system… but I also didn't want to constantly feel like I should throw another load in or try to think back to the last time I washed our pillowcases or the kids bath towels.
While I would never claim to be any sort of laundry expert, I am excited to share our current laundry system because I feel like I'm finally 100% on top of our laundry every week, with very little extra effort on my part.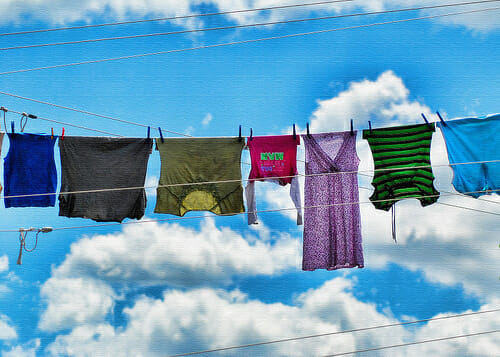 I certainly don't expect my simple laundry routine to work for our family indefinitely (or for all of you), but it has been working wonderfully since the start of the school year!
Our Laundry System:
A FEW NOTES:
This is for a family of 5 with 3 young children, no pets, and I stay at home all day.
We do NOT use cloth diapers, and we aren't at the point where we need uniforms or special outfits washed for certain days of the week.
I do all my laundry on the "quick wash" cycle which means I can wash a full load in 45 minutes. Our dryer is also very efficient and dries our clothing in 45 minutes or less… so 4 loads of laundry doesn't take all that long!
Tuesday mornings:
one load of whites
one load from upstairs
one load from downstairs
one bed's bedding
Friday nights:
one load of whites
one load from upstairs
one a load from downstairs
one (or more) load(s) of "extras"
I know you're all jealous that Dave and I do laundry on Friday evenings… but that's besides the point 🙂
Let me explain a little more about our laundry system and why it works so well for us at this point in our lives.
WHITES:
The load of "whites" consists of our kitchen linens (we have a lot of them!), bath towels and washcloths from the main floor, and anything else I want to bleach.
UPSTAIRS and DOWNSTAIRS:
I talk more about how I've been washing the upstairs laundry separately from the downstairs laundry in this post. I don't sort colors or fabrics at all, so I literally wash the entire contents of the upstairs hamper in one load, and the entire contents of the downstairs hamper in another load.
Our hampers (stuffed full) seem to hold just the right amount for one large load of laundry, so this works perfectly for us right now — and it makes it SO much easier to put the laundry away again.
SHEETS:
I know this might be disturbingly gross to many of you, but we usually only wash our sheets once a month. So since we have 4 beds right now, I wash one set of bedding every week.
I DO wash all the pillowcases every week, I wash Simon's beloved blanket every week, and I change James' crib sheet every week (we have a couple extra sheets for the crib). And obviously, if someone has an accident, gets sick, or the sheets get dirtier than normal, I will wash them when needed. But for the most part, washing one set of sheets each week seems less overwhelming for me (I HATE washing sheets!)
EXTRAS:
In the summertime, this extra load often includes bathing suits and beach towels; in the winter it's snowpants, coats, gloves, hats, etc.
Sometimes the extra load includes stuffed animals and/or other cloth toys that can be washed, sometimes it's rugs, sometimes pillows and comforters.
Why TUESDAY MORNING and FRIDAY NIGHT?
Tuesday morning is the only morning of the entire week that we (almost) never leave the house. Between Nora's preschool dropoff and pickup, different activities at church, and various community playgroups, we are often gone for parts of the other mornings — and when I do laundry, I like to just do it from start to finish and be done. So Tuesday is a great morning for laundry at our house. I can simply rotate it through as I'm making breakfast, playing with kids, reading books, etc. My goal is always to be completely finished putting everything away by nap time 🙂
As for Friday nights, Dave and I both usually need a little break from school work and blog work by then, so I get the laundry started right after dinner and once the kids are sleeping, we fold laundry while watching a Netflix show eating some sort of snack we'd never let our kids eat!
Also, Tuesday morning and Friday evening are 3.5 days apart — which nicely splits a 7-day week in half, so I have roughly the same amount of laundry to do each time.
I wash the sheets on Tuesday morning because no one is sleeping in them at that time (versus Friday night when all the kids are in bed).
And the best part of this whole system, I can't even remember the last time I did any laundry on Saturday!
I'm always evaluating my systems and tweaking my routines to fit my season of life, so while I'm thrilled to have found a laundry system that works for now, I do not expect this system to work for our family forever.
And of course, I don't stick to this exact system 100% every single week. There are times of the year when we have more laundry, times when we have less, times when Dave needs something washed ASAP, times when we're gone on Tuesday mornings or Friday nights and the laundry gets pushed back a day or more… but for the most part, this has been my laundry system for the past 5+ months.
I'd love to know what laundry system or routine works for YOU!
Also, here's a link to ALLLLL my laundry related posts.