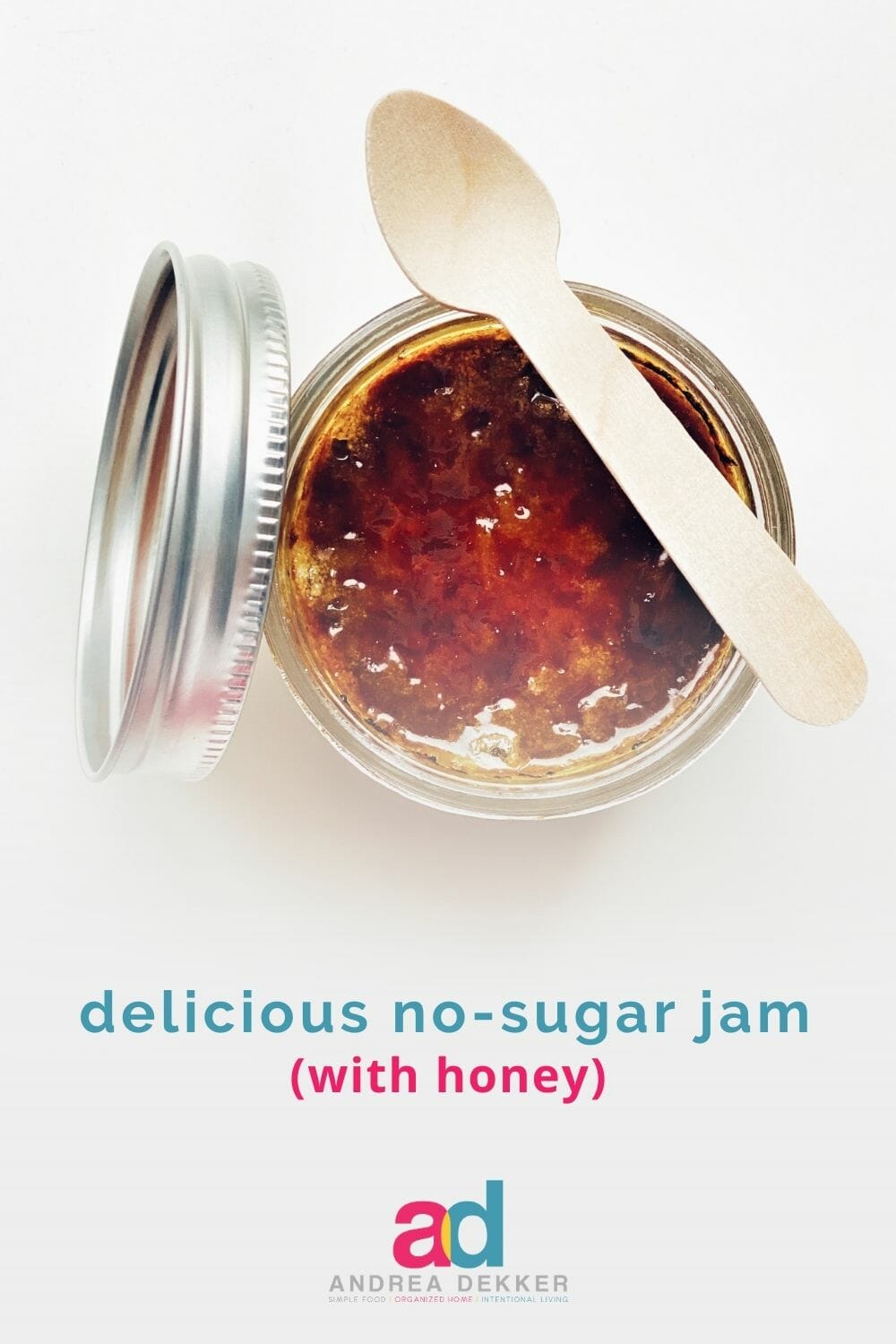 Get the great taste of homemade jam without all the refined white sugar. Just a little bit of honey does the trick — no one will know the difference!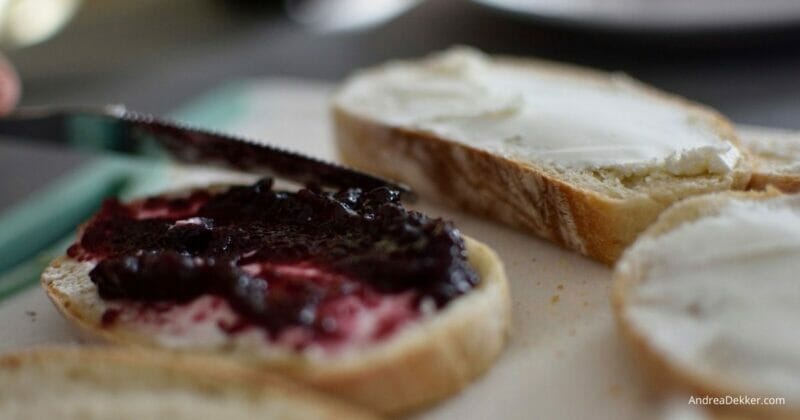 I remember the first time I realized you could buy jam from the store… I was in middle school!
It honestly never occurred to me that someone would buy jam when it was so easy to make at home.
I grew up watching, and eventually helping, my mom and grandmas make homemade jam — starting by picking locally-grown berries from nearby farms.
We'd then wash, smash, and measure the fruit according to our trusty recipes… and dump a whopping 7 cups of white sugar (per batch) into the boiling fruit.
So that's why it tasted so good!
As an adult, I continued canning all my own jam, never giving much thought to the amount of sugar in my recipes. After all, jam was more of a treat we added to homemade yogurt or ice cream — not something we devoured by the spoonful on a daily basis.
However, a couple of years ago, once our children discovered the deliciousness of PB&J sandwiches, I realized we were consuming an insane amount of jam… which meant my kids were eating an enormous amount of sugar with every single sandwich.
To be certain, I am NOT "against" sugar in any way.
I have always been (and hopefully will always be) firmly planted in the "all things in moderation camp" when it comes to food.
Yes, our family eats a ton of fresh produce.
Yes, I grind my own whole grains on a daily basis.
Yes, we drink huge quantities of water.
BUT, we also enjoy cake, cookies, ice cream, and even candy every day as well!
I'll reiterate: I am not against sugar — and honestly, if a little jam is the worst thing your kids eat, you likely have much more important things to worry about.
However, the massive about of sugar in my homemade jam recipe was starting to bother me — to the point that I actually looked into buying "low-sugar" jam from the store (this uses sugar substitutes that I'm not crazy about either).
It might sound strange, but I almost felt hypocritical slathering this sugary jam on my whole grain bread — I knew I just needed to find my own low-sugar recipe.
It took me a while, but I finally found a recipe that works for me.
Not only can this recipe be completely sugar-free, but it also works well with just a bit of honey (for those of us who like our jam a little sweeter).
After a few minor tweaks on my part, this recipe is beyond simple — in fact, I already have it memorized!
I made six batches of this no-sugar jam recipe in one afternoon, so we're stocked up for a while (unless we actually start eating it by the spoonful!)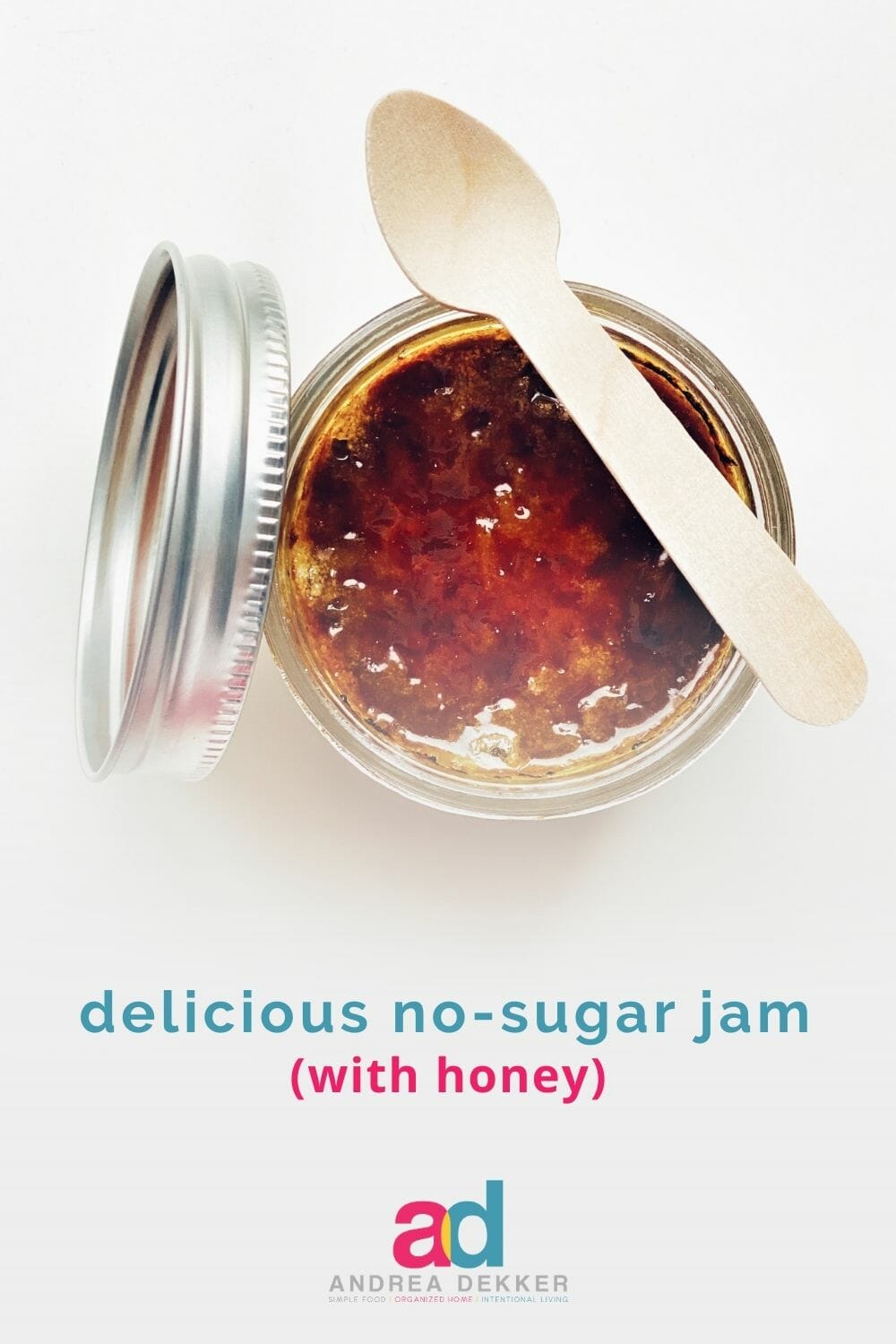 If you're looking for a simple, delicious homemade jam recipe that tastes like the real thing with ZERO refined white sugar (or weird sugar substitutes), today is your lucky day my friend!
Yield: 48 ounces
No-Sugar Jam with Honey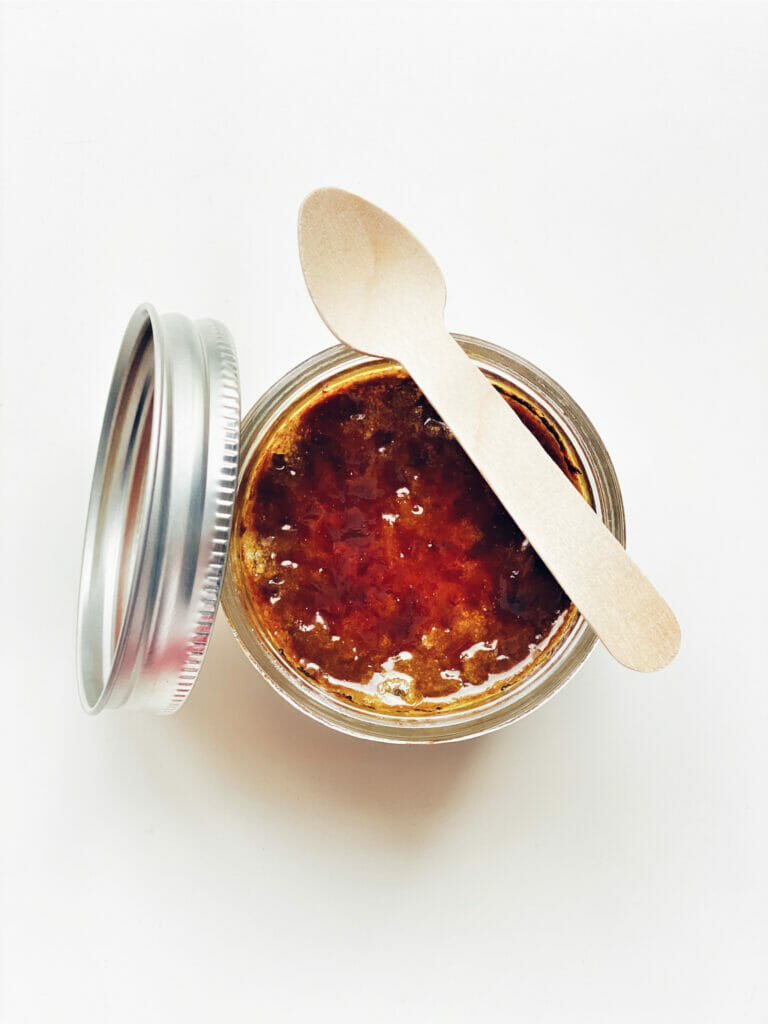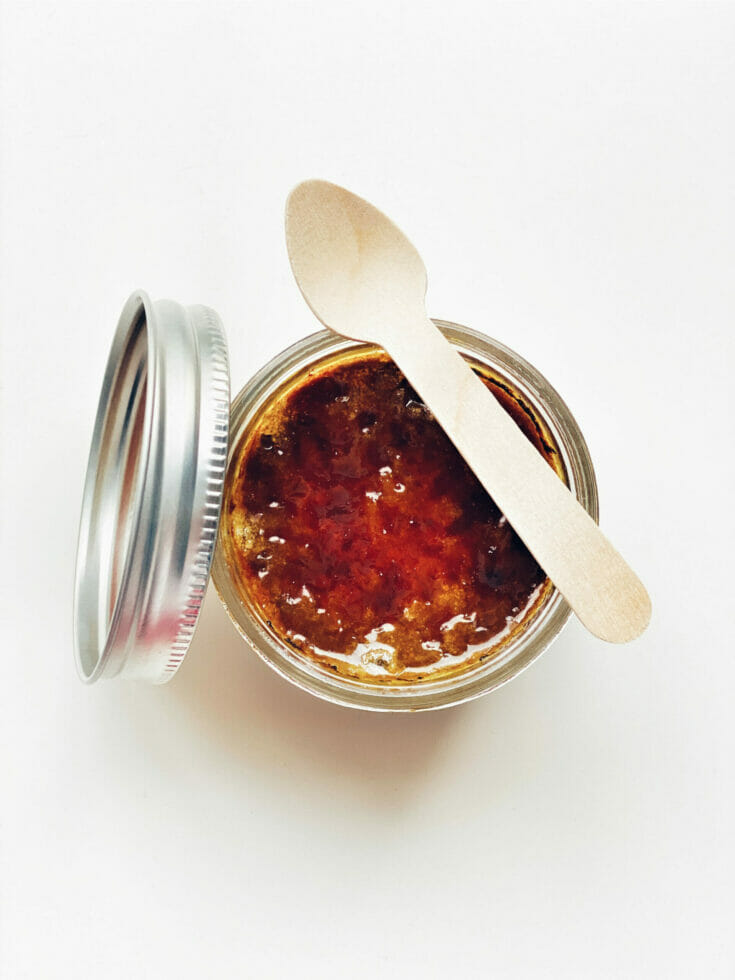 This simple, delicious recipe for no-sugar jam will knock your socks off... it's so quick and easy to make and no one will notice the lack of sugar!
Ingredients
5 c. prepared fruit (washed, smashed, etc)
5 T. low-sugar fruit pectin
1 c. water or sugar-free fruit juice
1 c. honey (or omit completely and use 1 extra cup of fruit)
Instructions
Wash and sterilize six 8 oz. jelly jars or four 12 oz. jelly jars. Fill with boiling water and set aside.

Put lids in a pan of water and bring to a gentle boil.

Wash, smash and prepare the fruit.

Add 5 level cups of fruit to a large saucepan.

Add 1 cup water or juice to the saucepan. (I always use water -- and you can omit if you want REALLY thick jam)

Stir 5 level Tbsp. of fruit pectin into the fruit and bring to a full boil, stirring regularly.

Once boiling, add honey and bring mixture to a full boil for 2 minutes, stirring constantly.

Spoon into washed and sterilized jars, cover with lid and ring, and flip jar upside down for 5 minutes (or process in a hot water bath for 10 minutes).

Flip jars over (lids facing up) and let cool at room temperature for 12-24 hours, making sure the lids seal.

Wipe down jars and store in the pantry or freeze any jars that didn't seal.
Notes
This recipe makes 48 oz. of jam (4 12-oz jars or 6 8-oz. jars).
You can omit the honey if you prefer no sweeteners at all, but then you'll want to use 6 cups of prepared fruit instead of 5 cups.
If you're using sour fruit (cherries, rhubarb, etc.) add a pinch of baking soda to "neutralize" that sour taste, and thus require less sugar. (Thanks to Sandra for this tip!)
Recommended Products
As an Amazon Associate and member of other affiliate programs, I earn from qualifying purchases.
Nutrition Information
Yield
48
Serving Size
1
Amount Per Serving
Calories

42
Total Fat

0g
Saturated Fat

0g
Trans Fat

0g
Unsaturated Fat

0g
Cholesterol

0mg
Sodium

3mg
Carbohydrates

11g
Fiber

1g
Sugar

9g
Protein

0g
Nutritional information is approximate and does not account for additional ingredients or added toppings.
Told you it was easy!
The measurements are so simple too (5 c. + 5 T. + 1 c. + 1 c.) I won't forget.
I've tested this exact recipe with strawberries, mixed berries, and strawberries + rhubarb (frozen and fresh) — all with rave reviews each time.
Even Dave said he couldn't taste the difference!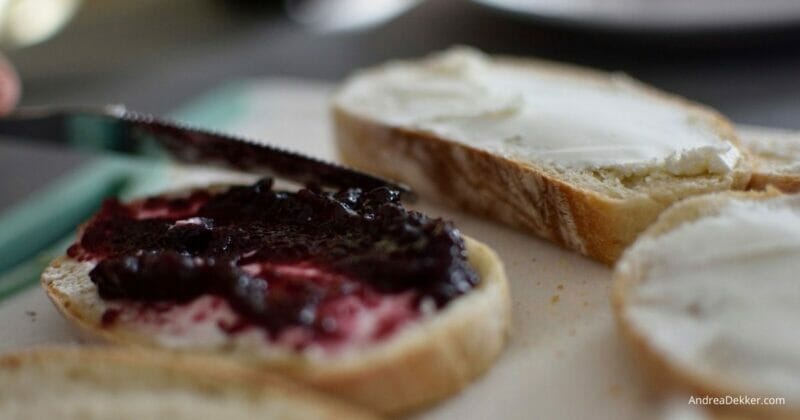 ---
More Jam-Making Resources
Click the images below to read more about canning jam (but keep in mind, those posts were written before I found my no-sugar recipe).
Just for fun, I looked up the calorie count for 1 cup of honey versus 7 cups of sugar…
1 cup of honey = 336 calories
7 cups of white sugar = 5425 calories
So yeah, using honey "saves" more than 5000 calories PER BATCH of jam (or roughly 100 calories per ounce of jam!)
My Original Jam Recipes:
I originally shared all my jam recipes way back in 2010… those recipes are still good inspiration for the types of jam you might try.
Simply tweak them to fit the ratios of 5 cups prepared fruit to 1 cup honey and water. And make sure you use LOW-SUGAR pectin in place of regular fruit pectin.
Making homemade jam is not as scary as you might think — and the fall is a great time to warm up your kitchen with this recipe!
If you try it, please let me know what you think!
Visit my virtual recipe box for more simple, delicious, family-friendly recipes!