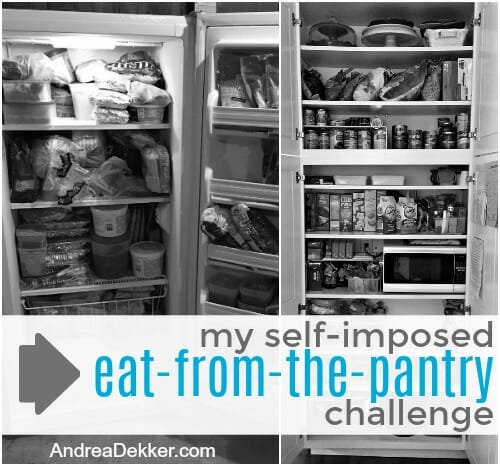 Back in October, I decided we had WAAAAAAAAY too much food in our pantry and freezer.
Part of the "problem" was that last February, I had challenged myself to cook more from scratch, so I was using very few (if any) boxed foods, canned goods, frozen foods, etc.
I have enjoyed cooking more from scratch this past year, but I also didn't want to let the packaged foods in our freezer and pantry go to waste…
My solution = a self-imposed Eat-From-The-Pantry (and freezer) Challenge!
I decided we would eat as many foods from the pantry and freezer as we possibly could before buying anything else from the grocery store — even if that meant eating a few really random and odd food combinations.
I honestly never expected this challenge to "drag on" for so long, but believe it or not, we were still (mostly) eating from the freezer and pantry at Christmas time!
.
Initially, I didn't buy any groceries for almost 2 weeks!
We already had several dozen eggs in the house, and after all our fresh produce was gone, we started eating canned and frozen fruits and veggies.
Since I knew we would eventually need to buy more perishable foods, I came up with a few basic ground rules to follow for my self-imposed challenge.
These are the initial "rules" I set for myself:
No buying any frozen, canned, or dried fruits, veggies, beans, etc.
No buying any meat except the deli turkey Dave likes for his lunches
No buying any snack foods, cereals, chips, crackers, nuts, etc.
No buying any beverages except milk
No buying any baking products or baked goods (even bread)
I did make a few exceptions (especially once we got closer to Christmas) but for the majority of October, November, and December, my grocery cart contained only fresh produce, milk, eggs, plain Greek yogurt, cottage cheese, and maybe one or two other items, depending on the week.
Three different times, the cashier asked if we were vegetarians because I was only buying produce and eggs! And even though fresh produce can be pricey, my weekly grocery costs were significantly lower than they had been!
While I'd love to be able to share a detailed list of every single recipe I made during this challenge, that would be impossible — and honestly, probably not all that helpful since you most-certainly have different foods in your home and different food preferences.
However, I hope that by sharing more about how I made this challenge work for our family, you'll be a little bit more inspired to try something similar for your family!
.
1. No Frozen, Canned, or Dried Fruits or Veggies:
I aced this one — only buying fresh produce for the past 3+ months while also using up every last can of fruit, and almost every bag of frozen veggies.
Of course, fresh produce costs more and needs to be used more quickly, but it has been fun to have a large variety of fresh produce for soups, salads, to roast or to eat raw. I've come up with SO many new "recipes" for different salads and meals!
It might be worth noting that I do have almost 50 quarts of home-canned applesauce and several varieties of home-canned jam in the house, so we never need to buy that.
Moving forward… I will continue to buy canned tomatoes and frozen berries (as needed for smoothies). I will also keep at least one bag of frozen peas and corn in the house as we use those regularly for different soups, salads, and casseroles. However, I don't need 10 bags of each!

I'll also continue buying significantly more fresh produce as we really do prefer fresh over canned or frozen.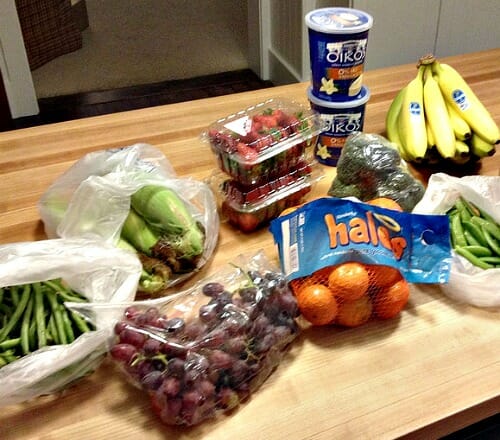 2. No Meat:
We had TONS of meat in our deep freezer as Dave's parents gifted us with a 1/4 of a cow for Christmas last year and we still have a lot left. I had also stocked up on chicken, pork chops, sausage, bacon, brats, etc. over the summer months, so we were totally over-loaded with meat options.
We were easily able to come up with a huge assortment of meals without buying any more meat from the grocery store — don't worry, we did NOT go hungry for meat, despite the fact I didn't buy anything extra for 3 full months!
I did "cheat" once and bought a ridiculously reduced-priced turkey the week after Thanksgiving — I just couldn't pass up the $0.35 per pound deal! 🙂
I also found a couple cans of tuna in the pantry — and to my surprise, our kids LOVED the 2 different tuna meals I made. I will most likely buy more tuna now that we know it's a hit at our house!
Moving forward… I will probably only buy bacon, sausage, and fish for some time now as we still have a good amount of beef, pork, and chicken in the freezer. I'll also do a better job of making roasts or other larger cuts of meat versus relying on ground beef or ground sausage for quick dinners.
3. No Snack Foods:
This one was the hardest for me — which is surprising because I eat the fewest snacks of anyone in our family. However, I had gotten so accustomed to simply buying more of the kids' favorite snacks (pretzels and goldfish) that the bags of graham crackers, wheat thins, and animal crackers had just been sitting around. The kids weren't even eating the yogurt pouches or granola bars because I wasn't making a point to offer them.
I decided I absolutely had to stop buying ALL snack items until we ate through almost everything we already had in the house (which was A LOT)!
Here are a few of the many ways we plowed through much of our snack surplus:
We donated 2 full grocery bags of requested snack items to a local organization that packs children's lunches. Nora came home with a specific list of snack foods they wanted, and we just so happened to have many items on the list. We "purged" a huge number of snack items we weren't eating and helped out a local cause in the process.
Nora and I put together little goodie bags for her birthday treat at school and for her birthday party at home in November. They were packed with candy, fruit snacks, granola bars, crackers, etc. and they seemed to be a big hit!
We sent a grocery bag full of candy to school with Dave — the teachers gobbled it all up!
We used many of the nuts, crackers, candy bars, cereals, popcorn, etc. to make various snack mixes that we then gifted to teachers and others as little Christmas gifts.
We sent a bag of requested snacks to school with Simon to re-stock their preschool snack cabinet.
We enjoyed different snacks than normal — frosting on graham crackers instead of homemade cookies, granola bars instead of brownies, Chex Mix or popcorn instead of pretzels and goldfish, etc.
I used my food processor to crush up a bunch of half-empty packages of chips, pretzels, graham crackers, ritz crackers, Oreo cookies, etc. that I then used to make various baked goods, casseroles, snacks, etc. I put the rest of the crumbs in freezer bags for later.
We still have a good amount of snack foods in the house, and I still bake regularly, we just don't have nearly as many options as before. Aside from buying one bag of pretzels, I still haven't purchased any new snacks! Yikes!
Moving forward… I will absolutely stop buying so many snacks! Seriously, I don't even walk down the snack aisles anymore.

My kids seem to prefer stick pretzels, goldfish crackers, and homemade baked goods as their "junk food snacks" of choice. So other than that, I probably won't buy many more snacks unless we need a specific item.

Also, I completely rearranged my pantry setup now that we don't have as much snacky foods in the house — this will probably be another post in the coming weeks!
4. No Beverages Except Milk:
This one was the easiest one for me as I don't drink anything but milk and water anyway — the kids don't really either.
They do like lemonade, but we had a few containers of Country Time lemonade mix that lasted quite a while for us. Other than that, I didn't buy any juice, lemonade, pop, or any other beverage.
Now that I'm typing this, I do think I bought one container of coffee for Dave at some point within that 3-month span, but that's it!
Moving forward… I doubt I'll go back to buying many (if any) other beverages unless it's for a special occasion — only coffee for Dave. Our kids are satisfied with water for every meal and so am I.

Not only will this lower our grocery bill (and our sugar consumption), it also frees up SO much space in our refrigerator — which I need for all the extra produce!
5. No Baking Products OR Baked Goods
Considering the fact that I baked something almost every single day throughout the holiday season, this part of my eat-from-the-pantry challenge was surprisingly easy for me… which just goes to show how ridiculously much food we had in our house!
My pantry and freezer were jammed full with flour, sugar, spices, seasonings, oils, honey, maple syrup, chocolate chips, and so many other baking items. The only item I can think of that was sort of a "cheat" was when I had to buy a container of molasses for these cookies I desperately wanted to make for a family Christmas party!
Other than the molasses, I had absolutely no trouble baking as many treats and goodies as I wanted with the ingredients I had in the house.
I did end up getting a little creative towards the end — substituting all sorts of various ingredients and coming up with some pretty delicious end products. At one point, I used a bag of Cinnamon Toast Crunch I've had forever (not even sure why I bought it as my kids don't eat cereal) to make a toffee-type candy/brittle that was absolutely addicting! It almost makes me want to buy more cereal just to try it again!
As for the bread, my goal for 2019 is to make most (if not all) of our bread, and thanks to this challenge, I jump-started my bread baking a few months before the New Year! After we ate through our freezer stash of bread, rolls, buns, etc. I started making my own. I'm still not very good at it, but I'm practicing often!
Moving forward… I hope to continue making all our own bread products — I'm currently still buying tortillas.

Obviously I won't stay away from the baking aisle forever (you know I'll always keep a few boxed cake mixes on hand for our favorite bundt cake); however, I plan to reign in my baking a little, and keep fewer stockpiles of baking supplies in our house (I suppose I don't need 15+ bags of chocolate chips at the same time!)
.
After almost 3 months of eating from our pantry and freezer, I spent a couple afternoons over Christmas break defrosting our mainly-empty deep freezer, completely changing up the layout of our pantry, and enjoying ALL the extra space we have as a result. (I'll be sharing more about this in a future post).
Also, our credit card bill for December was surprisingly low, and I have to think it's mainly due to the fact that I haven't been buying as many groceries. Definitely a nice surprise after the holiday gift-giving season!
.
I realize my way of doing this eat-from-the-pantry challenge might not work for your family, but you can make your own rules!
If you'd like to use up some of the food in your house, try new and interesting recipes, and save a bit on your grocery bill, I would highly encourage you to give this type of challenge a try.
Have you done an eat-from-the-pantry challenge before?
If so, what are your thoughts?