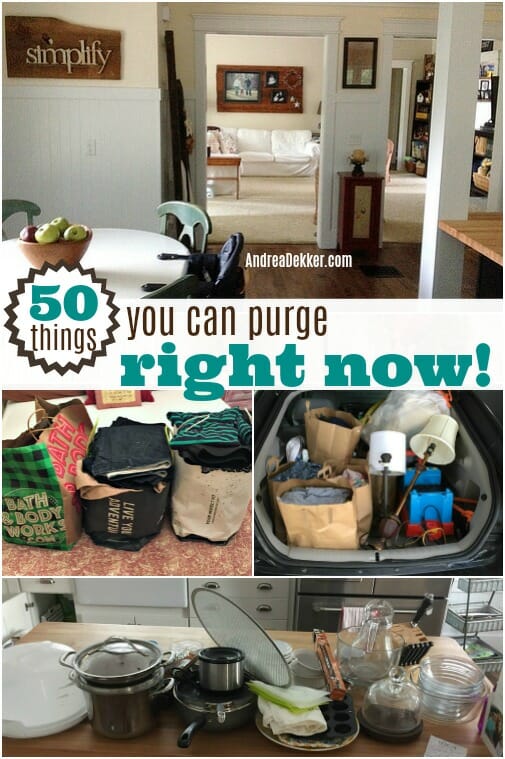 When it comes to clutter in our homes, the biggest stumbling block is often our own brains!
We make it out to be this HUUUUUUGE issue that's going to take weeks and months of work, so instead of just getting started, we continually put it off because it just never seems like the "right" time to get started.
We'll start after the New Year.
We'll start next week.
We'll start after our vacation.
We'll start once we have a bit more free time.
We'll start… [insert any future date or time]
However, if you're like most people, you'll never find just the right time to get started and your piles will continue to grow.
The growing piles will make the situation seem even more overwhelming, and the more overwhelmed you feel, the less likely you are to actually DO something about it.
Sound familiar?
My advice?
Stop waiting for the perfect time to get started and just get started today… better yet, RIGHT NOW!
Grab a trash bag and/or a donation box (most of the stuff listed below will go into the trash bag) and pick one room in your home to get started in. Set a timer if you'd like, but do NOT worry about finishing the space or getting it perfectly decluttered.
EVERYTHING you remove now will help your cause later…
ANYTHING is better than nothing!
KITCHEN:
1. Any expired food in the refrigerator, pantry, or freezer.
2. Any food you know your family will not eat (yes, it's wasteful, just make a mental note not to buy it again).
3. Chipped or broken glasses, mugs, or dishes.
4. Broken/leaky water bottles or sippy cups.
5. Mismatched dishes, glasses, mugs, or silverware.
6. Broken or finicky small appliances.
7. Any food storage container without a lid… or any lid without a container.
8. Any broken, cracked, or chipped pots, pans, bakeware or cookware.
9. Any pots, pans, bakeware, or cookware you don't use (even if it's part of a set — you don't need to keep the set together!)
10.Melted spatulas, broken wooden spoons, dull knives, or any other utensils you don't use.
11. Anything in your "junk drawer" you don't really need (hint: you should probably clear out the vast majority of this drawer!)
12. Grungy sponges and scrubbers
LIVING AREAS:
13. Any throw pillows and blankets you don't really need, use, want, or love.
14. Anything you don't want to dust around.
15. Ripped books — and any books you don't/won't read.
16. Scratched CD's/DVD's.
17. Newspapers, magazines, or other subscriptions older than 1 month (yeah, I know… enjoy all your extra space!)
18. Any games, puzzles, or toys that are broken, missing pieces, or that you no longer use.
19. Old remote controls that don't serve a purpose.
20. All outdated media (you can digitize it with this service).
21. Burned down candles, and any scented items in scents you don't love.
OFFICE (+ arts and crafts):
22. Dried up pens, markers, play-dough, and paints.
23. Crayon pieces, and pencils that have been sharpened too many times.
24. Any art and craft supplies you don't use.
25. Extra cords you no longer need.
26. Tax documents older than 7 years.
27. Manuals for items you no longer own.
28. Phone books.
29. Take-out menus.
30. Dead batteries.
31. Any and all electronics you no longer use.
BEDROOM / CLOSET:
32. Any clothing you haven't worn in over a year.
33. Any clothing that doesn't fit or is uncomfortable.
34. Any accessories you no longer wear.
35. Shoes, boots, coats, and outwear that doesn't fit or you no longer like.
36. Wire hangers (get plastic or velvet).
37. Freebie t-shirts or other screen-printed items you have simply because you got them at an event.
38. Mismatched, lone, or holey socks.
39. Old or uncomfortable pillows (they say you should replace your pillow every 7 years)
40. Extra bags, purses, luggage, etc.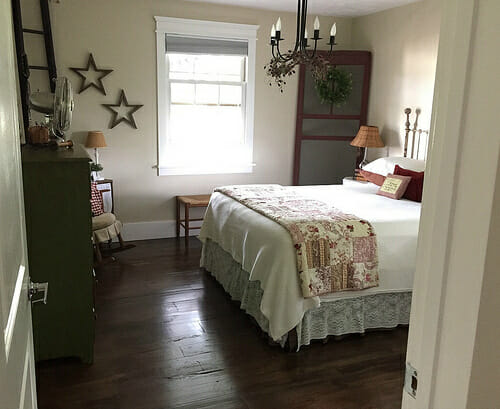 BATHROOM / LAUNDRY ROOM:
41. Expired medication, sunscreen, and toiletries (yes, toothpaste and deodorant can expire).
42. Old makeup and nail care items.
43. Worn out, stinky, stained, and/or ripped towels, washcloths, sheets, or other linens.
44. Toiletries and cosmetics you'll never use.
45. Travel size products you won't use (these expire too).
46. Cleaning supplies you won't use.
47. Your toothbrush and shower loofah (treat yourself to a new one now that you've decluttered!)
MISC:
48. Any packaging materials (boxes, bags, bubble wrap, cardboard, bags, receipts) from items you no longer have or will no longer return.
49. Any "gear" you or your children no longer need or use (sporting goods, musical instruments, uniforms, special shoes and accessories, bags, team apparel, etc.)
50. Any seasonal decorations you no longer use or love, or ones that are just "past their prime".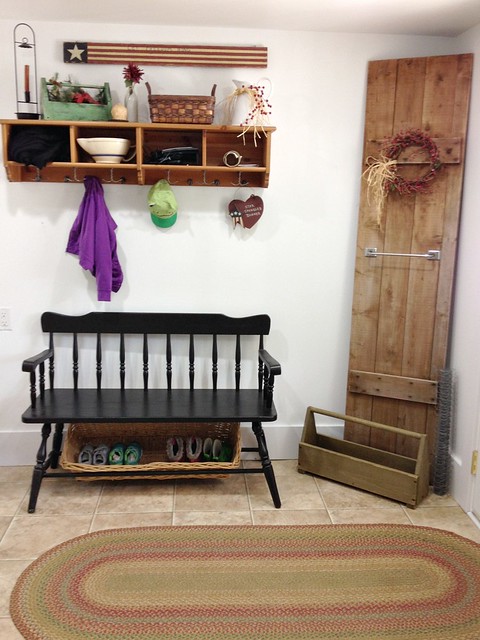 This list is certainly NOT exhaustive (I haven't even started on the garage!)… but I also hope it's not overwhelming. I feel it's very doable for a busy person, especially if you simply choose one item from this list to purge each day.
Just think… one item per day means you'll purge everything on this list in 50 days — that's less than 2 months!
The next time you feel overwhelmed with the idea of decluttering or purging your home, think back to this list and just do SOMETHING to improve the state of your room, your closet, your home, etc.
I know it might not feel like you're making a huge difference, but over time, it WILL make a huge difference!
What will you purge first?