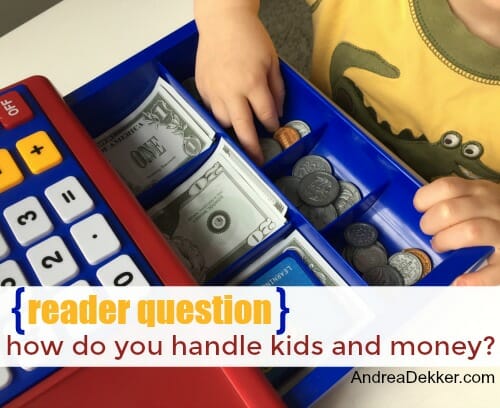 I'm often asked if we give our kids an allowance or if we pay them anything for doing specific jobs around the house… and RIGHT NOW, my answer is "no".
I say "RIGHT NOW" because my kids are really young (in my opinion).
At 6, 4, 2, and 5 months, I don't think they need an allowance or to be paid for doing jobs — because for the most part, they really don't even do many jobs yet! 🙂
However, Nora has just started asking about ways she can make more money (not sure what she plans to do with her money yet; she just knows she wants it!) And she's wiggling her 2 front teeth like crazy in hopes that the tooth fairy will visit her again soon!
Also, we just opened a bank account for Simon last week — we decided to start bank accounts at age 4 because they sort of understand a bit about money by then.
Since kids + money has been a hot topic in the Dekker house these past few weeks, I thought it would be the perfect time to share a recent Reader Question (more like multiple questions) I got from Kara, regarding how we handle kids and money!
Hi Andrea,

I know your children are still fairly young, but I'd love to get your opinion (or the opinions of your readers) regarding so many questions I have about kids and money.

1. What age is a good age to start a bank account?

2. Should we give them a weekly allowance?

3. How much should that allowance be?

4. Should we pay them for doing normal household chores or only extra things we list out ahead of time?

5. Should we require them to save a portion of their money or let them blow it and learn from their own "mistakes" now, when they can only waste a small amount of money?

6. Do you give money for lost teeth?

7. What about money for Birthdays, Christmases, or other holidays?

Sorry for so many questions, we're just trying to figure this out and you were the first person I thought to ask! I know you and/or your readers will have good, practical, "normal" tips for our family!
.
Because our kids are still quite young, I honestly don't have lots of personal experience to go off from when answering these questions, so my plan is to provide whatever answers and ideas I have below, but I would LOVE it if those of you with older children would chime in with your ideas in the comments!
Q #1: When to start a bank account?
I don't think there is a "right" age — but as I mentioned above, we decided to open bank accounts for our children at age 4.
We start with $44 in the account and I set up an automatic deposit of $5 into the accounts each month. They get a few checks from grand parents and great grandparents throughout the year, so we also deposit those into the accounts.
Q #2, 3, 4: Allowance? How much? and What for?
We don't do allowances yet (unless you count my $5 monthly auto deposit) but in general, I'm not "for" or "against" allowances for kids.
This is a question I'm hoping others will weigh in on.
Q #5: Make them save or let them blow their money?
I think it's super important to teach kids the benefits of saving SOME of their money — not necessarily all of it though. We should be able to enjoy the fruits of our labor and not hoard it all away for the sake of saying we have so much money in the bank.
That said, if you have children who just want to spend, spend, spend, I do think there's merit in letting them blow their spending money a few times to see if it teaches them a lesson.
Q #6: Money for lost teeth?
Yes, we do — but I definitely don't think this is necessary either.
Right now, we've been giving Nora $1 for each lost tooth, but I think we'll start mixing it up a little — maybe more for molars or less for teeth that take a really long time to come out!
I honestly thought she knew it was us who put the money under her pillow, but more and more, I'm thinking she actually believes in a tooth fairy — which is sort of sweet 🙂
SIDE NOE: Simon often refers to Angels as "Jesus' good fairies".
Q #7: Money for Birthdays or Christmas?
When they turn 4, we give them 4 one-dollar bills. Then, every birthday after that, we give them the number of bills that corresponds with their age (Nora got 6 this past birthday).
For Christmas, we've been putting a $1 bill somewhere in one of the gifts they unwrap — which they think is SO fun. I'm not sure we'll continue to do this every year, but so far it's been fun.
Other than that, we don't give them any other money throughout the year.
.
Like I mentioned above, I most definitely do NOT have all the answers for Kara — so for those of you with more experience with this area of parenting, please enlighten us all in the comments.
Feel free to share things that worked really well for your family, as well as things that didn't work so well.
Thanks so much!