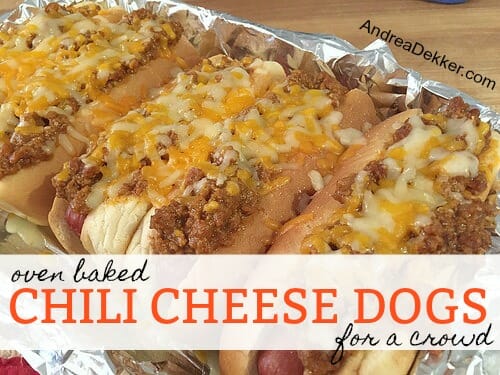 It's not quite grilling season yet, but we've had a few nicer days where the temperatures ALMOST reached 50º, and we've taken advantage of the warmer weather by grilling brats, burgers, pork chops, chicken… and chili dogs!!
Chili dogs are one of those things I can't eat very often, but every once in a while, they really hit the spot.
That 'every once in a while' happened to be for Simon's birthday party a couple weekend ago. It was a Paw Patrol theme — so hot dogs fit well for our dinner menu. However, in an effort to make them slightly more appealing for the adults, we made chili cheese dogs… boy were they tasty!
Since I didn't want to be in the kitchen during Simon's party, I had everything 100% ready to go ahead of time, including making up all the chili dogs about 30 minutes before our family arrived.
They warmed in the oven while we opened gifts, and when it was time to eat, I simply pulled the pans of chili cheese dogs out of the oven, took the lid off the slow cooker full of cheesy potatoes, and pulled the plastic wrap off the various bowls of fruits, salads, etc.
Everything tasted great (in my opinion) and it was a SUPER easy way to instantly feed a crowd of hungry people.
Recipe for Chili Cheese Dogs
makes enough chili for about 25 hot dogs
INGREDIENTS for the Chili
1 lb. ground beef
water
2 small onions; finely diced
1 T. minced garlic (about 2 cloves)
olive oil
1/2 t. salt
1/2 t. pepper
1 T. chili powder
2 c. ketchup or tomato sauce
2 T. yellow mustard
1 T. Worcestershire sauce
INGREDIENTS for Chili Cheese Dogs
Hot dogs (we get the all-beef ones from Costco)
Buns
Shredded Cheese
Chopped onions and other hot dog condiments
DIRECTIONS for the Chili
Place ground beef in a bowl with enough water to cover it (I know this is weird, but it helps break down the beef)
Break up the beef with a large spoon or spatula until it is in really small bits (it looks gross!) Set aside.
In a medium-size stock pot, sauté onions and garlic in olive oil until very soft.
Add ground beef AND water to the onion mixture and cook until meat is no longer pink.
Drain water and grease and return meat to pan.
Add salt, pepper, chili powder, ketchup, mustard, and Worcestershire sauce to beef and stir until combined.
Use immediately to top hot dogs, put in a slow cooker for later in the day, or refrigerate until ready to use.
DIRECTIONS for the Chili Cheese Dogs
Preheat oven to 300ºF.
Grill or boil hot dogs. Warm up chili if it's not already warm.
Place hot dogs in buns and arrange in a baking dish (I line my baking dish with foil for easy clean-up)
Spoon warm chili over each hot dog and sprinkle with your favorite cheese.
Bake in preheated oven for 5-10 minutes, or until cheese is melted.
**Note: for Simon's party, I left the chili dogs in the oven for about 45 minutes, but turned the temp. way down to 175ºF so they could simply warm while he opened gifts.
As I mentioned above, the "secret" for really good chili is to break down the ground beef into really small chunks — this creates really thick chili that will stay on your hot dog (no drippy mess at all!) Somehow, adding water to the ground beef helps to break it up, and then you can simply drain the water with the grease after the beef is cooked.
Also, I don't use beans or any other extras in this recipe — it's almost more like a chili-seasoned sloppy joe mix than it is like traditional chili you'd eat in a bowl.
However, it really is quite tasty every now and then — and definitely a fun thing for the kids to eat!
If you're still waiting for grilling season to arrive, these oven-baked chili cheese dogs might just tide you over until the weather officially warms up!
What are your favorite hot dog toppings?
Visit my virtual recipe box for more simple, delicious, family friendly recipes!