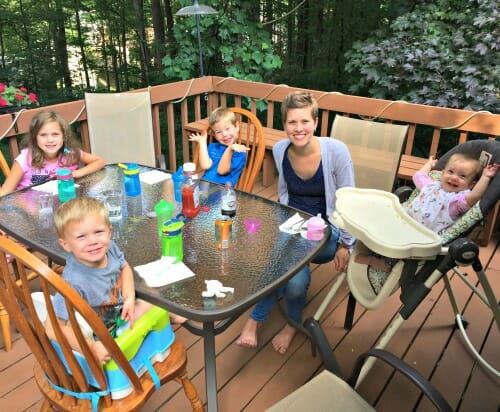 It's July… so I'm claiming it's still "mid summer" even though I know the reality of school is only a couple weeks away (our schools start extra early this year).
We've had such a nice summer break — not overly exciting and not even all that relaxing, but very enjoyable, fun, low-key, and pleasant so far.
We still have a handful of things we'd like to do — visit a local nature center, use some freebie restaurant coupons, check out a few more parks, go bowling, and lots more swimming — but we've made a sizable dent in our Summer Fun List already!
The last 2 weeks were our busiest 2 weeks of the summer — at least in terms of activities and events outside our home.
We had church picnics, play dates with friends, birthday parties, soccer camp for Nora, library events for the boys, a morning of Nature Camp for the older kids, and a day trip to visit my sister and her husband (they live about 2 hours away) to help them do a few last-minute things to get ready for their soon-to-be first baby… due any day now!
We also spent a weekend with Dave's immediate family for "Dekkerfest" (as we coined it this summer). The kids stayed up WAAAAAAAAY too late, the adults got very little sleep, and we ate SO MUCH FOOD; but it was definitley fun to be together for a couple of days.
The days (and nights) were busier than I would normally prefer, but it was nice that we could pack all these "extra" things into 2 weeks. Now we're back in our normal routine with a much slower pace to our days!
Here's a little update on our family!
NORA:
Nora lost 2 more teeth in the past 2 weeks — with another SUPER wiggly one ready to come out soon! We use a tooth pillow (sent to me from a reader) so she can hang her tooth on the door, making it very convenient for the "tooth fairy" to leave money and reply to Nora's notes! 🙂
"Dear Tooth Fairy, What do you do with the teeth?"
She finished up soccer camp, which she thought was an extremely fun social outing — not sure if she actually learned anything about how to play soccer though!
She continues to swim as much as she possibly can; and, as a result, developed a pretty nasty case of "swimmers ear". I felt bad as I ignored her complaints of ear pain for many days (she has the lowest pain tolerance of any person I've ever met… something always 'hurts' with Nora). Now we're faithfully putting drops in her ear 4 times a day to clear it up!
Nora is SO excited for 1st grade! We have her school supply list ready to go shopping in a couple more weeks, and we are anxiously waiting to learn who her teacher will be and what friends will be in her class!
We had a long summer reading list that we've almost completely finished up. Some of our favorites are/were:
Nora loves playing games, doing any type of craft or project, playing LEGOS, riding her bike, playing with friends, and dressing her brothers up in princess dresses!
.
SIMON:
Simon gave us a little scare on our Dekkerfest weekend with Dave's family. He sliced open his forehead when he fell head-first into the edge of a table while the kids were playing with glow sticks in Dave's parents' basement.
Seriously, I've never seen so much blood on a child's face!
Dave and his dad brought Simon to the ER for stitches at 10:30pm — the poor boy was so tired but Dave said he did AMAZINGLY well.
He enjoyed showing his stitches off to family, friends, neighbors, etc. and he continues to tell people he "got to go to the Emergency Room on vacation". He did mention that he wished he could have gone in an ambulance though! 🙂
We found Simon a super sweet LEGO backpack from a local thrift store, and we already have new school shoes. We just need to buy him a school water bottle and he'll be ready for preschool this fall!
Simon and James have both been enjoying our new digger bike (thanks to my sister's amazing Facebook Marketplace find) and Simon is super close to being able to ride a bike without training wheels!
JAMES:
The long days of summer have tired James out! He has taken several afternoon naps (something he hasn't done in a long time) and has fallen asleep in the car a few times already!
So sweet!
As you probably already know, James celebrated his 3rd birthday a couple weeks ago — complete with 2 separate mini-parties.
He has grown almost 4 inches since last year, but he's still pretty short for his age!
James LOOOOOOOOOVES being outside, and regularly ducks out the back door after breakfast, lunch, and dinner to play all on his own. If we can't find him in the house, we just call out the door and he comes running!
CLARA
Clara continues to gain teeth (as Nora looses them)… and she continues to be mostly happy most of the time.
I took the picture picture below of her on her changing table (Dave was ready and waiting in case she tried to move) with the super fun collage wall I created last summer.
Every item (besides the wooden letter "C") was a handicraft made by one of Dave's or my grandmas, great-grandmas, great-great-grandmas, or great-aunts.
We LOVE this wall!
We had to lower Clara's crib mattress as she is finally standing up in her crib. She can also pull herself up on most chairs, tables, couches, etc… AND she has made it to the 2nd step of our stairs before I caught her!
Time to block the stairs off for the next few months!
Clara thoroughly enjoyed her first taste of Culver's food and is fairly adventurous in terms of what she eats (at least compared to my other kids at 10 months old.
And yes… she still LOOOOOOVES her thumb!
.
DAVE + ANDREA:
We've finally started to make progress on the laundry room / bathroom switch-a-roo after being delayed by the dry waller, the plumber, the cabinet makers, etc. etc.
And now, we just learned we can't get the counters we originally picked out, so I need to come up with a new plan for those… at least we're making progress!
The walls are painted, the fake vanity is installed, I have the upper cabinets painted, distressed, and ready to hang, and the tile is ready and waiting for the floors. We'll get there eventually — I can't wait to see the finished room (and share it on the blog!)
.
I've been picking the garden daily and canning refrigerator pickles twice a week to keep up with ALLLLLLLLL our cucumbers (recipe coming tomorrow!)
When I'm not picking veggies from our garden, I'm buying more from the grocery store — which is now RIGHT DOWN THE ROAD!
I'm ecstatic that the brand new Meijer store finally opened up — it takes me roughly 3 minutes to get there! The interior is SO well organized and I've been very impressed with the speed of the checkout lanes (at least for now!)
We helped the kids purge ALL our toys last week (with the promise of picking out one new item each when we went to the donation center to drop off our bags of used toys.)
They did surprisingly well and were willing to part with more than I anticipated!
I also went through all my little baby stuff and purged the vast majority (wow that felt good!) No more Bobby Pillow, no more infant sling, more more baby bath tub, no more bassinet, no more Bumbo Seat, no more Moby wrap (I still kept my Boba as I use that until they are almost 2).
We still have high chairs, exersaucers, jump-a-roos, and a menagerie of baby items — but purging a handful of bigger items sure felt good.
What We're Watching:
Dave has been enjoying Parks and Rec on Netflix.
I'm trying to make time to watch Anne with an "E" but no luck so far — there are too many other things I want to do!
Our Weekly Menu:
SUNDAY:
We were visiting my sister this day and basically munched all day!
Burgers on the grill
French Fries
Raw veggies + hummus
Fresh Fruit
Bacon Wrapped Jalapeño Poppers (my sister's recipe)
Zucchini cake with cream cheese frosting (also my sister's recipe)
MONDAY:
Pizza by the pool
Italian Chopped Salad
Raw Veggies + hummus
Fresh Fruit
TUESDAY:
Mexican Chicken, Bean and Zucchini Skillet (a new recipe we loved!)
Quinoa
Chips and Salsa
Chocolate brownies
WEDNESDAY:
Brats, hotdogs, and chicken sausages
Fresh Fruit
Green Beans
Oreo Blondies (recipe coming next week!)
THURSDAY:
Grilled Salmon
Baked Sweet Potatoes
Fresh Fruit
FRIDAY:
Beef Roast
Mashed potatoes and gravy
Green Beans
Broccoli and Cauliflower
Fresh Fruit
SATURDAY:
We're down to only about 16 days until Dave's school meetings start up again, and then another week until school starts.
The summer is winding down, but we still have a few more weeks of "fun in the sun" to enjoy together!