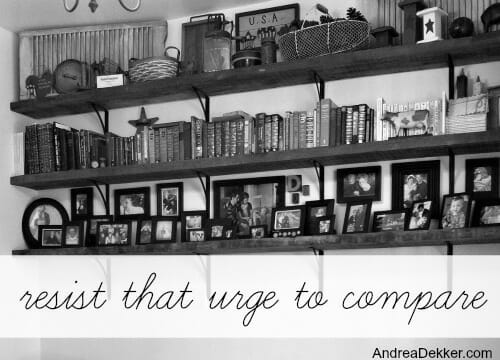 We've all done it — myself included — many, many, many, MANY times.
I've watched a lady with 5 well-behaved little children seemingly effortlessly make her way through the grocery store with no shouting or yelling… while I struggle with our ONE toddler who is screaming that she wants another cookie.
So, what am I doing wrong?
I've witnessed women at church who seem to volunteer for EVERYTHING, plan every event, chair every committee, participate in every fundraiser… while I continue to say 'no' to additional requests for my time as I just don't have the hours or the energy for more commitments right now.
So, what am I doing wrong?
I've seen fellow blogging friends roll out huge new blog designs, publish best-selling books, create designer printables, and write posts that go viral across the web… while I sometimes seem to be "standing still" (by my own accord) and simply doing the same things each week and each month.
So, what am I doing wrong?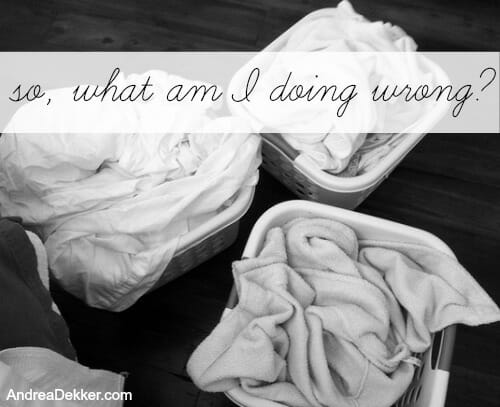 But ironically, when the tables turn, I'm often the one getting emails from discouraged readers wondering what they are doing wrong since they clearly can't manage to do everything I supposedly do on a daily basis — with a toddler who rarely sleeps and a baby on the way.
How do you manage to keep your house relatively clean while working full time?
How do you manage to keep your freezer and pantry stocked with soups, casseroles, baked goods, and discount produce?
How do you make the time for canning 60 quarts of applesauce or multiple batches of jam in one day?
How do you make the time for home and yard renovations while still doing all your other daily and weekly chores?
How do you stay on top of all your paper clutter, clothes clutter, kitchen clutter, and toy clutter?
How do you keep all your photos so organized and stay on top of your digital photo albums every year?
How are you able to live such frugal lives, save so much of your income, and afford to do all those home renovations?
I get these questions (and other similar questions) on a weekly basis. Clearly, there is something wrong with anyone who can't keep up with my supposed productivity… or at least that's what some of you seem to think 🙂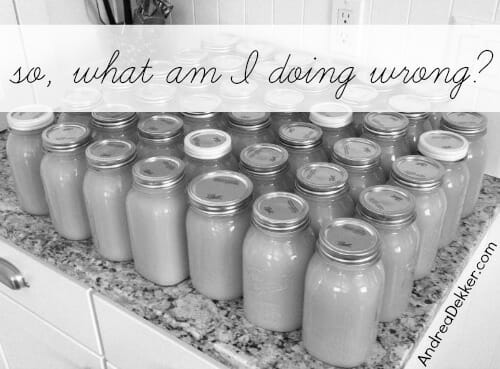 It always makes me smile when I get these emails asking "how do you do it all" — not because I'm proud or because I want others to feel inferior, but because I too have these same sort of thoughts (as I mentioned above) when I see other women who are apparently doing SO much more than I am.
Plus, I know first-hand that I DON'T do it all!
In fact, there are lots and lots of things I don't do (and I'm continually doing less "extra stuff" as the months go by).
It's just that the things I DO do are also things I showcase on my blog — because that's my job.
It's my job to keep our house relatively clean, and then share the tips and tricks I use to keep it that way (plus, I really enjoy cleaning)
It's my job to keep our pantry and freezer stocked, and then share my simple freezer-friendly recipes (plus, I really enjoy cooking and baking when I have the time)
It's my job to can and preserve produce, and then share my recipes and time-saving tips (plus, I really enjoy the process and we LOVE the taste)
It's my job to do fun home renovations, and then share the before and after transformations (plus, we purchased our house knowing we would do lots of renovations)
It's my job to corral all our clutter, and then share how I do it (plus, I REALLY love a good organizing project)
It's my job to take photos, edit photos, make photo books, and then share the process I go through and the resources I use (plus, digital photo albums are the one crafty thing I love doing)
It's my job to live frugally, save more, spend less, and then share my simple money-saving tips (plus, I've always been frugal and really enjoy finding a great deal)
I think you get the idea…
I have the HUGE luxury of doing what I love every day (cooking, cleaning, organizing, renovating, decluttering, saving money, etc.) and getting paid to do it by sharing it here on my blog.
So obviously, it's exponentially easier for me to keep up with all those household chores, organizing projects, photo albums, freezer cooking sessions, etc. because they are things I already enjoy doing, they are things I want to do, and they are things I am eventually paid to do by sharing the process on my blog.
There is no way I could ever do all the things listed above if I had a different job that required me to work outside the home.
NO WAY!
How's that for letting my little secret out of the bag?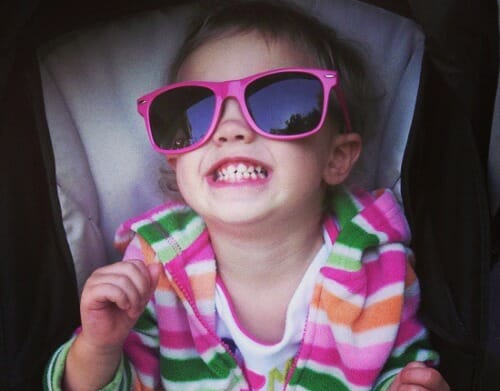 So when you read my blog posts (and I do hope you keep reading!) about all the domestic accomplishments I tackle every day; keep in mind that although I DO enjoy what I do, it's also my job. You can't compare your situation and accomplishments to mine because we don't have the same proprieties, talents, interests, time constraints, or other obligations.
Similarly, when I see the mom of 5 in the grocery store with 'perfect' children, the women at church who volunteer so many hours, and the fellow bloggers who are doing such big things — I must remember that we don't have the same proprieties, talents, interests, time constraints, or other obligations.
I'm not saying any of us are more or less busy, I'm just saying we're all busy in different ways — and that's healthy.
.
Resist that urge to compare yourself to me, to other bloggers, to your mother, to your sister, to your friend, to your neighbor, to the women at church, to the mothers at the grocery store, and to any other person who is doing something you feel you're not doing — but maybe should be doing.
Just don't do it!
It's not easy, but it will save you so much stress, anxiety, worry, and feelings of inadequacy — so I'd say it's worth trying.
Plus, wouldn't this be a great way to start a New Year!