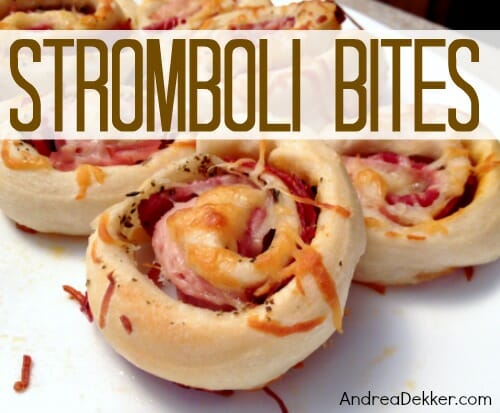 One of the most popular recipes here on my blog — and one of Dave and my personal favorites — is my recipe for Stromboli.
It's such a simple meal to make, with simple (customizable) ingredients… and it's SO delicious. I mean, what's not to love about crusty bread dough wrapped around all your favorite pizza toppings and smothered in savory herbs and spices?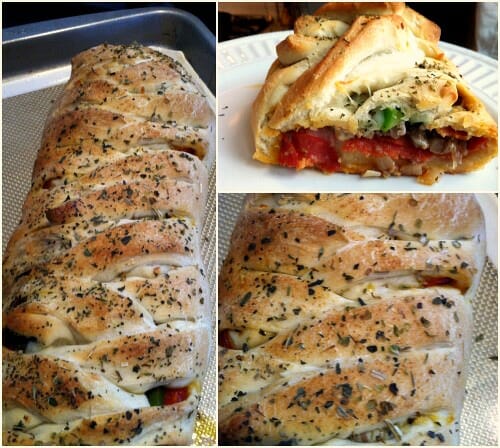 Well, a few weeks ago my sister introduced me to the idea of "Stromboli Bites" — or basically a bite-size way to enjoy this delicious meal (or appetizer, or snack).
They were supper yummy and super easy, so I thought it would be a perfect compliment to my already popular Stromboli recipe.
Recipe for Stromboli Bites:
Makes approximately 16-22 bites (finished bites are about 2.5″ in diameter)
Ingredients:
1 loaf frozen bread dough (or your favorite homemade bread dough / pizza crust)
enough of your favorite pizza meats to fill the center of your dough I use deli ham, ground sausage, pepperoni, salami, etc.
2-4 t. of your favorite pizza seasonings to sprinkle on the crust (oregano, basil, garlic, Parmesan cheese, etc.)
1 c. mozzarella cheese
Your favorite pasta/pizza sauce for dipping
Directions:
Preheat oven to 350*F
Roll out bread dough on your counter, a cutting board, or a non-stick mat.
Sprinkle your favorite herbs, seasonings, and parmesan cheese over the dough
Spread various pizza meats (I used salami, ham, and pepperoni) on the entire surface of the dough
Roll the dough into a log — starting from one of the long ends
Cut log into 16-22 rolls — approximately 1″ – 1.5″ thick
Place rolls (a.k.a. bites) on a greased cookie sheet or in a greased pan
Sprinkle mozzarella cheese on top of each roll
Bake at 350 for 20 minutes or until golden brown
These little bites could easily make a full meal if paired with a salad and some fresh veggies — but they would also be the perfect game-day snack, party-pleasing appetizer, or after-school treat.
And as always, feel free to customize any of the spices, seasonings, and other toppings to fit your taste buds. You really can't mess these up!
How would you serve your Stromboli Bites?
Visit my virtual recipe box for more simple, delicious, family friendly, recipes!