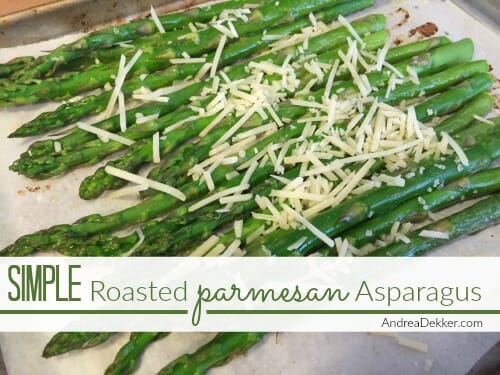 I always know when March has arrived, because I almost immediately find deals on asparagus at our local grocery stores… and since it can be pretty pricey, we usually don't eat much of it in the fall or winter months.
Dave doesn't love asparagus as much as I do — and to be perfectly honest I never liked it until after I got married and started roasting it instead of steaming it like my parents do.
Now, roasted asparagus is one of my favorite veggies — especially with the addition of a little Parmesan cheese! In my opinion, asparagus pairs nicely with almost any type of protein — beef, chicken, cheese, eggs, fish, etc. plus, it's just SO easy to make!
If you're looking for a delicious way to add a little Spring flavor to your dinner table, I would highly recommend trying this recipe.
Recipe for Roasted Parmesan Asparagus
INGREDIENTS:
Fresh Asparagus
Olive Oil (or melted butter)
Salt
Parmesan Cheese
DIRECTIONS:
Preheat oven to 375ºF
Trim and wash asparagus
Place on a baking sheet (I line mine with parchment paper)
Coat asparagus with oil and salt
Bake in preheated oven for 6-10 minutes (depending on how thick your asparagus is and how tender you want it)
Sprinkle with Parmesan cheese and return to oven for 1 minute (just to melt it)
Serve immediately
NOTE: I rinse my asparagus, with the heads down, under running water after trimming it. Then I let them soak (heads down again) in a bowl of water to make sure any sand is out of the heads.
Obviously, there are no real "measurements" for this recipe — so don't worry about messing anything up. And also, the cheese is not necessary… as long as the veggies are coated in oil and have a bit of salt, and as long as they don't get totally charred, I'm positive they will taste yummy!
Dave and I both prefer our asparagus to be quite crunchy, so I usually only leave it in the oven for 6 minutes — and I always add the cheese because we all love cheese in our house!
I think we've already eaten this simple side dish 4 times in the first 2 weeks of March — and I'm looking forward to eating it many more times before the growing season is over!
Are you a fan of asparagus or not?
Visit my virtual recipe box for more simple, delicious, family friendly recipes!