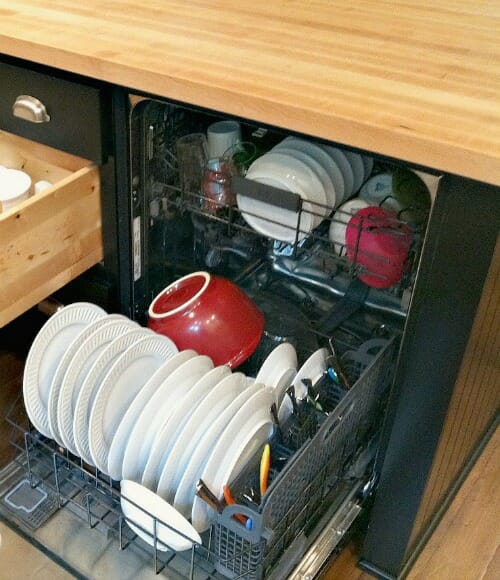 I've had a dishwasher for as long as I can remember — and you better believe that I use it for everything I possibly can!
I'm not really one to worry about ruining something in the dishwasher, so I fill it as full as I can…and turn it on. There are only a few things we still wash by hand — like large pots and pans, baby bottles (for some reason, I've always felt the need to wash these by hand), and some of my good knives.
I also use my dishwasher for a variety of other cleaning needs, and am always surprised when I find something else I can stick in the dishwasher!
If you're looking for a few more ways to better-utilize your dishwasher, here's a fun "A to Z list"!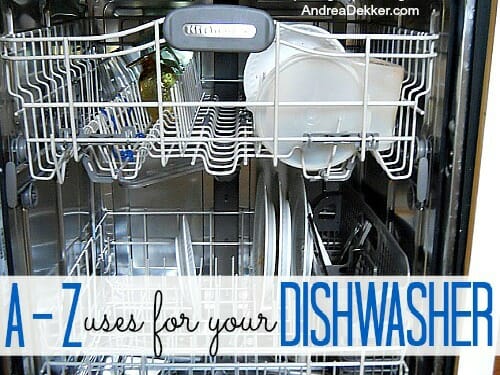 A-Z Uses for Your Dishwasher
Action figures and small toys: Although Nora loves helping me wash toys in the sink, when I'm in a hurry, I toss a bunch of smaller toys in mesh garment bags (one of my favorite things) and put them on the top rack.
Brushes: as long as they are made of plastic, hair brushes, makeup brushes, combs, etc. should be perfect candidates for a spin in the dishwasher. Just be be sure to remove all the hair first so you don't clog your drain.
Crystal stemware: I've always been told not to put crystal stemware in the dishwasher… but I ALWAYS do! We don't have many fancy glasses, but we do have a few and they have never been hurt by running them through a dishwasher. In fact, I feel like I would have a better chance of breaking them if I washed them by hand and chiped them on my sink or dropped them with my slippery wet hands.
Dog toys/bowl: keep your pet's food dish and toys germ-free by tossing them on the top rack.
Electrical outlet covers: all our covers are white, so if they get really grimy and sticky I just put them in the dishwasher
Flip flops: Hook them on tines in the top rack. (Note: I've been told that Crocs are NOT dishwasher-safe — but I've never tried washing them this way)
Garden tools: obviously, you don't want to wash these with your dishes, but small pots and gardening tools clean up nicely in the dishwasher.
Hats: wash them in a Ball Cap Washer ($6.29 from Amazon) on the top rack and they'll hold their shape much better than in a washing machine. (NOTE: Don't wash with dishes as food particles will stick to the hat!)
Ice cube trays: We didn't have an automatic ice maker in our old house, and I found that by washing our ice cube trays every month, the ice cubes popped out of the trays easier. Maybe it was just my imagination — but it seemed to help! We also use ice cube holders for various crafts and activities, so it's nice to simply toss them in the dishwasher when they need a good cleaning.
Jewelry: I've washed my bulkier costume jewelry in mesh bags or in the silverware caddy — obviously, I wouldn't put real gold or gems in the dishwasher!
Knee pads and shin guards: These will clean up great on the top or bottom rack.
Lunch boxes and bags: Whenever these get gross and sticky, just toss them on the top rack. You may have to let the lunch bags dry for awhile
Mouth guards: These get SO gross, but all you have to do is toss them in the silverware caddy and they'll clean up nicely. This will work for retainers too 🙂
Nail clippers and tweezers: I once read that we are apparently supposed to sanitize nail clippers and tweezers after EVERY use! I don't do it that often, but when I think about it, I will pop them in the silverware caddy to clean them up. .
Office supplies: quickly clean your pencil cup, drawer dividers, and any other plastic desk accessories by tossing them on the top rack.
Pacifiers: Our favorite MAM pacifiers come with a little self-sterilizing case that you use in the microwave; however, if you don't have that, you can simply clean your pacifiers in the dishwasher. I'd put them in a mesh garment bag or in their own cubby within the silverware caddy.
Quilting rulers and needles: Although I am not a quilter, I asked around on Facebook and was told that quilting rulers can get very gross and are something that several of you have cleaned in the dishwasher. I was going to list "Quart Jars" because I always wash all my canning jars in the dishwasher right before I can anything — this way I know they are all super clean.
Rain boots: simply remove the liners and lie horizontally.
Sponges: I regularly wash all my sponges, either in the dishwasher or the washing machine. I do always put them in mesh bags so they don't flop around and get sucked into the drain.
Toothbrush and toothbrush holder: I know people who put their toothbrushes in the dishwasher every day. I personally don't do it that often, but we will regularly stick the kid's toothbrushes in the dishwasher to sanitize them (especially when someone gets sick).
Utensils: Yeah, I couldn't come up with anything for "U" — so in case you didn't realize you could put utensils in the dishwasher… now you know 🙂
Vent covers (register covers): These get really dusty and can be hard to clean. As long as they are plastic, aluminum, or steel — feel free to stick them in the dishwasher.
Window screens: as long as they fit in the dishwasher, this is a REALLY easy way to get them squeaky clean.
X-Acto knife: I've personally never done this, but I was told it works (and I was hurting for something with the letter X!)
Yams and potatoes: Instead of scrubbing all your yams and potatoes by hand, simply put them on the top rack and run the rinse cycle with NO soap!
Zesters and graters: Have you ever tried washing these by hand? If so, you have likely cut your fingers or frayed your wash cloth! I toss all our zester and graters (including the food processor attachments) into the dishwasher for a scrape-free cleaning!
.
Now that you have this nice long list of things that you can wash in the dishwasher, I probably should remind you that it's not a bad idea to actually clean your dishwasher every once in awhile (you might be surprised how gross it is!) Here's the simple 3-step method I use to clean my dishwasher.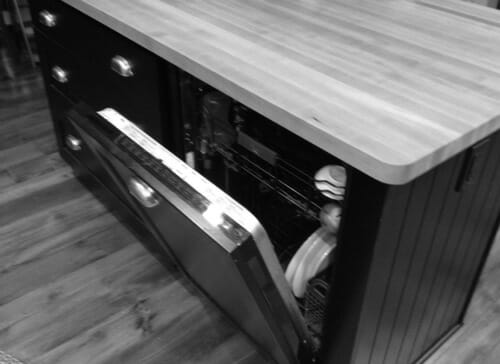 Do you have have any other funny or unusual items to add to my list? What about any suggestions of what NOT to put in the dishwasher?
What do you clean in your dishwasher?