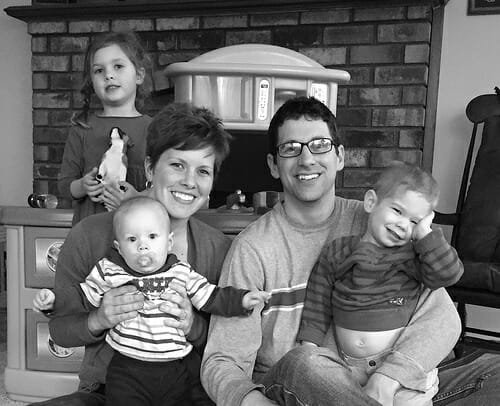 It's been over a month since my last peek into our week post… and boy do I have a lot to share!
For starters, we now have a big two-year old in our house 🙂
Simon is having so much fun with his new birthday toys, and he has fully embraced his role as "big brother".
He constantly follows James around to make sure he doesn't drop a toy, kick off a slipper, lose his pacifier, drool on his shirt, etc. Simon comes running up to me saying "mama, uh oh!" and then goes running back to James to show me what the problem is.
He has even gone so far as to run into the nursery, get a burp cloth, run back to James, and gently wipe up the tiny amount of drool. It is VERY cute! 🙂
We told Simon that after his birthday party he is a big boy, so he can't have his pacifier as much — only when he's sleeping, napping, or if he gets hurt. So far, it's going pretty well!
I'm not one to care too much about this, but I do think it's time to start limiting it a bit — especially since we're hoping to do more with speech therapy this summer (and I know they will tell us that the pacifier has to go.)
Speaking of "birthday boys"… James is 8 months old TODAY!
As you can see by the photos below, he has recently turned into quite the little climber!
Although I know it's a lot more work to have a mobile baby on the loose in the house again, my babies always seem to be happier once they can get around on their own — so I'm OK with it.
.
Miss Nora has been busier than ever around the house.
She is making up games, stories, songs, doing crafts, making jewelry, riding her bike, roller skating, playing dress-up, helping me bake, and getting into all sorts of mischief with Simon (they really are starting to play quite nicely together!)
Nora had a fun Daddy and Me Night for her preschool class, she went on a special outing with my sister and my grandma, and she got to visit my other sister (who lives out of state) with my parents for a weekend. She was SOOOOOOO excited to stay in a hotel, go swimming, and be away from mom and dad "on her own".
My mom told me that she cried a bit right before bed and asked for mom and dad (so she's not quite as independent as she wants us to believe!)
It's hard to believe that she only has 2 more months of 3-school left… and then she will officially be a preschooler!
Although I never ever thought we would send a child to 3-school, I'm very happy with our decision to send her. She was 100% ready, she needed to get out of the house and be with friends her own age, and I needed a little break from her each week too!
Life has been VERY low-key around our house the past couple of weeks… in fact, there was one week where I only put 30 miles on the van — and that was to bring Nora to school, get groceries, and go to church!
We've been home A LOT, enjoying the warmer weather, going for walks, and playing outside — I'd be lying if I said I wasn't itching to get started on a little yard work!
.
I'm super excited to be going to the Just Between Friends pre-sale tomorrow afternoon (the actual sale starts Wednesday for those of you living in the Grand Rapids, MI area).
If you've never been to a Just Between Friends (JBF) sale before, it's basically like a MASSIVE garage sale all under one roof. I'm hoping to get a few new spring clothes for Nora and James — and maybe snag something for James' birthday.
I went to the same sale this past Fall and got everything we needed for winter and all the kid Christmas gifts for such a fabulous deal — hopefully I'll do just as well this time around!
.
Some of you have asked me to share what I'm watching on Netflix — so I thought the Peek Into Our Week posts might be a good place to share that.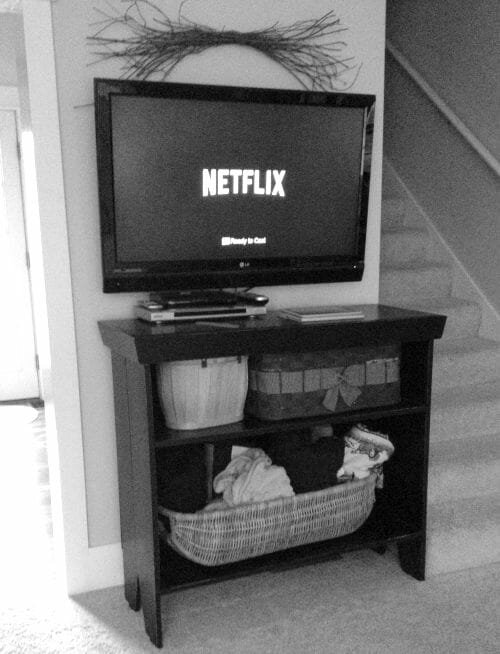 I am currently watching:
Land Girls (really good!)
Fuller House (not that great, but I will watch all 13 episodes because I loved Full House so much as a kid)
Unlikely Animal Friends (we watch a little of this with the kids before bed each night)
I have recently finished watching the following:
When Calls the Heart (season 1 was really good, season 2 wasn't great, but I've heard good things for season 3. My parents are recording it for me on their DVR (Hallmark Channel and I'm planning to watch some of it over spring break)
Fixer Upper (Dave and I plowed through all the episodes! I feel like Chip and Joanna are so endearing, I hope they are actually like that in "real life" and not just acting for the camera. Also, I LOVE their design style!)
Call The Midwife (I actually finished this a couple months ago already, but it was SOOOOOOOOOOOOO good. I can't wait for the next season to make it to Netflix!)
Mansfield Park (a movie based on the Jane Austen novel — it wasn't great)
A few things on my "to watch" list:
The Boy In Striped Pajamas
Secrets of War
Cooked
Plant Pure Nation
Becoming Jane
The Railway Man
.
I ordered some new kitchen towels form Grove.co (formerly ePantry)… and I LOVE them!
Not only are they red (my favorite kitchen color) but they are just the right size and thickness for my liking. I started with 4, but I will definitely be ordering a few more!
Our Weekly Menu Plan
SUNDAY:
Leftovers for lunch
Dinner at church at night
Lots of leftover birthday cake 🙂
MONDAY:
Pizza Pasta from the freezer
Garlic bread
Broccoli and Cauliflower
Brownies
TUESDAY:
Green Beans
Corn
Reese Peanut Butter Cup Cookies
WEDNESDAY:
Chips and Mango salsa (it's amazing… and from Costco!)
THURSDAY:
Leftover pork, potatoes, and veggies from Tuesday night
FRIDAY:
Brat Burgers on the grill
Green Beans
Fruit
Ice Cream
SATURDAY:
Dinner at Dave's parent's house
We survived Daylight Savings and even made it to church on time Sunday morning (I hate knowing that I "lose" an hour!)
Only a little over 2 weeks until Spring Break, and then we'll have Dave home for a whole week — I'm already making a list for him 🙂