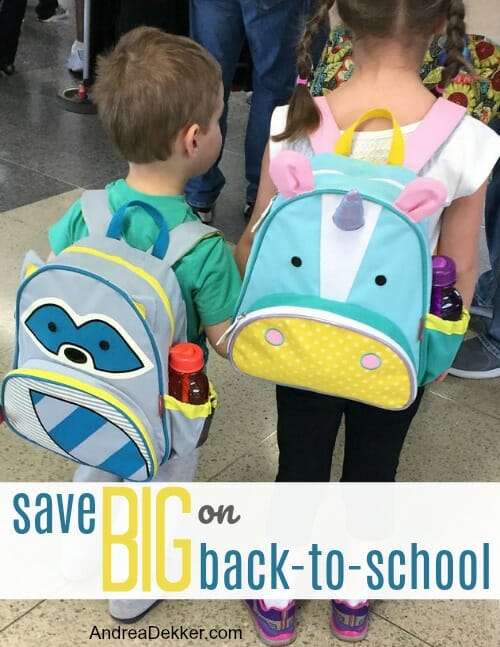 This post is sponsored by RetailMeNot.com and there's an amazing giveaway at the end — don't forget to enter!!
Growing up, I absolutely LOVED school — specifically back-to-school shopping. I loved stocking up on school supplies, getting everything ready and organized for the first day back, and (of course) getting my class list in the mail. In fact, I was usually so anxious to figure out who my teacher was and who my classmates were that I rode my bike to school the day it was posted because I couldn't wait an extra day to get the papers in the mail!
Now, as the wife of a teacher, I have a WHOLE new appreciation for summer break — especially since our kids aren't school-age yet, so the only difference from the school year to summer is that Dave is home every day in the summer, making my job as mom so much easier!
Seriously, he's such a good dad!
Of course, this year will be much different with Nora starting Kindergarten!
She'll be riding the bus, packing a lunch, using big-kid school supplies, and she'll be gone 3 WHOLE days every week!
What will the boys do without her around to teach them school (pictures of "Nora's Summer School" below!)
When I was growing up, back-to-school shopping meant scouring the ads in the Sunday paper, clipping boatloads of coupons, organizing those coupons by store, and driving from store to store in search of $0.10 note pads, $1.00 markers, and my favorite… Trapper Keepers (do they still make those?)
Now days, back-to-school shopping is SO much simpler, easier, and faster because you can do almost everything online!
Thanks to sites like RetailMeNot.com, you can find the deals and coupons you need for your back-to-school shopping all in ONE location. That makes it easy to save $20 in as little as 20 seconds!
Everything from school supplies and clothing to technology and teacher gifts… even restaurant deals! It's all there and SO MUCH MORE!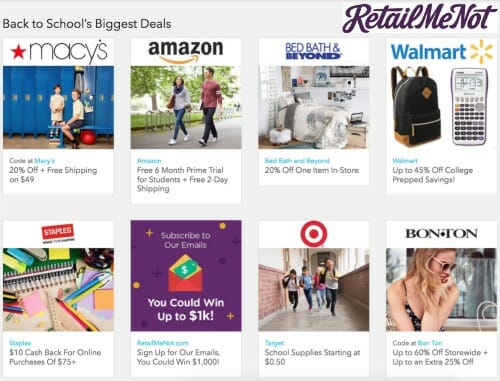 Not only can you find the best deals and coupons, you can also get cash back directly to your PayPal account — simply for buying everything you need!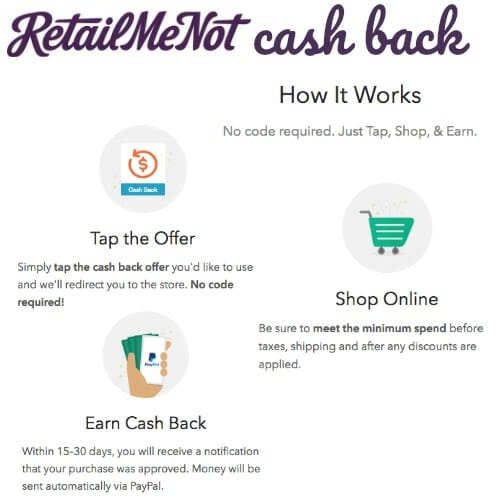 You can even download the free RetailMeNot App to get alerts for nearby deals that can be redeemed directly from your phone (no more clipping or printing coupons)!
Oh, and in case you're wondering — RetailMeNot shares Culver's deals too! We always get notified when there are new Culver's coupons or deals — and if you're not already part of their eClub, you can get a BOGO value basket for signing up! 🙂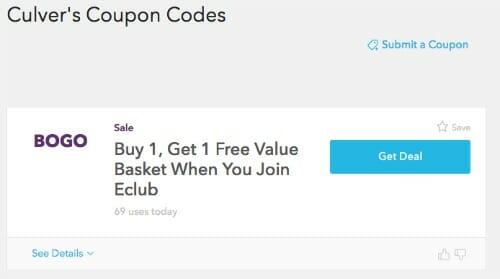 All of this saves money AND time — meaning you can enjoy the last few fleeting days of summer that much more!
.
More about RetailMeNot:
RetailMeNot is the ultimate destination for saving money when you shop online or in a store. With thousands of coupons, deals, cash back offers and discount e-gift cards, it's easy to save at all your favorite stores and restaurants!
The RetailMeNot blog features back-to-school gift guides, trending products, retail news and timely savings tips to help you shop smarter.
Visit RetailMeNot on the web:

Website: www.RetailMeNot.com
Facebook: RetailMeNot
Twitter: @RetailMeNot
Instagram: retailmenot
Download their free App:
Enter To Win The Giveaway!
RetailMeNot is graciously giving away one $200 Visa gift card to help with YOUR back-to-school shopping this year!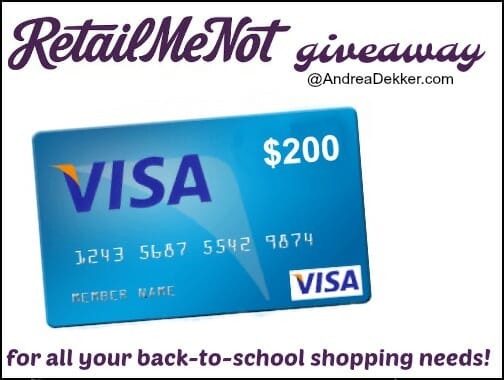 To enter, simply use the Rafflecopter widget below.
(NOTE: you will be asked to sign up for the RetailMeNot eNewsletter to enter this giveaway).
NO PURCHASE NECESSARY. Open to eligible legal residents of the 50 United States and D.C. at least the age of majority in their jurisdiction. Begins: August 3, 2017 at 12:00:00 AM ET. Ends: August 13, 2017 at 11:59:59 PM ET. Subject to Official Rules available at http://mediakix.com/sweepstakes-andreadekker/
Void where prohibited. Sponsor: Mediakix LLC.