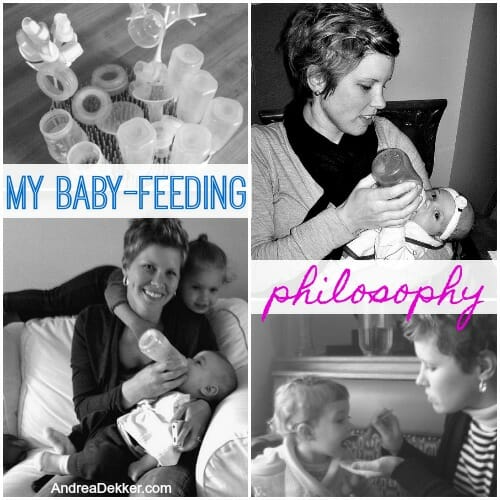 Someone recently shared with me that the first week in August is World Breastfeeding Week… and they asked if I would share more about MY baby-feeding philosophy and how I plan to feed baby #4 when she arrives NEXT MONTH!!
I thought that was a pretty good idea — especially since I've already shared my very different feeding strategies for Nora and Simon!
Oh, and I have a fun little treat at the end of this post — another discount code for the amazing Glamourmom nursing tanks I love so much!
Let me first give you a little background information on my "baby-feeding journey"…
Feeding Nora:
As many of you know, Nora was exclusively breastfed (not by my choice) after months and months of unsuccessfully trying various types of bottles.
At the time, I was working 1 day a week outside the home, and I eventually quit that job because she refused to eat the entire time I was away (talk about new mom guilt!)
one of my many attempts to bottle-feed Nora (around 3 weeks old)
We found out later (MUCH LATER) that she had some major sensory issues — specifically related to food and oral stimulations.
After 2 rounds of intensive food therapy and nursing her for a whopping 21+ months, she finally transitionsed to table foods only a few months before Simon was born!
Now, at 5 1/2 years old, she is an amazing eater, cleans her plate at every meal, is fairly good about trying new foods, and really shows no signs of her previous food sensitivities or aversions! Hallelujah!
.
Feeding Simon:
My sweet Simon boy never really had a chance in this world of being breastfed — I was SO DONE WITH IT after 21 straight months of round-the-clock feedings with Nora.
I nursed him until my 6-week doctors appointment and then promptly switched him over to bottles 100% of the time.
I initially had Dave do all the feedings since he was home on Spring Break, and I figured it might be easier for him to try the bottles than me.
It took 2 solid days of Simon fussing a little bit before he'd take the bottle; but after the first 2 days, he drank his bottles like a champ.
He is secretly my favorite child because of this 🙂
I pumped for 6-7 months, and then transitioned to formula when I found out I was pregnant with James. The switch went surprisingly well — after about 2 weeks, Simon was drinking straight formula and never had any adverse side effects (at least not that we noticed).
One Formula Tip: since I'm very frugal and had a TON of free formula samples, I just mixed them all together in a huge food storage container and used that for the couple months of formula feeding. That way, I didn't constantly switch brands or types because it was all mixed together from the start.

I realize this won't work for every baby, but it was a great way to use up all the sample-size packs I got in the mail.
We switched Simon over to whole milk at 1 year old — and nothing seemed to phase him then either (Simon has always been our most easy-going child!)
Simon also ate table food much earlier than Nora, and although he is a VERY SLOW eater, he has a good appetite and eats well at every meal — especially dessert 🙂
.
Feeding James:
Since Simon and James are only 16 months apart, Simon was still drinking 2 bottles of milk a day when James was born (1 before his nap and 1 before he went to bed at night).
And although I truly am forever grateful to Simon for taking bottles as well as he did, the thought of washing 2 sets of bottles and pumping gear every single day for months and months didn't sound super appealing to me — especially not with 3 kids ages 3 and under to care for.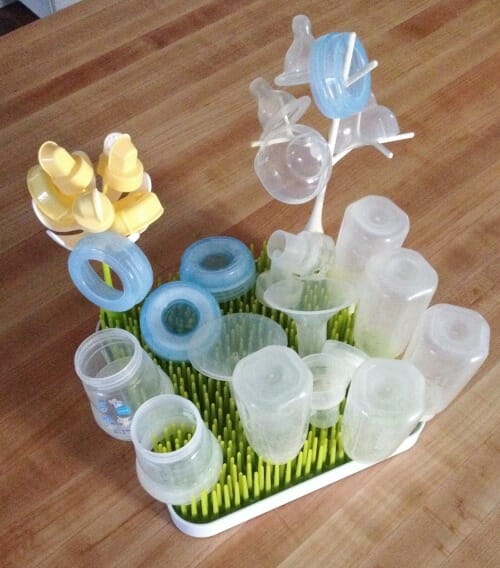 So although I really did enjoy the freedom of using bottles with Simon, I came to terms with the fact that nursing James was probably the best, easiest, and least stressful solution for me at that point in my life.
And I never once even tried to give James a bottle!
I know that sounds so crazy and very unlike my "all things in moderation" approach to life. However, I honestly think I was so scared of what might happen if I gave James a bottle that I just didn't even want to try.
On one hand, I was scared that if I tried bottles and he continued to resist them, I would feel defeated, depressed, and trapped by the thought of being "forced" to nurse him forever. So by not even trying bottles, I always had that option in the back of my brain — "I could try bottles someday if I really wanted to… but I'm OK for now."
Then, on the other hand, if I tried bottles and he loved them, I would be forced to wash them every day and potentially pump for several months if I felt like that was my best option.
Plus, I knew I would most likely be home 98% of the time with my 3 VERY young children… so nursing was extremely convenient and I never once had to feed James in public.
Surprisingly, I didn't hate nursing him!
I didn't feel trapped or stuck at home, I didn't feel awkward when people were over and I went back to the nursery to feed him (because Nora and Simon were still around to entertain our guests), and I didn't even feel overly-anxious for him to finally stop nursing.
I did "cut him off" around 19 months (much to his dismay) after finding out I was pregnant with baby #4.
At the time, he was eating table foods very well and I knew he was just nursing for comfort before he went to bed.
We had a few teary nights where I had to avoid sitting in the specific chair I fed him in, but after that, he got to have a bedtime snack while reading books with the big kids — which he thought was very cool!
James is an excellent eater. He especially loves breakfast foods, all types of cheese, and yogurt (as long as he can do it himself!)
.
Feeding Baby #4:
At this point, I am planning on nursing baby #4 — simply because it has always been fast and easy for me, and because I don't want to mess with bottles and pumping with 4 children vying for my attention.
I definitely do still have my pump, all my pumping supplies, and several of my most favorite MAM bottles. I will also sign up for all the freebie formula offers again — just in case. After all, I can always pass the formula samples along to friends if I don't end up using them.
Although I'm somewhat torn between the "freedom" of bottles and the convenience of breastfeeding, I do feel that the least-time-consuming option for me this time around is nursing.
However, I'm completely ready and willing to switch gears if, for some reason, we decide bottles would be a better way to go with this baby.
I even got a few pink bottles this time around!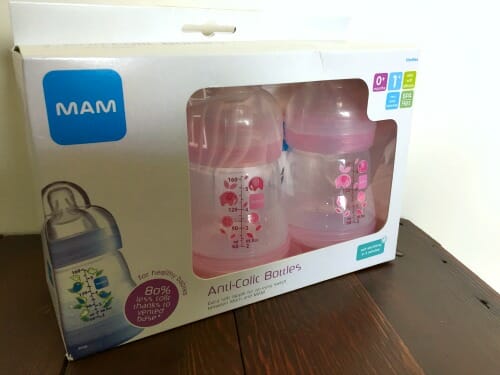 .
My "Fed is Best" Philosophy:
The truth is, my two main objectives when deciding how I will feed my babies is what I feel is best for ME (this might sound selfish but it's true) and making sure my baby's bellies are full.
My apologies if you thought this was going to be a post about how breastfeeding is the best and only way to go 🙂 It IS a great option and I'm so thankful it has worked well for 2 of my 3 babies… but it's not the only way.
I know there are some people who have strong opinions about this, but I'm NOT one of them — honestly, I think very few people really care about how WE feed OUR babies. It's just that the people with strong opinions are the ones who speak out and talk the loudest!
I don't feel one bit of guilt or regret for using bottles with Simon. If anything, it was the break I needed to be willing to have more babies!
.
2345 days… and counting!
If you read through this post carefully and did a little math, you might have realized that I was nursing (or pumping) for each child when I found out I was pregnant again with the next child.
That equates to being pregnant or nursing every single day since February of 2011 — roughly 2345+ days.
Considering I'll most likely be pregnant for the next 7 weeks and then potentially nursing for 12-18 months after that, my grand total of CONSECUTIVE days spent pregnant and/or nursing will be very close to 3000.
WHEW!
Baby-making and baby-feeding is definitely a crazy season of life — one that I truly am enjoying, but one I will also be extremely grateful to move past.
We'll see if we have more babies after this one, or if we call it quits… either way, I'm almost certain my philosophy on feeding babies will stay the same.
Whatever works best for ME AND THE BABY is what we will do!
33 weeks!
.
Ok, time for that discount code!!!!
If you are in the market for the most fabulous nursing gear ever, you can use the code GMAD7257 to get an additional 20% off everything in the Glamourmom store AND the Glamourmom Outlet.

My favorite Glamourmom items are:

Offer good through August 31, 2017.