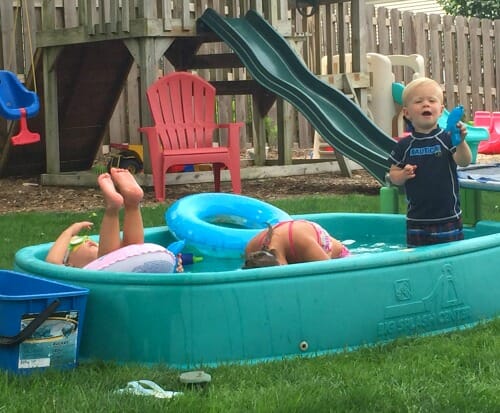 Although we only have a few weeks of Summer Vacation for Dave and Nora (and essentially for me too!) we have several things on our mental "summer to-do list" yet — using free bowling and restaurant coupons, swimming in a few friends' pools, visiting a local nature center, and hitting up a few more parks.
Nora is concerned we won't be able to fit everything into our "busy" schedule — I told her we could probably make it all work! 🙂
Here's what I blogged about, and what we did as a family, this week in previous years!
2010:
I shared a funny (but useful) post with 3 different videos on how to fold a fitted sheet. Honestly, to this day, I still think about these video instructions EVERY time I fold fitted sheets!
I also posted 2 of my most favorite recipes: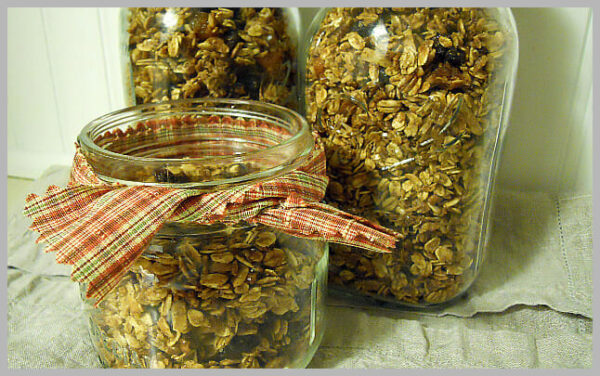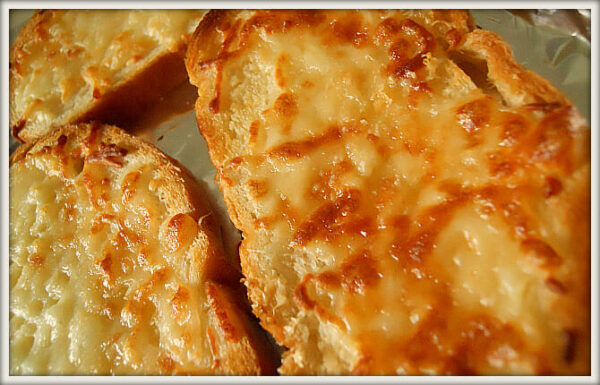 .
2011:
This must have been a big "granola" week for me because a year after sharing my favorite granola recipe, I shared my favorite Granola BAR recipe!
I also went into detail about Dave and my epic IKEA shopping trip when we apparently misread the online measurements for our corner couch and didn't get a big enough UHaul.
We ended up having to completely unpack most of the couch (in the IKEA parking lot) in order to cram it into the UHaul for the 3-hour drive home.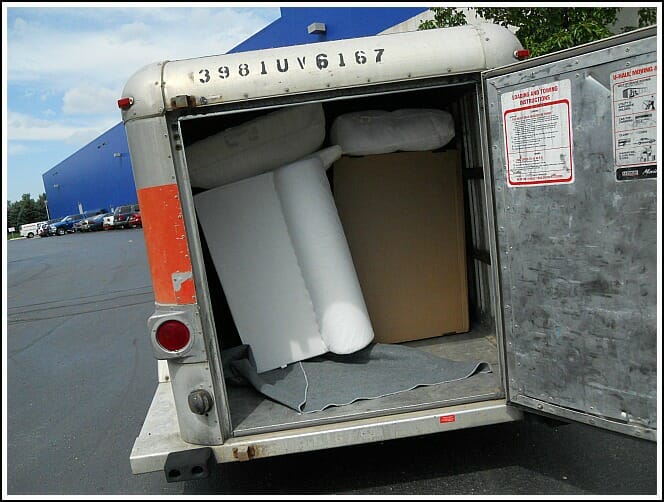 The 'best' part was that it was almost 90ºF out and I was about 30 weeks pregnant with Nora! I'm sure you can see how excited Dave was in the picture below 🙂
At least we still love our IKEA sectional 6 years later!
.
2012:
We were still in the middle of our kitchen renovation at this point — so I was still using my slow cooker for almost every single meal! I shared this delicious recipe for Sweet and Sour Pork. It was one of my favorites growing up, and our whole family loves it now!
Also, if you've never thought about HOW and WHEN you work best, I would encourage you to read this post.
You might be surprised how much more productive and efficient you are if you consciously choose to do your "focused work" during the time of day when you work best.
I used to be a full-blown morning person until I had kids and they basically demanded every second of my morning hours! Over time, I have gradually shifted to being somewhat of a "night owl" and do almost all my focused work after the kids are in bed!
Here's a really cute picture of Nora at my sister's bridal shower!
.
2013:
I took the WHOLE month of August off this year!
It was a little scary when I first decided to take the whole month off (I decided already at the beginning of June). I worried that I would lose a bunch of blog traffic and that my readers would disappear, but everything ended up working out just fine!
Plus, I found out I was unexpectedly pregnant with Simon at the beginning of July — which made my August blogging break absolutely PERFECT timing since I was extremely nauseous and basically laid on the couch all month!
Every time I see the picture below, I instantly remember how gross I felt that whole month…
I LOVE this side-by-side picture of me and Nora — wearing the same pink cowboy hat at roughly the same age (Nora is a bit older than me)!
Here are a few more cute pictures:
.
2014:
We officially finished our deck renovation — and man do we love our new (much larger, more functional) outdoor living space!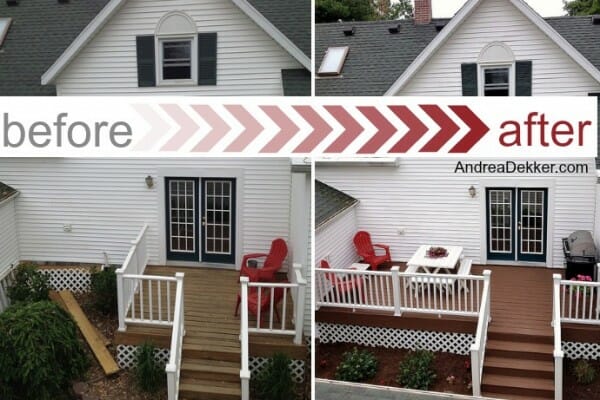 I also wrote about something I am SUPER passionate about (and something that's slightly controversial)… the idea that we do HAVE the time, we just don't MAKE the time.
We all have 24 hours in a day… what we do with those hours is up to us.
Here's a quote from that post:
Whenever I start thinking "I don't HAVE time for ______" I try to stop and think about any way that I could MAKE time for it.

Could I move my schedule around?

Could I find someone to watch our kids?

Could I skip something else to free up more time?

If not, then I choose not to make time for that activity.

Thinking this way makes me feel less frustrated and more empowered.

It changes my outlook on my day from feeling busy and stressed to, instead, feeling happy and thankful that I am able to make choices as to how I spend my time.
If you've felt frustrated by your perceived lack of time, I would highly encourage you to read the full post!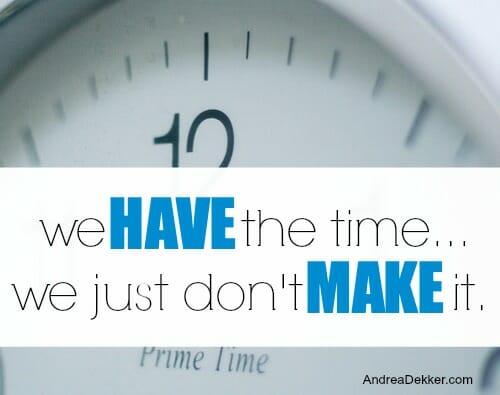 .
This is one of my favorite pictures of Nora from that week…
And my sweet Simon boy celebrated 5 months!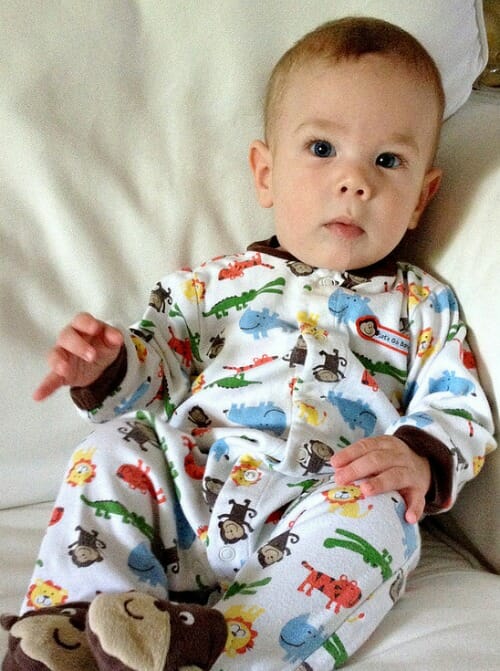 .
2015:
I shared this super simple Steak Marinade. I still use this marinade all the time during grilling season — it's so quick and easy and tastes absolutely delicious!
I also shared James' Birth Story and super cute newborn pictures.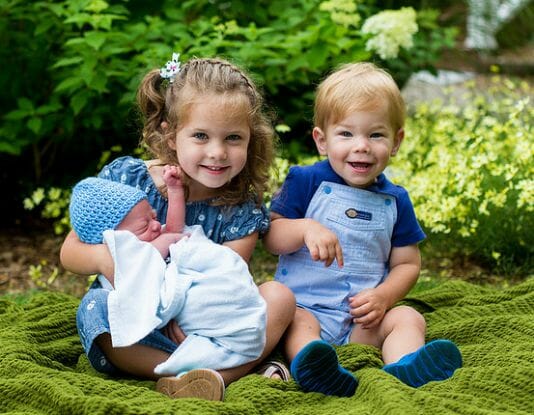 .
2016:
These yummy 3-Cheese Lasagna Roll-Ups have been my new favorite go-to recipe when I need to bring someone a meal. I can make as many or as few as I need for whatever family I'm bringing a meal to — and they are just slightly "fancier" than traditional lasagna.
Oh, and they have a bunch of zucchini in them (if you're looking for a way to use up all those extra zucchinis from your garden!)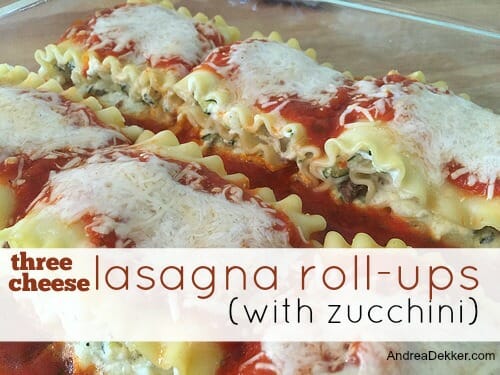 I shared a bit more about how Dave and I use LegacyBox to digitize all his parents' pictures for their anniversary. It's such a quick and simple service — if you're overwhelmed by the thought of trying to digitize your old pictures, I would highly recommend LegacyBox.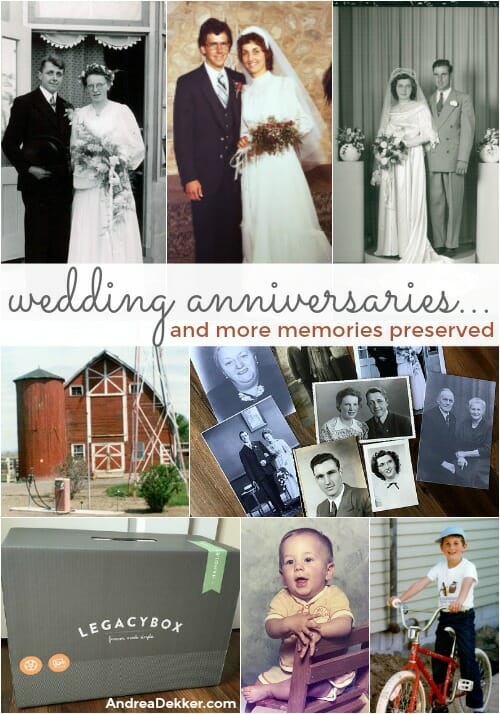 I was in a "I want to change the look of our bedroom" mood, and randomly decided to move our bed from angled in the corner to flat against the side wall… and Dave and I instantly LOVED the new look!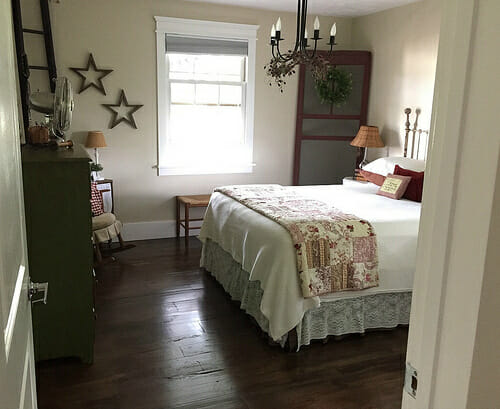 Still now, a full year later, we love the new bedroom arrangement. It feels more open and airy! You can see the full tour of our bedroom here.
And this is my favorite picture of all 3 kids from that week — they went through a solid 2-week stretch where they ALL wanted to wear their helmets ALL the time 🙂
.
2017:
I've personally spent the better part of this week painting, painting, and painting. I'm tired of painting!
We decided that since our landing area (former playroom) is now completely empty, it was a good time to finally get rid of the blue paint (yes, I chose blue paint!) Anyway, I had to do THREE coats of white paint to cover the blue, plus I repainted the ceilings and all the trim — so it was a big project.
I'm happy to cross this big project off my to-do list — now we just need to figure out what to do with this space since we don't need it for toys anymore!
.
I suppose our biggest news is that we officially paid off our mortgage earlier this week!
I'm not planning to make a huge deal out of it or write a blog post about how we did it (there are so many variables — what we did won't necessarily work for others) — but it sure feels good to see this long-term goal come to fruition!
As some of you know, when Dave and I were first married, we made a goal to have our house completely paid off before our first child started Kindergarten. At the time, we had no idea we'd end up buying a fixer-upper house or when exactly our first child would end up going to Kindergarten — but now that Nora is less than a month from her first day of school, Dave and I are both THRILLED to know we followed through with our original goal!
Now… we start saving for a "biggie pool" so we have more room to swim around 🙂
Also, I finished James' 1-year photo book!
Since we were gone on vacation over James' birthday, I wasn't able to finish the album until this past weekend — it's so cute! I'm just waiting "patiently" for a 40% off coupon code so I can actually order it!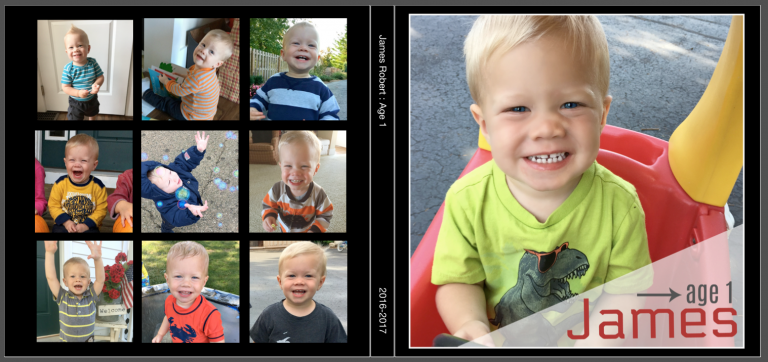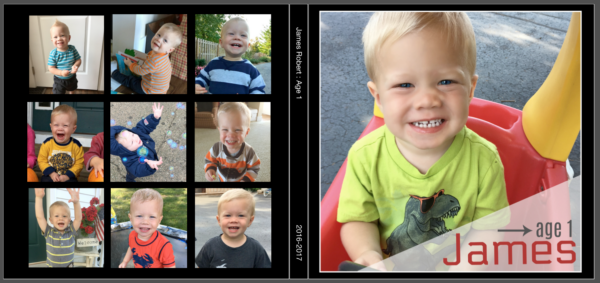 You can click on the picture below to enlarge the image and see more of what his book pages look like. I'm very happy with how his book turned out. I can tell I'm getting more creative as the years go by and as I make more and more books!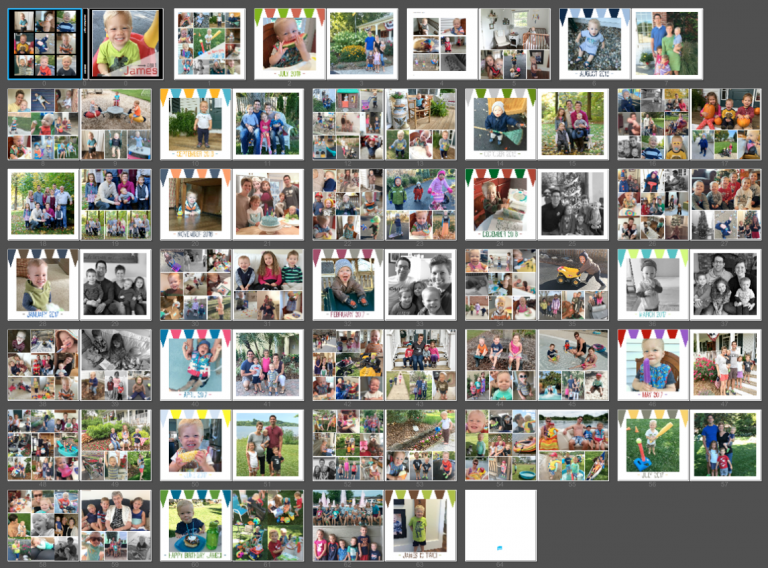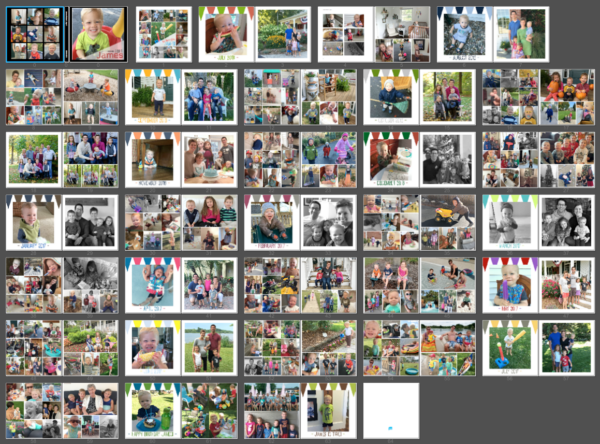 I canned a batch of strawberry jam and strawberry rhubarb jam using fruit we picked in June (I freeze the fruit until I have time to make jam).
We also purchased a huge amount of the most delicious blueberries I've ever tasted from someone Dave's dad works with. Seriously, they are SO good — and unfortunately, I have no idea where they came from.
I'll hopefully do a batch of raspberry jam and triple berry jam (strawberry, blueberry, raspberry) later this month when local raspberries are ripe. Then we'll be set with home-canned jam for the next 2 years again!
Here's a post with all my homemade jam recipes.
A few more pictures from this past week:
Dave took Nora and Simon on a "hike" 🙂
Their newest form of transportation…
Neither Simon or James take many naps anymore (kind of sad, but also nice because they go to bed even earlier) but this particular day, they couldn't quite make it and both crashed on the couch.
Brotherly Love!
Nora won a prize from the summer reading program at our Library. She picked Perler Beads — something she's been asking for since spring break. She has already made 4 or 5 creations and says she only wants more beads for her birthday and Christmas! So now I suppose I'll be picking tiny beads off my floor and out of my carpet for the next 5 years!
Batboy saves the day (he actually has no idea who Batman is!)
One of the happiest boys I know!
Here I am — 33+ weeks and counting (thanks to Miss Nora for being the photographer!)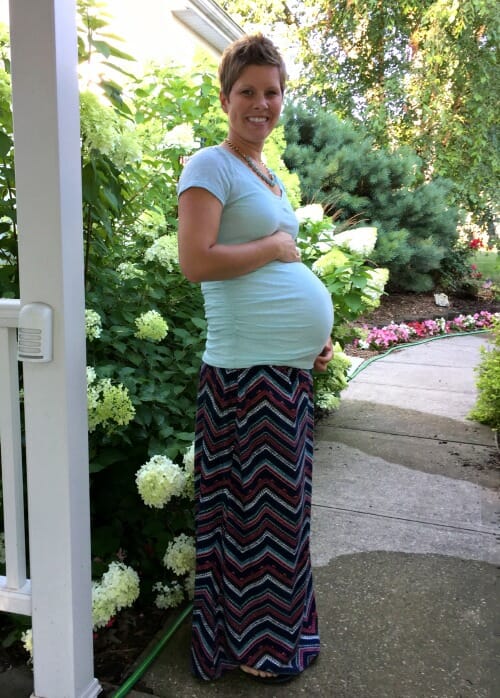 Have a great weekend, and enjoy what's left of your summer vacation!