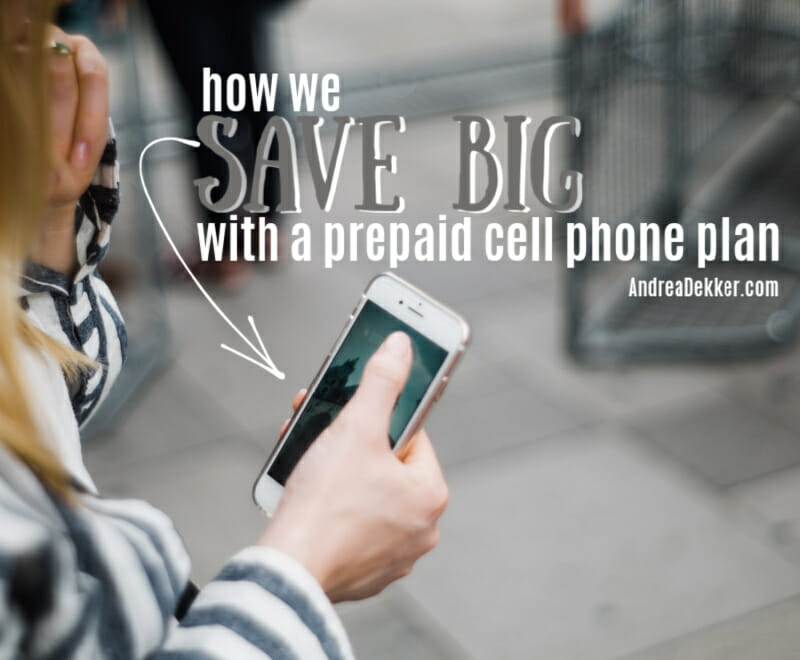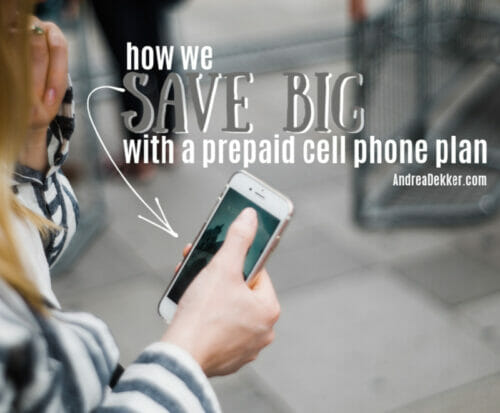 A couple of months ago, I polled social media regarding switching to a prepaid cell phone plan (and once again, you all came through for me!)
Dave and I have contemplated switching from Verizon's network to something like Republic Wireless or Cricket Wireless for many months now (maybe even a couple of years) but we never actually followed through because we've never had any problems or issues with Verizon (other than the constantly increasing bill.)
Many of you responded (thanks!) but your reviews were very mixed — some said these cheaper providers were worth the savings, others said they weren't due to lack of coverage, smaller networks, dropped calls, poor signals, etc. etc.
Since Dave and I have both been with Verizon from the very beginning, neither of us were super excited about the various "hoops" we would need to jump through to switch networks. But at the same time, the realization that our cell phone bill was literally our biggest utility expense each month continued to bother me.
I wanted to figure out how to save money on a prepaid cell phone plan, preferably without switching networks or giving up any of our current features!
Interestingly enough, a few of you mentioned that Verizon now offers their own "prepaid cell phone plan" at a significantly discounted rate… I immediately went to the website to search for this option.
After a little research of my own and asking customer service several questions, Dave and I decided that a Verizon prepaid cell phone plan might be the perfect option for us to reduce our monthly cell phone bill while still enjoying all the same features we've learned to appreciate over the last many years with Verizon.
I called a few days later… and the rest is history!
NOTE: this post is NOT sponsored — I've been a happy Verizon customer since I was 18 years old!
If you can't see the video above, you may need to click through to the post.
How much are Verizon's prepaid cell phone plans?
At the time of this post (11/25/19) the prepaid plan we purchased was $40 per month for the first phone and $30 per month for each additional phone (plus a few bucks for taxes and fees.)
This plan includes Unlimited talk, Unlimited text, and 6 GB of data PER PHONE (we were previously sharing only 1GB of data!)
At roughly $74 per month, this was already a fantastic savings for us — especially considering we were able to stick with the Verizon network and get 12 times more data between the 2 of us!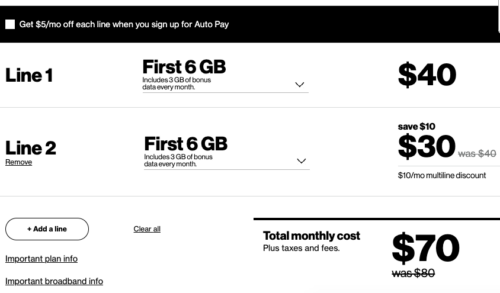 But it gets even better!
After I signed up, I realized we could save an additional $10 per month ($5 per phone) if we enrolled in the auto-pay option (which we ALWAYS do)!
So… our current bill for the prepaid cell phone plan is only $64 per month TOTAL (for both phones)!
CHA-CHING!
How Does a Prepaid Cell Phone Plan Work?
The ONLY difference with Verizon's prepaid plan is that we pay for our month of service BEFORE we used it, where previously, we paid AFTER we used it.
Our most recent bill was on November 22 — which paid for our usage from Nov. 23 – Dec. 22, at which point we'll be automatically charged another $64.
NOTE: There really is no chance Dave and I would ever use more than 12GB of data in a month's time, but if we did, we would just be charged a little extra on the next bill.
My understanding (after asking MANY questions) is that the Verizon Prepaid Cell Phone Plan works with any type of cell phone and is available wherever the Verizon network is available.
Read more for yourself on Verizon's website.
.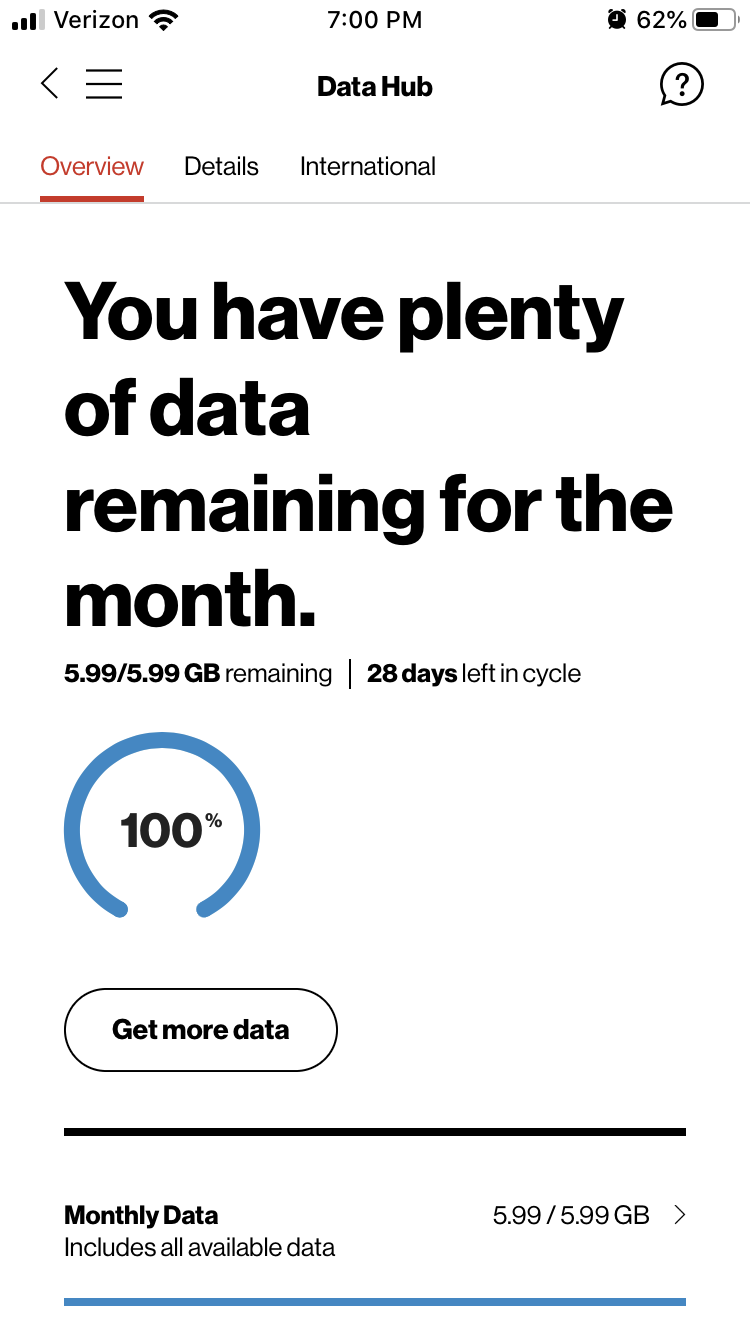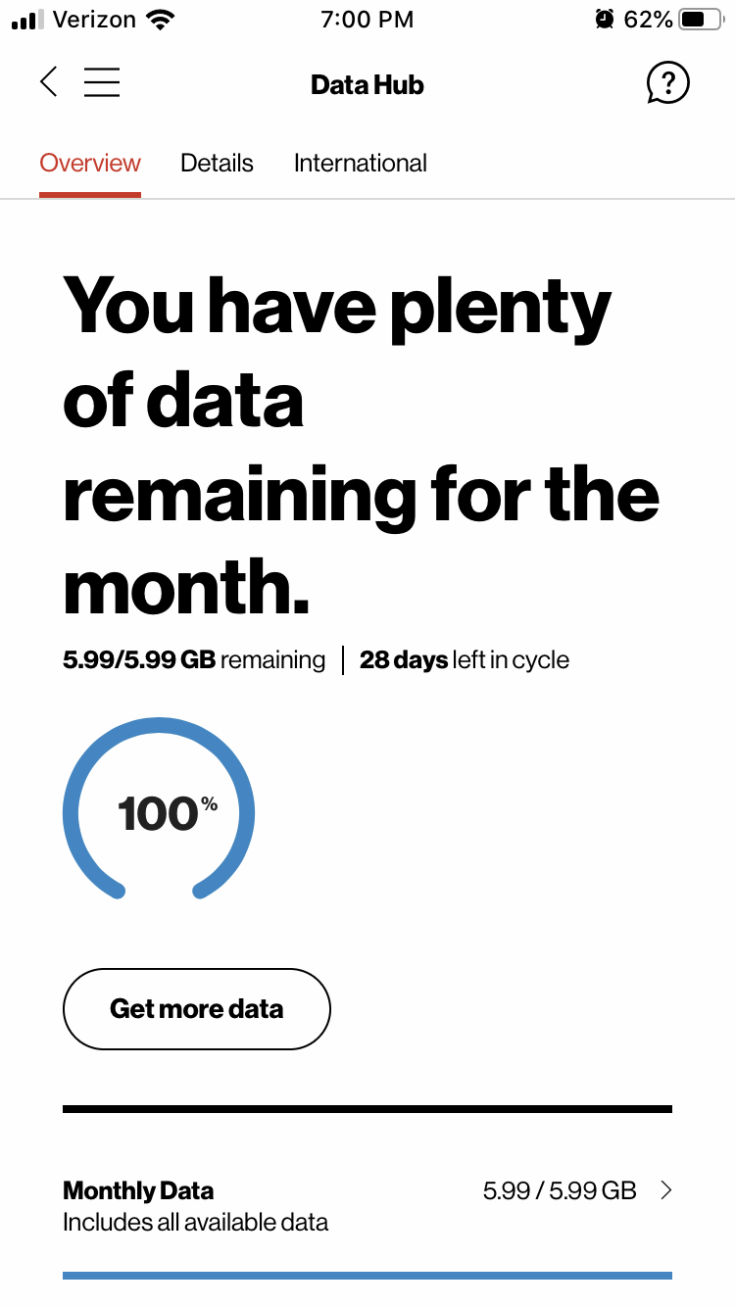 What's the "catch"?
Honestly, I still haven't found one!
I double and triple checked that this prepaid cell phone plan pricing was NOT a promotional deal that would end at some arbitrary time — it's not.
I also double and triple checked that there were no hidden fees (other than a few dollars for taxes) — there aren't.
I was originally told (by a reader) that the prepaid plans get "second rate" WiFi in crowded areas, but the Verizon rep assured me that only applied to any data we use ABOVE and BEYOND our 12GB — and we'll NEVER use enough data in a month to worry about that!
The only thing that might be a "deal breaker" for some is that the prepaid cell phone plans are NOT an option for anyone with insurance on their phone or anyone making payments on their devices.
Since Dave and I pay for our phones up-front, and since we do not have insurance on them, we were prime candidates for the prepaid plan… and thanks to a helpful customer service rep, we made the switch over in less than 10 minutes!
All we had to personally do to make this switch (other than provide our credit card information) was to turn our phone off for 2 minutes and then turn it back on again.
Not too difficult!
As I mentioned above, this post is not sponsored.
I simply get SO many questions from readers about how to save money on cell phone bills that I thought it was finally time to share our really great deal!
Yes, I know there are some plans out there for only $15 per line — or tracfones that are even cheaper.
However, the fact that we were able to keep our iPhones and stick with Verizon's network (which is superior to all other networks where we live) justified the slightly higher monthly fee.
We're still saving hundreds of dollars every year with this prepaid cell phone plan AND we have 12 times more data!
I'd definitely call that a win-win!
Do you have any other great tips to save big on cell phone services?