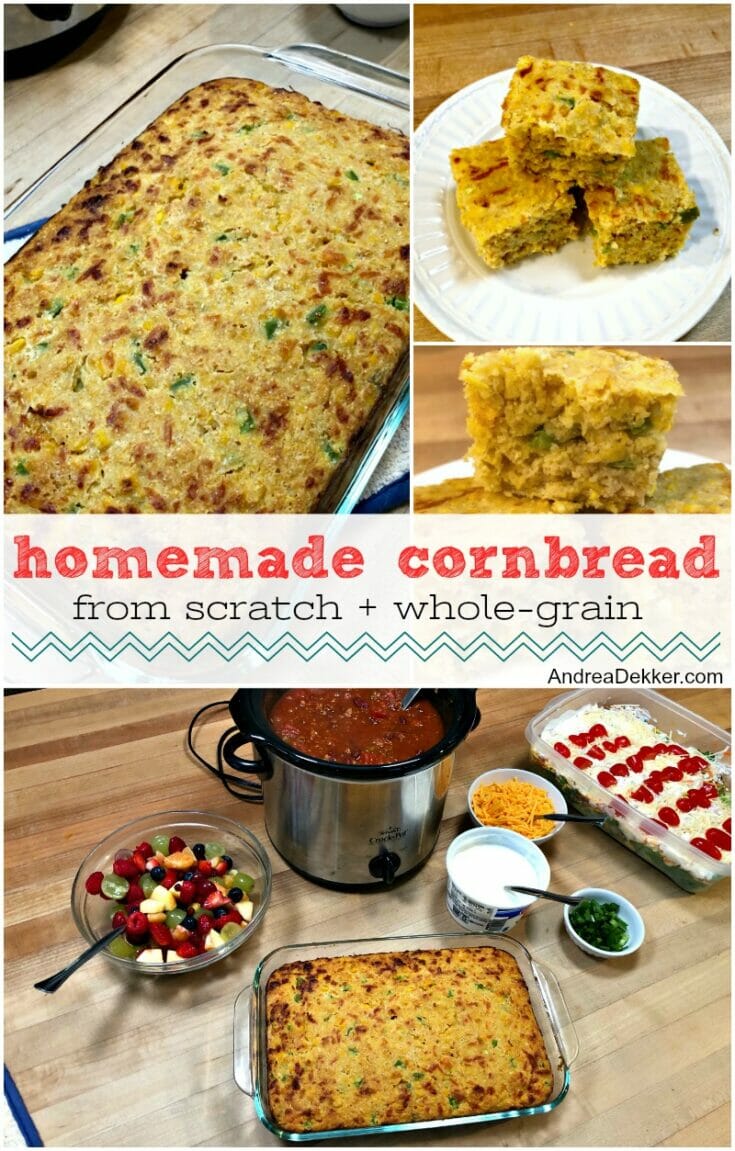 Many years ago, I shared my delicious recipe for Semi-Homemade Cornbread. I still get so many emails from people who tell me that it's their go-to recipe EVERY year at Thanksgiving (I still love that recipe myself!)
However, for the past year I've been grinding my own grain, baking my own whole grain bread, and trying to incorporate more whole-grains into our daily lives, so I really wanted to create a new whole-grain, from-scratch homemade cornbread recipe to replace my old semi-homemade version.
Well, guess what my friends… I did it!
I have a BRAND NEW super simple homemade cornbread recipe (made completely from-scratch) to share with you today!
It's just in time for your Thanksgiving festivities (or to compliment a steaming bowl of chili this winter!)
Doesn't it look yummy!?!
.
I created my recipe with freshly ground soft white wheat and freshly ground corn (actual popcorn kernels). HOWEVER, you may certainly substitute your favorite store-bought flour and cornmeal with excellent results.
One of the things I feel makes this recipe extra delicious is the fact that it uses fresh or canned sweet corn along with the cornmeal… and as you'll see in the recipe below, I take an extra minute to blend up the fresh corn kernels so they are almost paste-like.
I suppose it doesn't look overly appetizing, but thankfully, my taste buds don't care all that much about what the mashed up ingredients look like before they are mixed together and baked.
As with all of my recipes, there are LOTS of ways to customize this cornbread based on the ingredients you have in your home, your personal taste preferences, etc.
The homemade cornbread recipe, as written below, is Dave and my most favorite version — but I've made many variations over the past few months and none of them were bad!
PLEASE feel free to mix and match ingredients or change up flavors (cooking is much more fun when you do this!)
Yield: 15
Homemade Cornbread From Scratch (whole grain)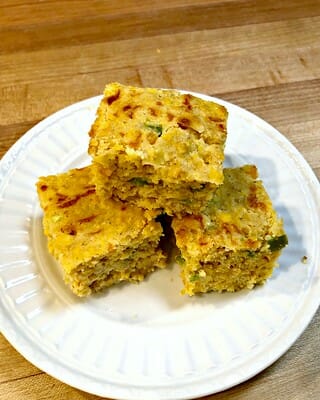 This amazingly cheesy cornbread is the perfect addition to any holiday table -- and a delicious side dish for chili, pork chops, and so much more. Mix in various "extras" to change up the flavor and let your taste buds come alive!
Ingredients
1 can of corn (14 oz.) drained (or 2 c. fresh or frozen corn)
1 c. milk (any variety)
2 large eggs
2 T. melted butter
1/4 c. honey
1 c. cornmeal (finely ground)
3/4 c. flour (I used roughly 100g. soft wheat)
1 Tbs. baking powder
1/2 tsp. salt
1.5 c. grated cheese (I like sharp cheddar or pepper jack)
1 c. diced green or red peppers (or jalapenos if you want it spicy!)
Instructions
Preheat oven to 400ºF.
Generously grease a 7" x 11" or 9" x 9" or 9" round baking pan.
Drain corn (if canned) and pulse in a food processor or blender to make it more of a "paste".
In a large bowl, mix milk, eggs, butter, and honey.
Add in cornmeal, flour, baking powder, and salt. Mix until just combined, then stir in cheese and peppers.
Pour batter into greased pan and bake in preheated oven for 35-40 minutes or until the center is set and the top is just starting to brown.
Serve immediately or let sit at room temperature for later.
Top with butter and honey!
Recommended Products
As an Amazon Associate and member of other affiliate programs, I earn from qualifying purchases.
Nutrition Information
Yield
15
Serving Size
1
Amount Per Serving
Calories

150
Total Fat

7g
Saturated Fat

4g
Trans Fat

0g
Unsaturated Fat

2g
Cholesterol

41mg
Sodium

282mg
Carbohydrates

18g
Fiber

1g
Sugar

5g
Protein

5g
Nutritional information is approximate and does not account for additional ingredients or added toppings.
This homemade cornbread is truly such a simple recipe to make.
Just mix up the ingredients, bake, and serve!
Want to leave out the pepper or swap them for green onions? Do it.
Would you like to try a different type of cheese? Try it.
Feel like adding some bacon? Go for it.
Want to swap some of the milk for sour cream? Yup, that will work!
You really can't mess this recipe up (unless maybe you burn it!)
I'd be honored if you added my homemade cornbread to your Thanksgiving recipe roundup this year!
What are your go-to holiday recipes?
Visit my virtual recipe box for more simple, delicious, family-friendly recipes!
And follow me on Pinterest for more holiday recipe inspiration.