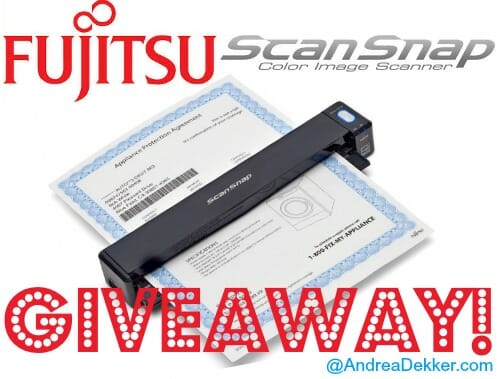 I am SOOOOOO excited about today's giveaway because I get SOOOOOO many questions about paper clutter — especially now that school has started and you parents are all getting 37 papers from every child every day 🙂
Even for someone like me who tries REALLY hard to have good paper management systems in place, paper clutter still has a way of creeping in over time.
Although I know it's not realistic to ever be 100% fully digital with all my paper (sometimes you just need a hard copy!) I'm always striving to go more digital with as much of our paper as we possibly can. Having a digital copy of our information saved on our computer, in Dropbox, and/or on our portable hard drive is just a little added assurance for me in case something happens and our hard copies are lost, stolen, damaged, etc.
Up until recently, we've been using our somewhat finicky all-in-one printer to do our scanning — however, the wireless function is currently not working and it doesn't work with any of our smart phones or tablets. So it's a pretty labor-intensive process to get even a couple paper documents in a digital format (which means we haven't been doing much of this lately).
Sometimes I need to scan something for my business, and for this, I've often been taking pictures of the documents and then editing them with a photo editing program so they are more readable. Of course, this isn't the best solution too — but I was just trying to work with the resources I had on hand as I didn't want to waste money on another printer or scanner that didn't work for my scanning needs.
Well, a couple months ago, I was contacted by the makers of the ScanSnap portable scanner. They asked if I wanted to try their newest version, the iX 100.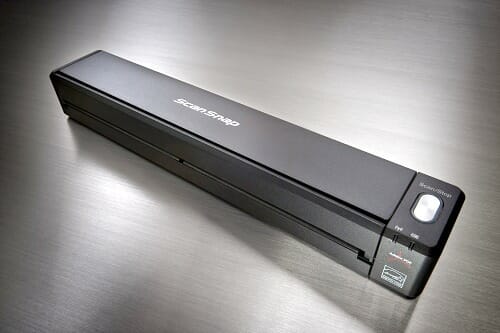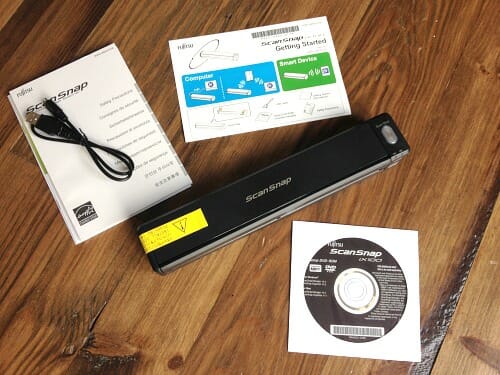 Of course, I said "yes!" because I'm always looking for a better way to handle paper clutter — and because I wanted to be able to offer this great giveaway for you!
I will admit that I was a bit skeptical at first (it's just so small); however, as you'll read below, I am very impressed with the functionality of this scanner. Not only can it scan almost any size or type of document, it's also extremely good quality.
The images below were all quickly scanned in (using my iPhone to activate the scanner!) and not edited in anyway. In my opinion, it did a great job capturing my recipe, Nora's artwork, and the simple instruction sheet that came with the scanner.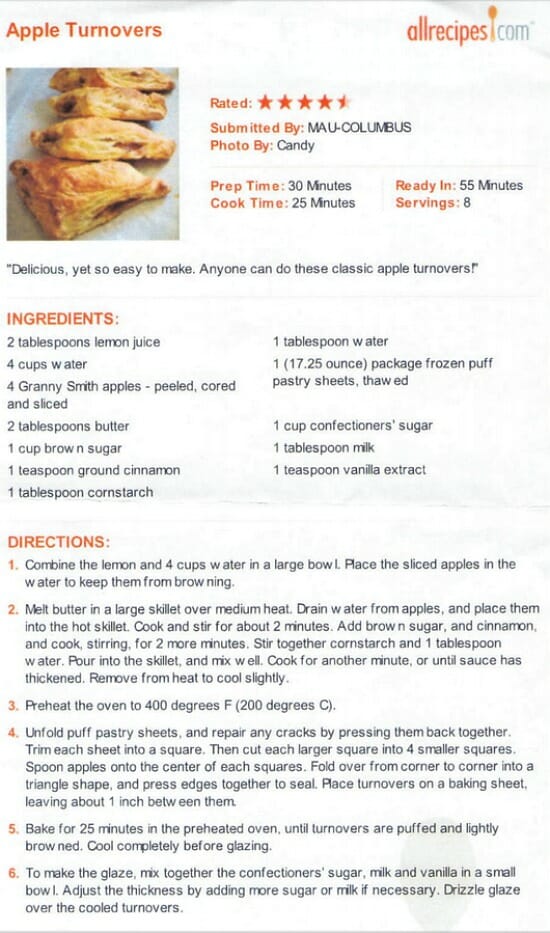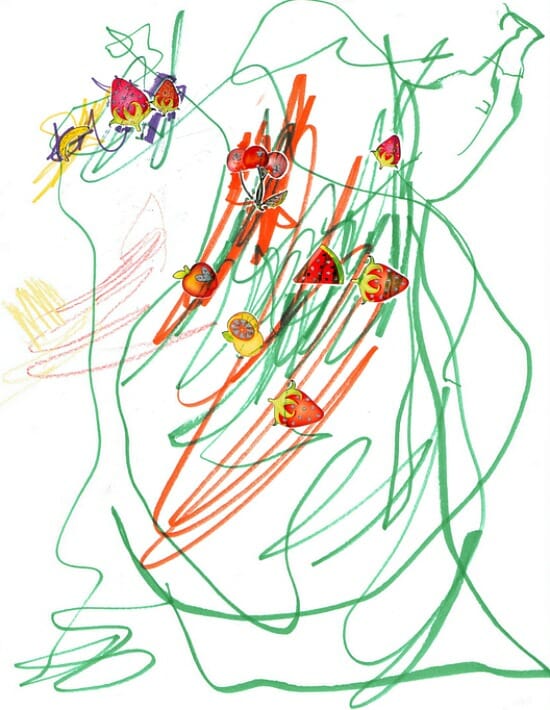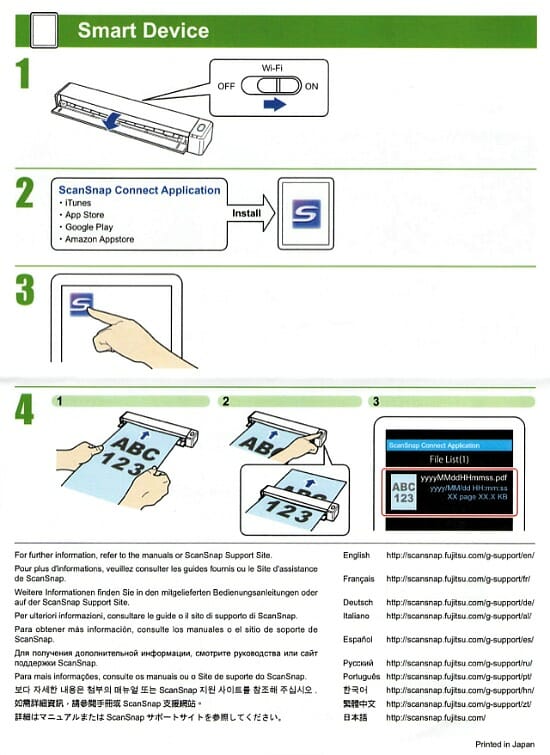 Pretty crystal-clear wouldn't you say!
And guess what… it scans pictures too!!!
I regularly talk about my love of digital photo albums and how I've digitized and organized ALL our photos from the time Dave and I were born. This process has completely simplified and organized our picture situation — and if I would have had this scanner, the process would have been just THAT much easier.
I'm often asked what scanner I would recommend for scanning pictures, but I've never had a great answer because I've never been super happy with any of our scanners when it comes to pictures. Yes the quality is OK, but the process of scanning them was SO cumbersome and time-consuming.
However, with the ScanSnap… it really is a snap 🙂
On the computer, simply select "JPEG" from the 'File options' tab in ScanSnap Manager.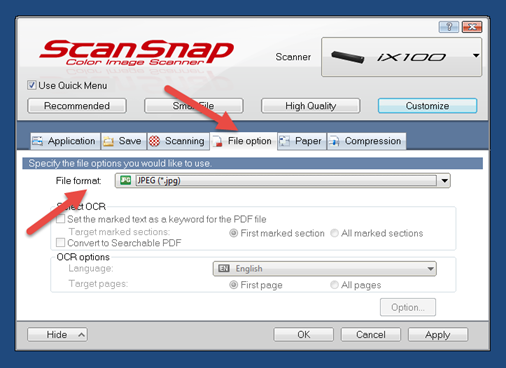 If scanning to a mobile device using ScanSnap Connect App, the JPEG file format can be selected from the settings button, the profile selection and then the File format selection.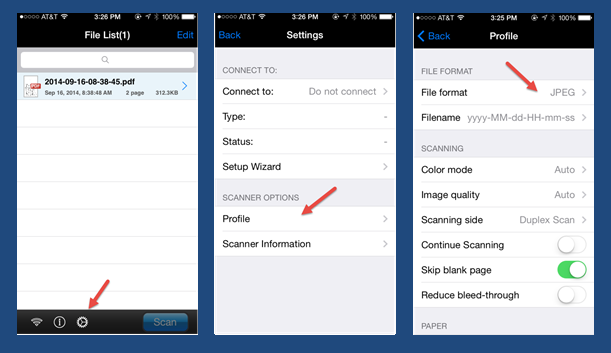 So yes, this feature is definitely one of my favorites… and speaking of my favorite features, here are a few more.
.
Some of My Favorite ScanSnap Features:
1. It's tiny.
As you can see by the images in this post, the ScanSnap is a little smaller than a normal foot-long ruler. It would EASILY fit in any backpack, computer bag, purse, or even a diaper bag 🙂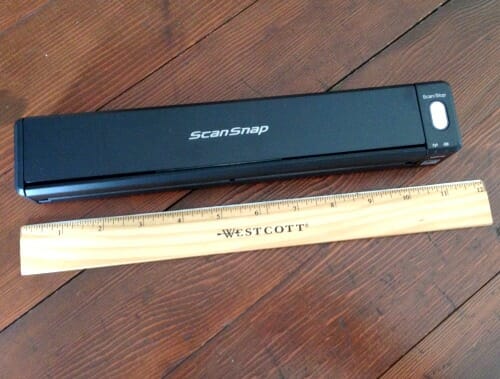 2. It's SO fast!
Seriously, it's about 5 times faster than the scanning feature on our 2-year-old All-In-One printer. This baby flies!
3. It will automatically continue scanning until you tell it to stop.
The ScanSnap allows you to scan as many pages as you'd like continuously without restarting the application. So you can scan a 25 page document or 10 of your favorite recipes all as ONE document, not 25 (or 10) separate pages.
Just keep feeding the pages into the scanner and it will keep scanning until you tap the "done" button on your phone or hit the "scan" button on the scanner.
4. It's simple to set up and very easy to use.
Obviously, with this type of technology, if it's not easy to set up or use, it's not going to be helpful. I know I'm "young" so I'm thought to be very good with technology, but I'll be honest, I hate the set-up and activation process. However, after reading through the simple instructions and watching a couple of their fabulous instructional videos on YouTube, I had the ScanSnap connected to my computer, my phone, and Dave's phone in about 10 minutes.
It took another couple minutes to play around with the scanning feature and figure out exactly how it all worked — but I was scanning documents to my phone and computer within minutes of having the scanner set up.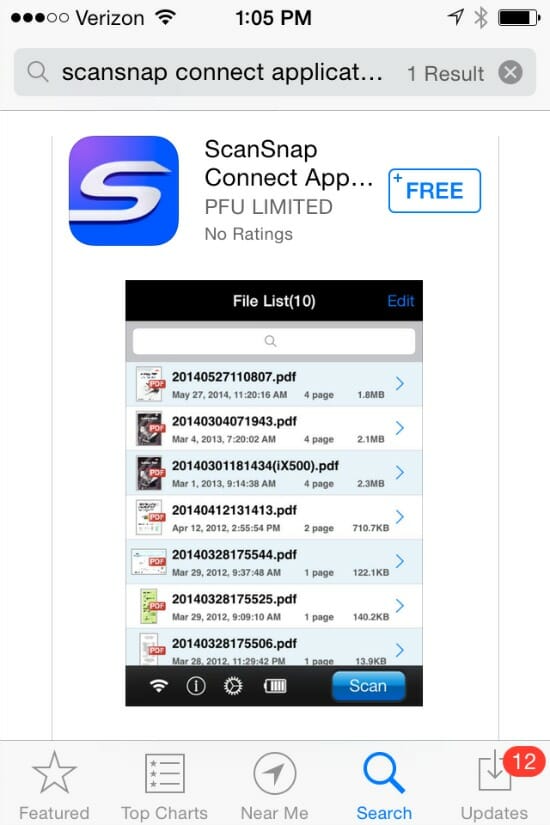 5. It works seamlessly with programs I already use to organize my documents.
I've been using Dropbox and Google Chrome for years to store and organized many of my documents online. More recently, I've been using the Kindle App to store and organized reading materials. So the fact that the ScanSnap scanner easily integrates with those programs (and many others) makes my life just that much easier.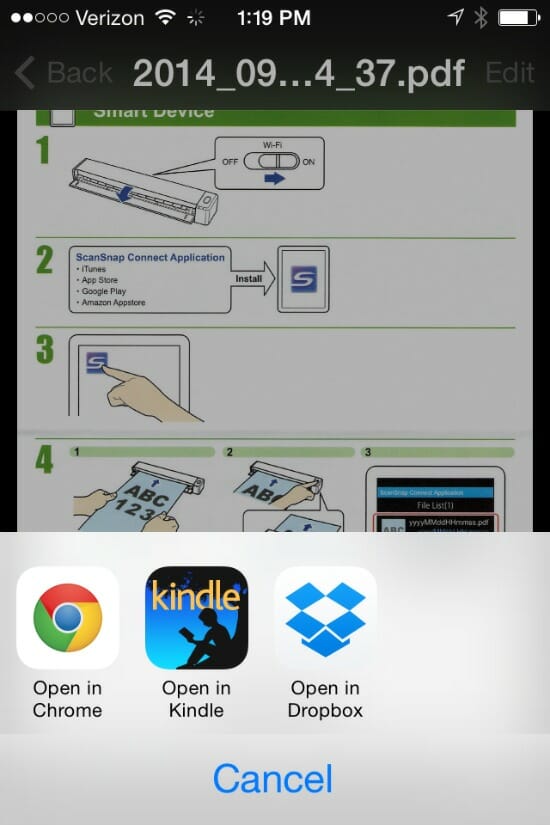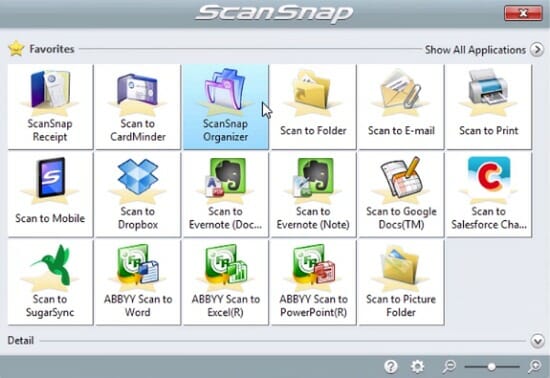 6. It's smart.
ScanSnap comes loaded with a full suite of intelligent scanning features, such as automatic paper size and color detection, automatic de-skew, orientation, and blank page detection and deletion — which basically means it saves you even more time by doing some of these small tasks for you.
It will automatically recognize paper size, which means you can scan two small documents at the same time, such as a receipt and notecard or recipe, to save time. You can even scan thick cards (like credit cards, passports, drivers license, or ID badges) which is something many portable scanners can not do.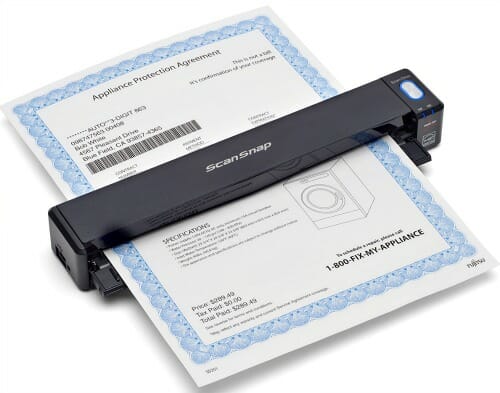 7. It's "universal".
From what I can tell, the ScanSnap works with most computers (desktops and laptops), most smart phones, most tablets, and most Kindles so there's really no reason why anyone wouldn't be able to use this device.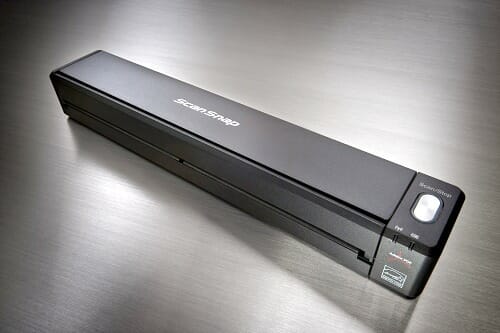 8. It can be used ANYWHERE!
The scanner can be plugged into your computer via the included USB cord. However, it will also work wirelessly (with your home/office WiFi) to scan documents to almost any tablet or smart phone.
BUT, it gets even better! Even if you're in the middle of nowhere with no WiFi signal, it can still easily scan through the ScanSnap App even without a WiFi connection.
.
More about ScanSnap:
The ScanSnap iX100 is the world's fastest wireless scanner. Whether scanning receipts, contracts, recipes, or plastic cards, the iX100 takes scanning beyond the desktop and into your mobile world. Completely wireless and weighing only 14.1 ounces, the iX100 brings mobility and wireless scanning to your PC or Mac as well as iOS or Android device.
Visit ScanSnap on the Web:
Visit their website.
Facebook: ScanSnap
Twitter: @ScanSnap
YouTube: FujitsuScanSnap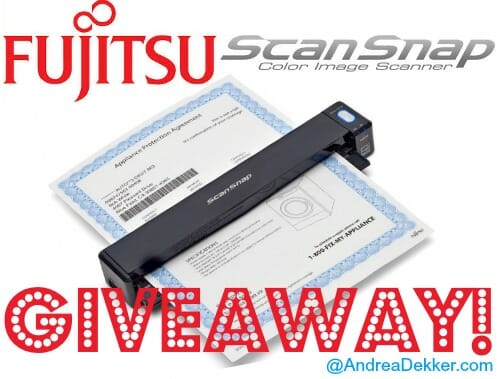 Enter To Win This Giveaway!
Today, a lucky reader will win a Fujitsu ScanSnap iX100!
To enter, simply use the Rafflecopter widget below (it might take a second to load).
This giveaways ends at 11:59 pm EST, Monday, 9/29/2014 and is open to US residents, 18 years or older. The winner will be randomly selected via Rafflecopter and notified via email. I received a duplicate prize package in exchange for hosting this giveaway — all opinions are 100% my own. Please see my full disclosure policy and contact me with any questions you have. Good luck!