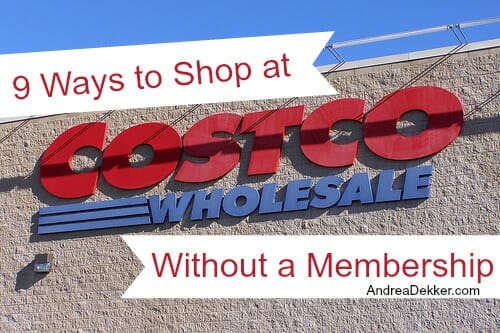 I'm often asked if we have a Costco or Sam's Club membership — and if so, why. Or if not, why not.
Well, my answer is "no" — and right now, I don't really have a great reason! Dave and I actually have a HUGE Costco only a few miles from our house (it was almost walking distance from our first house) and we frequently drive by it on our way to and from various activities… including our regular grocery store.
I've often wondered about getting a membership — but for whatever reason, I've never felt the need. I really really like shopping at our local Meijer — which is basically like a Super Walmart, but much nicer in my opinion 😉
Although I'm fairly confident I could easily recoup the money I spend on the yearly membership fee, I really prefer to shop at just one store for everything I need. From groceries and gas to prescriptions and photos — plus baby items, bakery goods, kitchen or other household items, electronics, clothing, auto and so much more; Meijer has it all under one roof, which is why it's always been my preferred shopping center.
In the future, we would definitely consider a Costco membership, and we've actually purchased many things from Costco even without a membership. If you're debating whether or not to purchase a membership to Costco (or similar warehouse stores) you might be interested to know that there are actually many ways you can utilize these super stores to save a bit of money WITHOUT purchasing a membership.
If after a while, you decide it would be worth the fee, you can go ahead and get your own membership… but in the mean time, try out a few of the ideas below to "test the waters".
1. Prescriptions and Immunizations
I've sent many prescriptions to Costco because they are usually significantly cheaper and a membership is not required to utilize this service. Just tell the person at the front of the store that you're picking up a prescription and they should let you walk right in.
Costco also offers their immunizations to anyone — even those without a membership. There will most likely still be a fee for the actual immunization
2. Hearing and Vision Tests:
You can get your ears and eyes checked at Costco without a membership — but you can not buy glasses, contacts, or hearing aids without the membership. We have never utilized the hearing tests, but I do know they offer good prices on vision tests.
3. Alcohol:
I'll be honest, I've actually never purchased alcohol from Costco — but I've heard it's cheaper and I KNOW you can buy it without a membership. The same goes for any tobacco products — although I'm not advocating for that 🙂
4. "Shop" the Food Court:
Costco's food court is extremely inexpensive and, although they have a limited selection of foods, it's a fun spot to stop for a quick lunch every once in a while (especially with kids). They have HUGE hot dogs and sausages, and soft serve ice-cream at much cheaper prices than I've seen anywhere else.
5. Shop With a Costco Cash Card:
If you know someone with a Costco membership, ask them if they would be willing to buy (or reload) a Costco Cash Card for you. You can pay them for the card and then use it at any Costco location (and any Costco gas station) — no membership needed.
Obviously, I wouldn't recommend doing this indefinitely, but it could be a great way to test the waters and see if a membership would be beneficial for you or not.
6. Shop Online:
In my own experience, you can buy anything via Costco.com without a membership — and without a Costco Cash Card. You can use any major credit or debit card to purchase goods via their website, and then have them shipped to your door.
You will most likely need to pay a shipping fee — and there is also a 5% surcharge on every purchase. This means that once you spend more than $1100 in a year, you've paid $55 in surcharges, and it would have been smarter to just buy the $55 membership. However, if you just need a few items from Costco each year, this could be the best and easiest way to get those items without a membership.
7. Shop with a Friend:
A couple years ago, I needed to buy a bunch of cakes for an event – -and I KNEW Costco cakes would be the cheapest and easiest option. It wasn't worth me buying a membership just to purchase a few cakes — and obviously, I wasn't going to have cakes shipped to me via an online order.
Instead, I asked a friend if I could go with her the next time she headed to Costco. I got my cakes and had a fun time shopping and chatting with my friend.
8. Shop on their Guest Days:
I think Costco has special Guest Days a couple times a year (I know we went once a couple years ago). On these days, anyone can shop, even without a membership. These days are usually quite busy, but they are excellent opportunities to shop the store without committing to a yearly membership.
9. Window Shop:
You should be able to walk into any Costco location any time they are open and tell the greeter that you're there to window shop. Get an application from the front desk and tell them you are considering a membership but want to take a look around first.
If you choose to "window shop" on a Saturday, you can also enjoy all the yummy taste-testing stations set up around the store 🙂
Like I mentioned above, Dave and I personally don't feel the need for a Costco membership at this time — not because we don't think we would recoup the cost, but mainly because I just really like shopping at our local grocery store and don't want to add one more stop to my weekly errands.
However, I have utilized Costco's services via most of the above ideas — and I've always been impressed with their products and prices. Plus, who can resist a giant soft serve ice-cream cone for only $1!
I'd love to hear from you:
If you currently have a Costco membership, I'd love to know what you love (or don't love) about it.
Also, if you don't have a Costco membership, have you utilized any of the non-membership deals and discounts listed above?