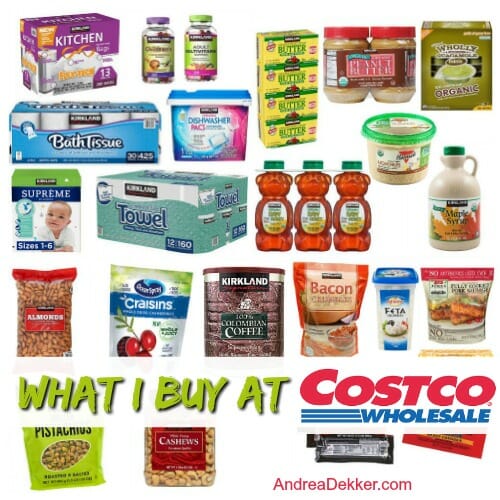 One of the questions I get ALLLLLL the time is to share the things I regularly buy at Costco.
We've had a Costco membership for almost 4 years now (just the membership, not the credit card) and although we regularly talk about NOT renewing it, we always decide it's worth the cost for our family at this point in life.
Dave and I actually joke about the fact that our Costco membership fee fits more into the "Entertainment" section of our finance tracking workbook than it does into the Grocery section because the kids love going to Costco to look around, try the samples, and maybe snag a slice of pizza from the food court!
It's always a fun adventure, and they are ready and eager whenever I announce a Costco trip!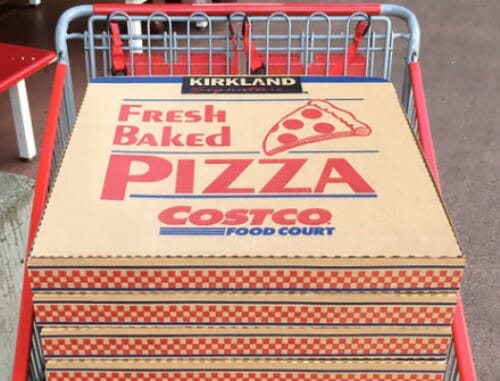 We have the Executive Membership which is twice the price of a traditional membership ($120 versus $60) but it comes with a few added perks — like an extra membership card and cash back on every purchase.
And even with the doubled fee, the cost breaks down to just over $1 per week after we factor in the cash back (we are guaranteed an in-store credit of $60 at the end of our membership year — which we put towards our next year's membership).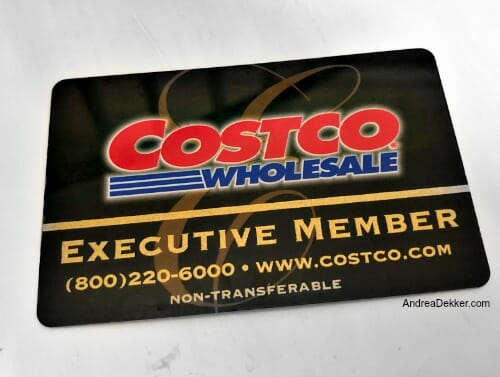 NOTE: if you have specific questions about the membership, it's probably best to call or visit your local Costso — I don't have all those details!
.
Anyway… the kids and I usually try to hit up Costco at least once per month to "stock up" on our favorite staples (and of course, enjoy the samples).
Over the past 4 years, I've noticed that I basically buy the same things every single month… with maybe a new item or two each trip, depending on what is on sale or if we need something specific and it's easier to buy it from Costco versus making an extra trip to a different store.
Here's the (growing) list of our favorite Costco buys!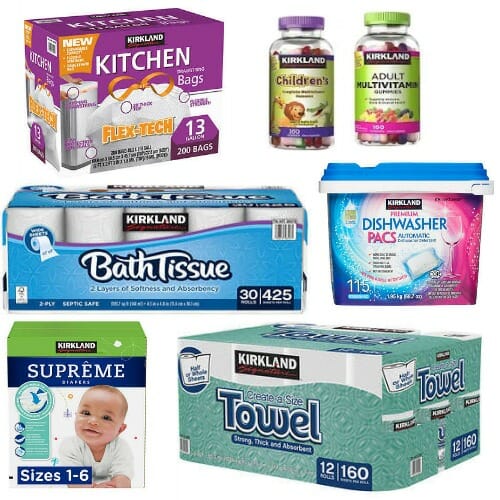 Paper + Cleaning Products:
Over the last 4 years, I have become a fan of Kirkland brand toilet paper and paper towels, so I buy a (huge) package of them whenever we are low again.
Believe it or not, the package of paper towels usually lasts our family an entire YEAR (not nearly as long for the toilet paper!)
I also buy the Kirkland kitchen trash bags and jumbo packages of Ziplock bags a couple times each year when they are "on sale".
And… if you're looking for a fantastic value on diapers, the Kirkland brand really can't be beat. We still mostly use Seventh Generation brand, but the Kirkland diapers are super high quality and VERY reasonably priced!
I've been using the Kirkland brand of dishwasher tabs for a very long time. They do an excellent job of washing our dishes (I have actually experimented with different brands and the dishes are not as clean).
The one down-side to these dishwasher tabs is that they seem to have a fairly strong smell. In my opinion, this smell sometimes transfers over to plastic food storage containers (not always) so I often end up washing specific items by hand so they don't get the smell.
I have also purchased large containers of sanitizing wipes for our home and our church nursery.
We don't have any regular prescriptions, but we have filled prescriptions at Costco in the past — usually at a good discount. We DO always purchase our gummy vitamins from Costco. The kids love them and they are fairly reasonably priced.
.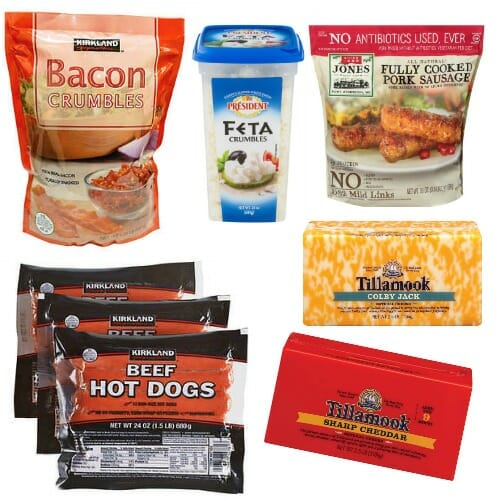 Meat + Cheese!
Oh my word, we eat SO MUCH "Meat + Cheese" — as my kids call it!
Every Costco trip means buying at least one BIG block of both cheddar and colby jack cheese, as well as a large container of Feta Cheese. We also buy a bag of crumbled bacon, a 3-pack of hot dogs (not every month on this one) and a big bag of their DELICIOUS pre-cooked sausage links.
These sausage links are our kids' personal favorites and they have almost no extra additives or preservatives. They are so quick and easy (and they'll be on my list of "favorite things" next month!)
Our favorite cheese are the Tillamook Sharp Cheddar, White Cheddar, and Colby Jack!
.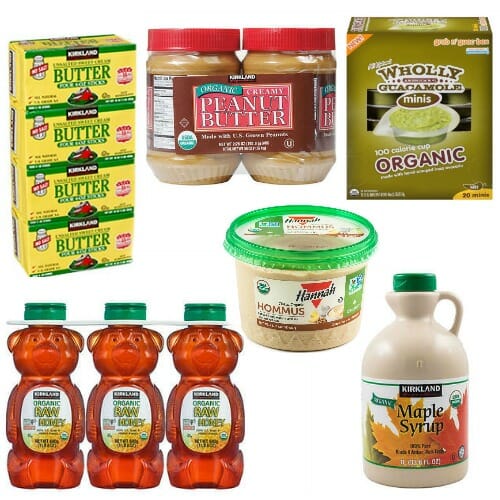 Syrup, honey, butters, and dips:
We buy all our maple syrup, honey, peanut butter, regular butter, hummus, and salsa in bulk from Costco. We go through so much of all of these that I buy more pretty much every month.
We do sometimes buy guacamole from Costco (it's delicious) but I usually make it myself.
For the record, our favorites are the Hannah Hommus Roasted Red Pepper Hummus and the Santa Barbara Mango Peach Salsa!
.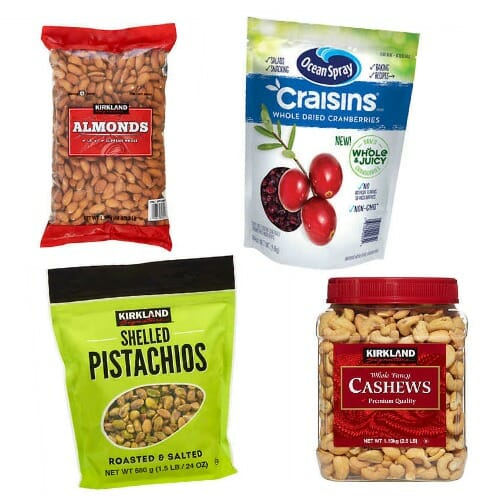 Nuts and Dried Fruit:
I have yet to find better priced or higher quality nuts and dried fruit than at our local Costco. They have SOOOOO many options too!
We go through a huge bag of Craisins every month, and we enjoy their Cashews, peanuts, almonds, and pistachios in various trail mixes, baked goods, and other snacks.
Our Costco recently started selling dried apples — SO yummy!
.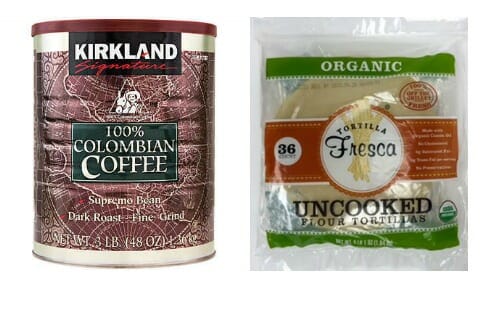 Tortillas, Coffee, and other Misc.
I almost always buy a can of Kirkland ground coffee (Dave really likes it) every shopping trip.
I also buy a package of their uncooked refrigerated tortillas almost every shopping trip. They are AMAZING — and the superior taste is definitely worth the few extra minutes to cook them! I shared more about these tortillas in a post this past spring.
And of course, there are often a few miscellaneous items I pick up each time — sometimes fresh fruit or veggies, sometimes a specific condiment we're out of, sometimes something totally random.
Let's just put it this way… we NEVER leave the store empty handed! 🙂
.
Now it's YOUR turn…
What are your favorite Costco Buys?
And what items should I be adding to my list?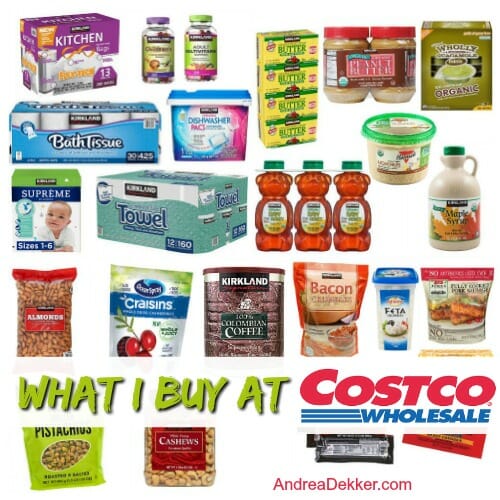 .
NOTE: If you're wondering if a Costco membership is right for you, but don't want to fork over the membership fee, give it a "test run" by going with a friend or family member. And also be aware that there are several things you can buy WITHOUT a membership! I explain more in this post from several years ago.