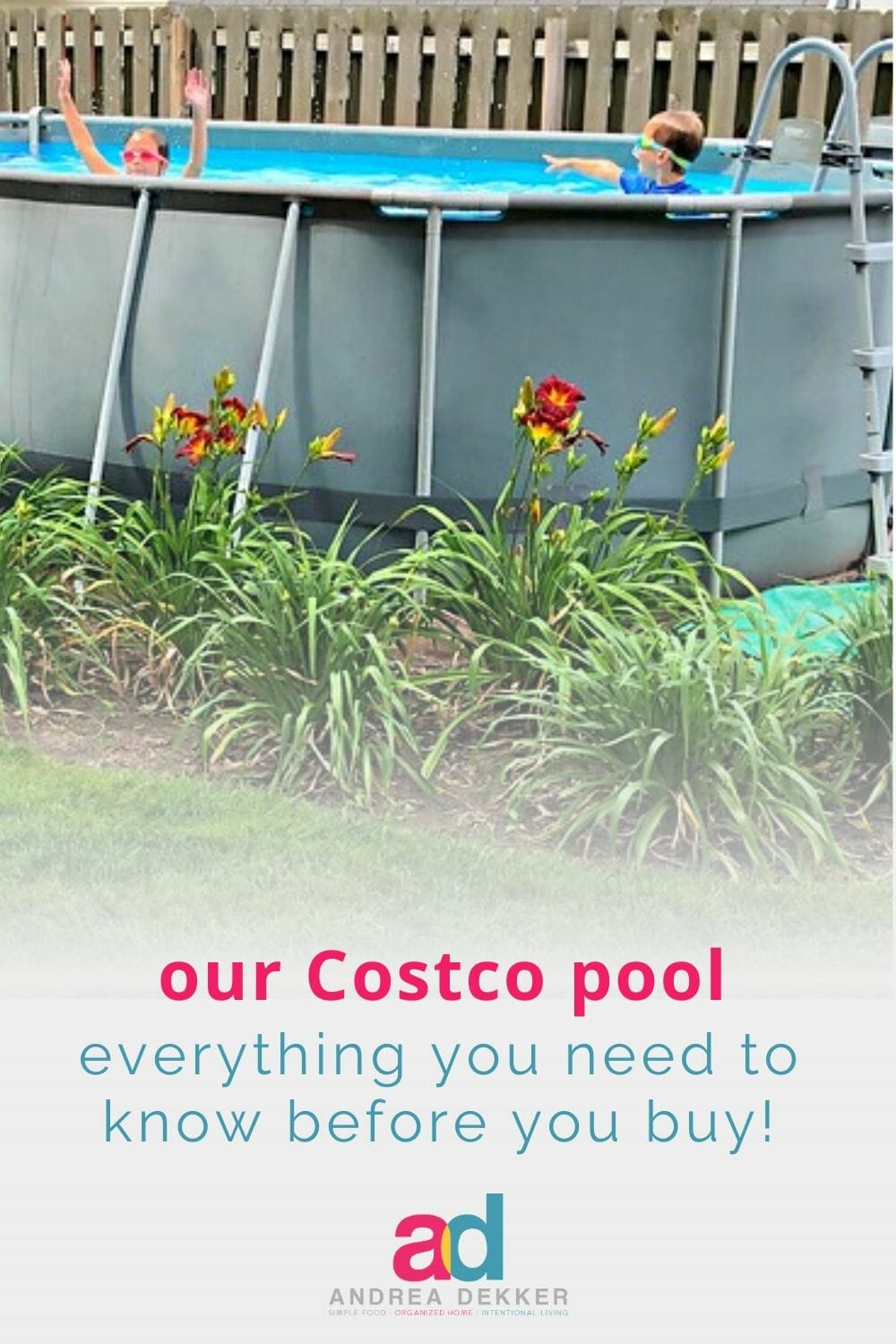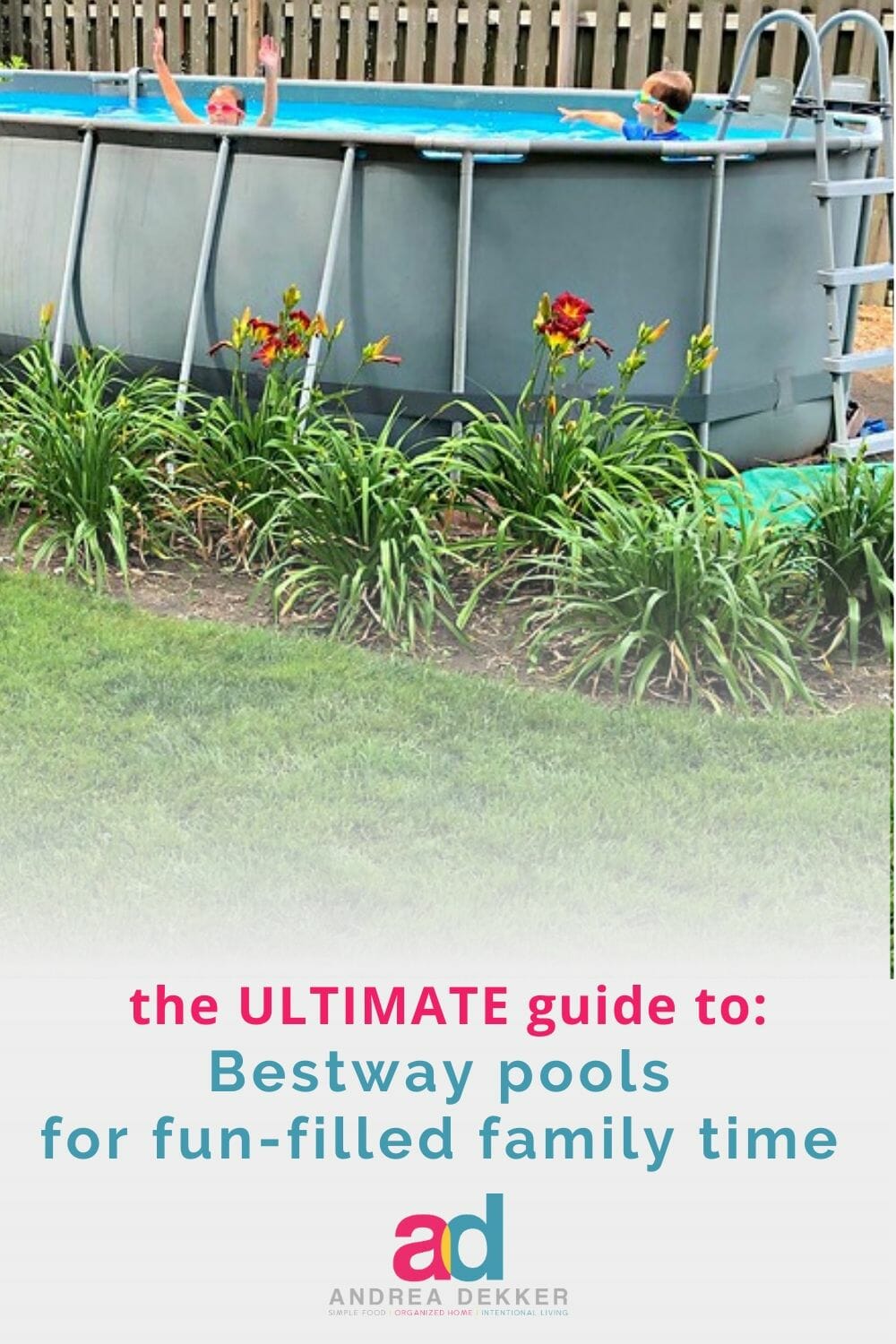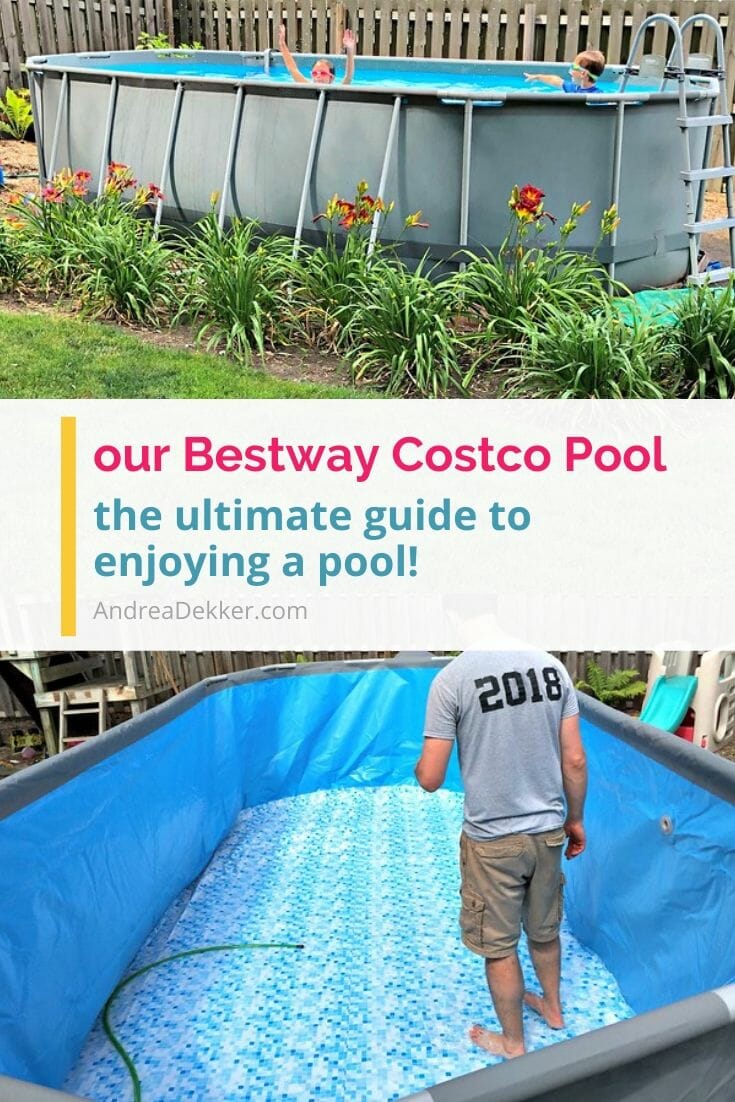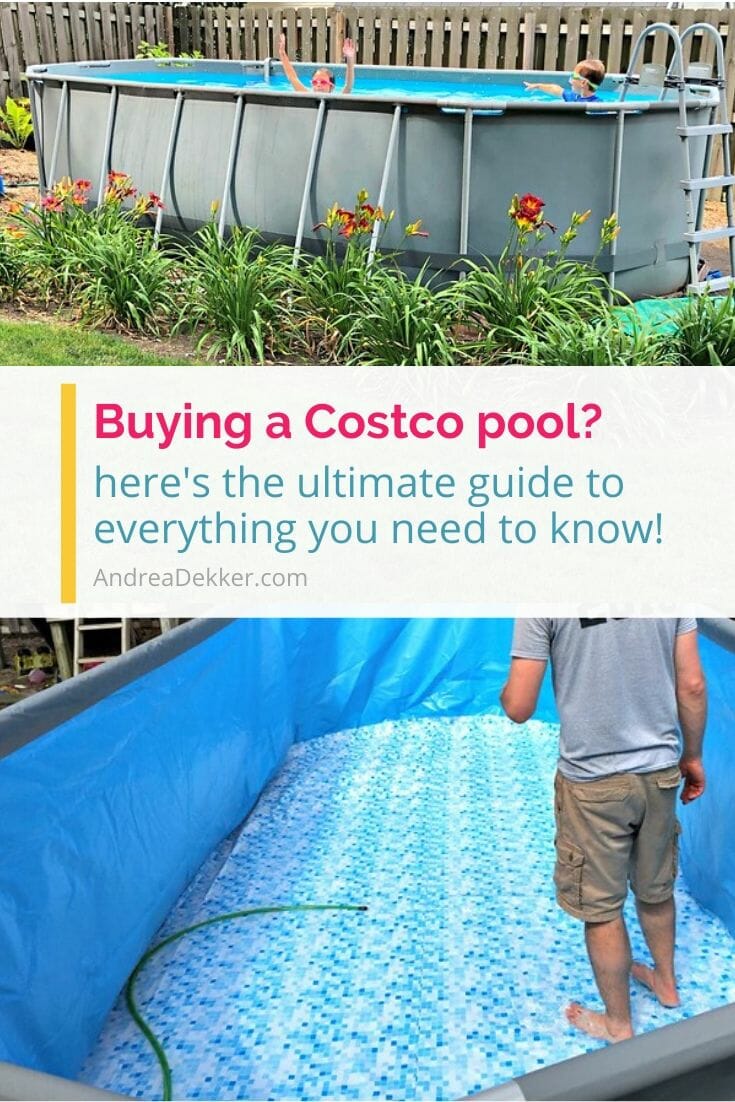 Learn everything you ever wanted to know about how to install and set up an above ground Costco pool before you head to the store to buy!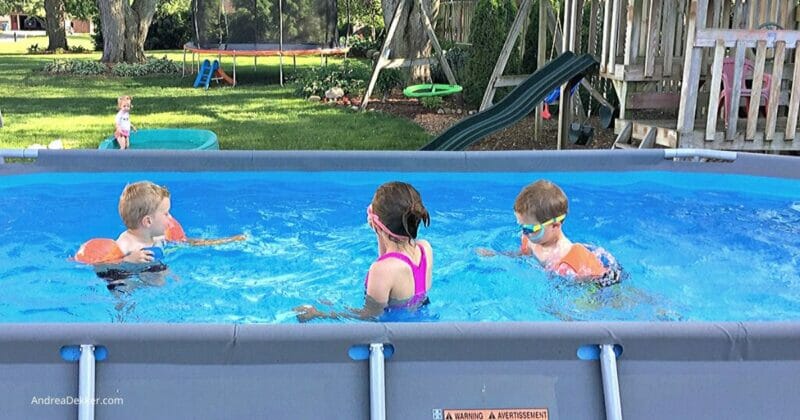 If you're in search of frugal at-home summer fun for your family, an inexpensive above-ground pool is totally the way to go!
We purchased a steel-frame 9′ x 18′ oval Bestway brand pool from Costco in 2018 (we call it our "Costco pool"). At roughly $500, it was a fantastic investment for our 4 young children!
Who am I kidding — Dave and I enjoy our tiny pool quite a bit as well!
A few things to consider if you're planning to buy an above ground pool like our Costco pool:
1. The box is HUUUGE!
It's almost as tall as me (5'7″) and it's at least 3′ wide on all sides.
We needed to fold down all the seats in our van and have someone at Costco help us load it.
2. The disassembled pool will take up a large amount of space in your garage (or wherever you plan to store it in the winter).
We know people who leave their pool up all winter (totally doable if you live in a mild climate), but we always take it down. And yes, the disassembled pool takes up a decent amount of floor space, even when it's folded up.
We store it in our extra garage, so if you don't have a large amount of extra garage or shed space to store this pool, you might choose to leave your pool up all year long (invest in a good tarp or cover to keep it clean).
3. Check your city ordinances and codes to make sure you're putting the pool in an appropriate location.
We had restrictions as to how close our swimming pool could be to another structure and to our lot-line (we almost put it too close the first year). Definitely check into this before you spend time preparing the ground.
4. Plan to invest in a few extras.
Our Costco pool came with everything we needed for installation (see complete list below the next pictures).
However, we have purchased a few hundred dollars worth of 'extras' over the years — plus all the chemicals (also listed below the pictures).
5. Think twice before buying used.
I'm almost always a fan of buying used versus new. However, I highly caution you against buying a used Bestway pool from Costco (or a similar-style above-ground pool).
For starters, these inexpensive pools really aren't made to last all that long — 3-5 years at the most. The pumps just don't last.
Also, there's a really good chance the pool liner could have a small rip or hole in it — which you wouldn't realize until AFTER you filled it with water.
And it would be almost impossible to verify you had all the correct parts and pieces if they aren't all nicely packaged in a box from the store.
6. Realize you get what you pay for.
I honestly don't want to discredit this pool at all — we truly are SO happy with our little Costco swimming pool.
However, if you buy it with unrealistic expectations of it being a resort-like pool, you will be disappointed.
We have thoroughly enjoyed this inexpensive above-ground pool for a couple of years now… but it's inexpensive for a reason!
What's Included With This Costco Pool Model:
instructions (they honestly aren't great, but you'll still want to use them)
1 large ground cloth
LOTS of clearly labeled pipes and pieces to assemble the steel frame
9′ x 18′ heavy-duty pool liner (this essentially IS the pool)
pool cover (ours never fit and the Bestway Pool company didn't respond to our questions)
1 ladder
a solar water heater mat (not a solar cover)
a 1000-gallon sand filter pool pump (we may purchase a larger pump)
1 pool skimmer
1 pool vacuum kit (it's not the greatest but it works well enough)
What's NOT Included: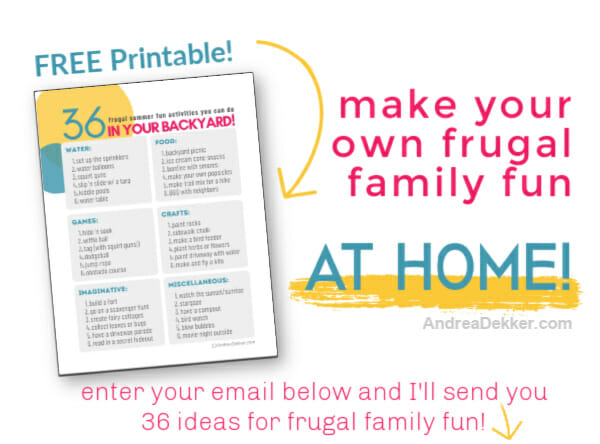 The Specs:
Item #: 179351 (in case you're looking for the EXACT same Costco pool we have)
Assembled Pool Dimensions (top):
18 ft. x 9 ft. x 48 inches tall
[5.49 m x 2.74 m x 1.22 m]
Assembled Pool Dimensions (bottom):
The base of an oval or rectangular pool is always wider than the top since the support posts flare out.
18 ft. x 11.2 ft. x 48 in.
[5.49 m x 3.41 m x 1.22 m]
Pool Water Capacity:
3,548 gal (13,430 L)
NOTE: this is filling it roughly 90% full (which is the recommended amount). It took us a full day to fill it with our garden hose.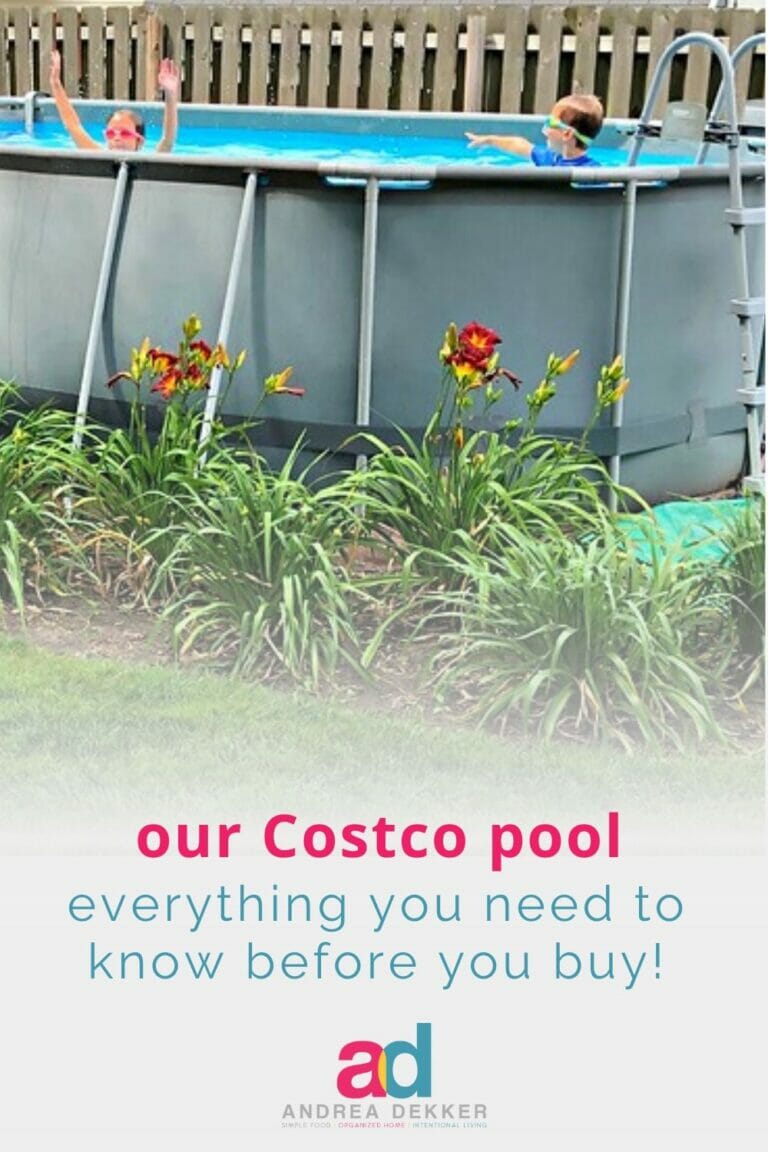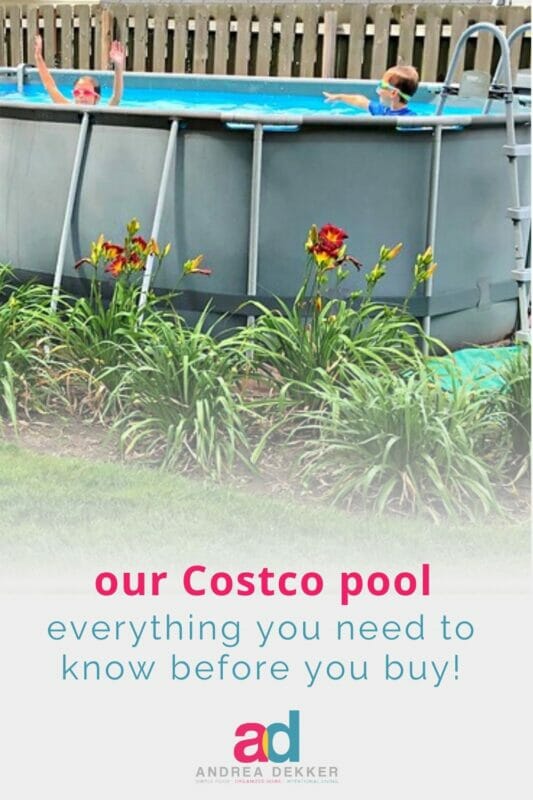 10 Quick Tips to Assemble Your Costco Swimming Pool:
1. Read ALL instructions and make sure you have all pieces before getting started.
Honestly, Dave and I were very unimpressed and frustrated with the instructions that came with this Bestway Pool — but they were still valuable because they listed all the parts and pieces, so we could make sure we weren't missing anything before we started.
We simply searched YouTube for our exact pool model and learned how to install it that way.
We used this video to help us set up the pool. It's the EXACT same Bestway pool we have, and it was published the same week we initially set up our pool!
Here's another Costco pool set-up video showing a newer version of our swimming pool (the video is much longer and super detailed)!
2. Take your time on the set-up — and maybe recruit some helpers!
The first time we set up our pool, my brother-in-law and his brother both came to help. They had experience with pool set-ups so it was very nice to have them around.
The second time we set it up the pool, Dave and I did it ourselves in less than an hour.
Either way, just take your time and don't rush the process. It's fairly simple… but if you mess up, you might need to drain the water and start over again!
3. Make sure your ground is very level.
You MUST make sure the ground under your pool is VERY LEVEL — otherwise, the legs won't be as strongly supported and your pool will lean in.
A little bit of leaning is OK, but if the pool is very unlevel, it puts extra strain on one side and could cause the pool liner to stretch and actually break (I've been in another pool when this happened!)
NOTE: you might also consider putting wooden 2″ x 6″ chunks of wood under the legs for more stability (and so they don't sink down into the ground).
4. Realize that the assembled pool's "footprint" will be larger than advertised on the box.
Our pool notes that it's 18′ x 9′ (and the TOP of the pool is). However, the legs stick out quite a bit, so the full size of the assembled pool's footprint is actually closer to 18′ long by 12′ wide.
As a general "rule of thumb" I'd suggest adding 2 to 4 feet to each measurement (width and length) when planning your ground space.
5. Take note of where the pump will sit and position that on the "back" side.
You most likely won't buy an inexpensive Costco pool for "looks", however, it will be more attractive if you position the pump and filter in the back.
See how much nicer the front of our pool looks (1st photo) versus the back (2nd photo)?
7. Use some type of lubricant on the "rim" poles so they don't stick to the liner.
I share more about this below (in the disassemble section) but our liner basically melted to the steel frame (around the top rim) and we can't get it apart anymore!
Since we have plenty of storage space in our extra garage, we left the long poles (on the 18′ sides) attached (we were able to get the shorter end poles out after a little finagling).
If we were to do this again, we would put some type of lubricant on the poles FIRST, to make it easier to take the pool down in the fall.
8. Monitor the pool regularly as you fill it with water — especially the first time!
You'll want to check back every 30 minutes or so to look for leaks and to make sure the sides aren't caving in or bowing out too badly.
Again, it's NOT a complicated process, but filling your pool is not something you should do if you plan to be gone all day.
NOTE: It took a full day for us to fill up our 9′ x 18′ pool with a traditional garden hose.
9. Make fast friends with a local pool company!
We have 2 local pool companies that are both SO willing to help us when we have questions.
The staff helped Dave get our pool up and running and then helped us figure out what we needed for chemicals to make sure the water stays nice all summer long (see #9 below).
10. Get chemicals in the water ASAP.
As I mentioned above, we had the water tested to figure out what chemicals we needed the day after we filled it with water.
The chemicals you need will be different based on your area, your general climate, the type of water you have, etc. so it's definitely wise to have a professional give you some expert advice (at least in the beginning).
Once the chemicals were in, we waited 24 hours and then let the kids jump in (yes, it was freezing!)
General Maintenance Tips for Above-Ground Pools:
1. Be prepared for DAILY Maintenance
Dave does almost all the pool maintenance — which I thank him for regularly. It's not a difficult job, but it DOES require diligently checking on things every day in order to keep the water clean.
He adds chlorine EVERY day — usually right away in the morning when he "opens" the pool.
He also adds a stabilizer to the water when we open the pool in the spring. Then he shocks the water.
From then on, he shocks the pool every other week and uses an algaecide on opposite weeks.
We use our pool skimmer every time we swim (which is almost every day) and Dave vacuums the pool roughly once a week.
NOTE: if you plan to be gone a lot over the summer, you may want to think twice before setting up a Costco pool. The pumps are small, and without daily care, you might just come home to a nasty green pool!
2. Test the Water Regularly:
Dave uses water test strips to test the water each day.
They're not perfect but they give a pretty good idea of the water quality.
Dave also brings water to a local pool store for testing once a week. They do it for free and tell him exactly what he needs to do to the water.
3. Monitor Your Pump (and run it daily)
You will need to run your pump with the filter regularly — this is important for the health of the water.
That said, you should also monitor your pump each day so you know what your pump can handle.
Our pump seems a little cheap, but Dave has figured out a way to make it work… he typically runs the pump with the filter for 2 hours in the morning. After 2 hours, the pressure often rises, so he switches the pump to "circulate" during the late morning/early afternoon hours. This way, the water is still running through the solar heater (but bypasses the filter). Eventually, he turns the pump off.
He then runs the pump WITH the filter again for a couple of hours in the evening and turns it off before we go to bed.
4. Get a Solar Cover and/or Solar Heater
The main reason we decided to purchase this specific Bestway pool from Costco was because it came with a solar water heater (the black tubing mat behind the pool).
We were initially a bit skeptical as to if the solar heater would actually work… but it DOES! However, it puts more pressure on the pump because the water is being forced through ALL that tubing. This is one reason we regularly monitor the pressure on our pump (see #3 above).
We also use this solar cover (we cut it to fit our specific pool size). We put it on EVERY night (it's a 2-person job) and it works really well to keep the heat IN and the junk OUT.
5. Skim and "brush down" the pool every day.
I can't stress enough how important it is to stay on top of all the maintenance for these little pools (especially once the water gets super warm!)
It's not unusual for our pool to get to 90º by July… and when it gets THAT warm, the algae starts to grow really quickly.
We manage this by skimming the pool and scrubbing down the sides and bottom of the pool on a daily basis. It only takes 5 minutes and keeps our pool really clean!
We like this pool brush (but anything similar should work just fine).
6. USE YOUR POOL REGULARLY!
This is probably my most important tip!
If you aren't swimming in the pool on a near-daily basis, the water will get green much faster!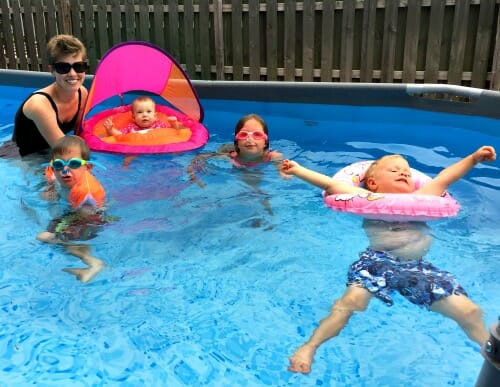 How to Disassemble and Winterize an Above-Ground Pool:
We know people who leave their steel-frame pools assembled all winter, but as I mentioned above, we have always chosen to take ours down.
Here's how we "winterize" our pool:
1. Let the Chlorine Evaporate
When we're finished with the pool for the year (usually around Labor Day), we let the water sit for 7-10 days so the chlorine evaporates. Yes, it will turn green!
2. Drain as much water as you can with a hose.
Simply connect a garden hose to the drain to get most of the water out into the street (or wherever you plan to drain it).
3. Use a SubPump to get all the water out.
Once the water was below the drain hole, we used a mini sub-pump (only $10) to get the rest of the water out.
4. Clean the inside of the liner.
We clean our pool liner it with vinegar spray and our deck scrub brush (it didn't take long at all).
5. Suck up any last bits of water or debris.
We used our shop vac to get any last little bits of water out and then let it sit in the sunshine for a few hours to TOTALLY DRY.
6. Disassemble the pool frame:
Once the liner was completely clean and dry, we disassembled the pool.
In full disclosure, we had a really hard time getting the steel frame apart — specifically removing the steel poles from the pool perimeter (the vinyl sides sort of "melted" to the polls).
After a lengthy struggle with this, we decided to keep the long sides of the pool liner connected to the frame, and just took the curved ends and the legs off.
If we were to assemble a pool like this again, we probably would rub Vaseline or another type of "lubricant" over the poles before attaching the liner.
Since we had plenty of storage space in our extra garage, we fold up the pool as well as we can (hotdog style) and put it on the ground in our extra garage all winter. It's not ideal, but it works for now.
7. Bring the pump inside.
Whether you disassemble the pool or not, make sure you bring the pump into a climate-controlled environment over the winter so it doesn't freeze and/or break.
Before you bring the pump inside, you'll need to drain it, empty the sand, and clean it up a bit. This is very easy (and pretty self-explanatory once you see the pump). It should only take a few minutes.
Additional Pool Product Quick Links:
NOTE: Visit my Amazon Store for lots more family-friendly favorites!
Related Reading:
Overall, we are EXTREMELY happy with our little Bestway Costco Pool and would definitely recommend this frugal option for anyone with little kids who love to swim!
We hope this pool lasts a few more summers; at which point we want to install an underground pool.
Yay!
Pin this post for later.