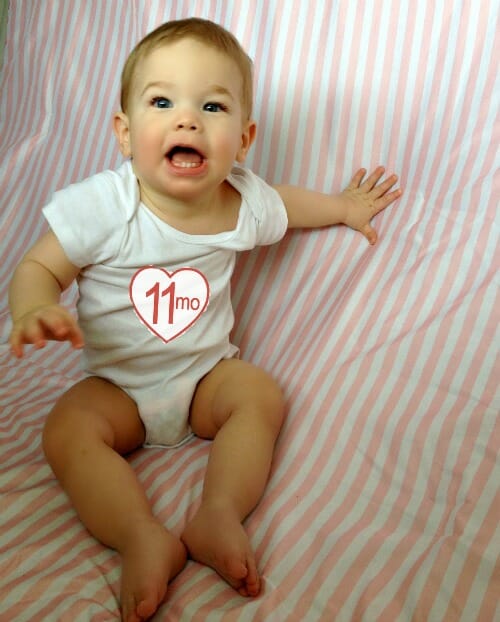 Simon is 11 months old today — almost a full year and I can't believe it!
Also, this month's photos were a HUGE challenge. Simon is nothing like Nora when it comes to taking pictures. Nora would (and still does) sit nicely and pose perfectly every time… not so much with Simon.
I was lucky to get 4 half-way decent photos out of the MANY I took (with Dave's assistance). I'll definitely be re-thinking my monthly photo strategy with the next baby!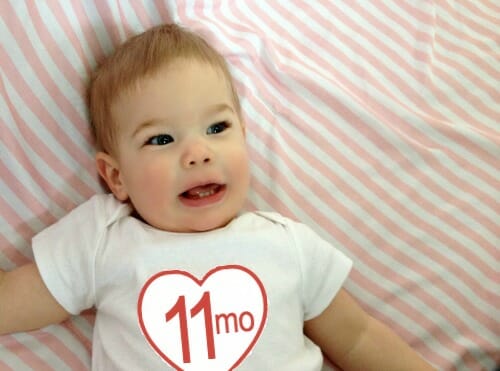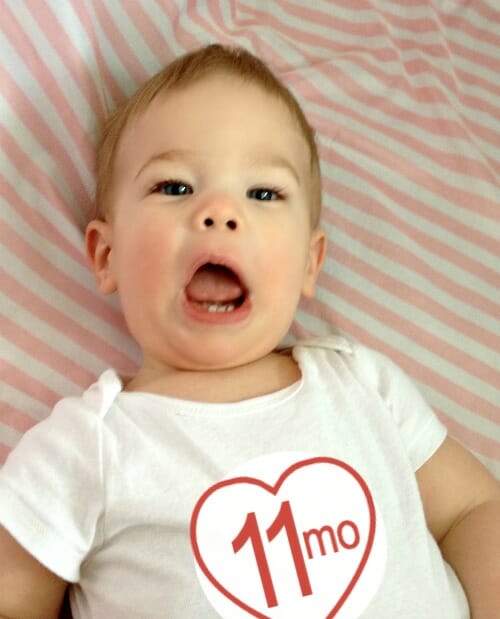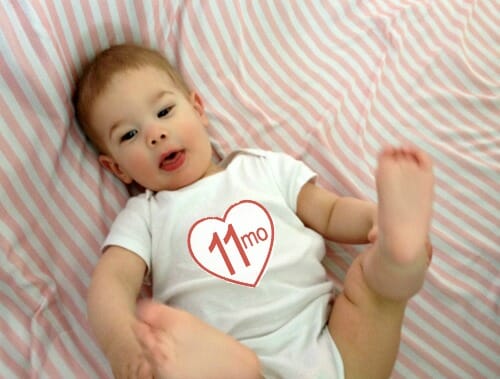 The past month has been a little rough for us…
For starters, he had his first tumble down the stairs — which was really scary for me but he was totally fine within about 2 minutes.
He also had his first fever. It wasn't anything major but he sure was miserable — which is extra tough since he HATES to snuggle. All day long, he wanted to be held, but yet, he wanted his freedom to move around. He wouldn't go in any sort of baby carrier but screamed if I put him down for even a minute. Needless to say, my back was killing me after that week!
Another "fun first" — Simon learned how to throw a temper-tantrum and now regularly sprawls out face-down on the carpet sobbing when he can't figure something out or when he doesn't get his way.
Oh… and Simon has officially decided that I'm his all-time favorite person in the world and he really doesn't love it when I'm not around 🙂 He refuses to take a bottle unless I'm the one feeding him — so although we went the bottle route to give me a little more freedom, I'm starting to feel like I'm right back where I was with Nora. Only this time, I know it will end eventually so I'm not nearly as anxious about it.
Plus, he sleeps really well, which basically negates any other complaint a mother can have… right!?
I think he's trying to transition from 2 naps to 1… but he can't quite make it all day with only one nap, so he's often pretty crabby from about 3:30 – 6:30 when he goes to bed. Poor Dave, he's basically only around when Simon is fussy and crying.
Yes, I know that NONE of this is anything major, it's just sad because my happy-go-lucky little boy has been crying A LOT lately and that's just not like him 🙁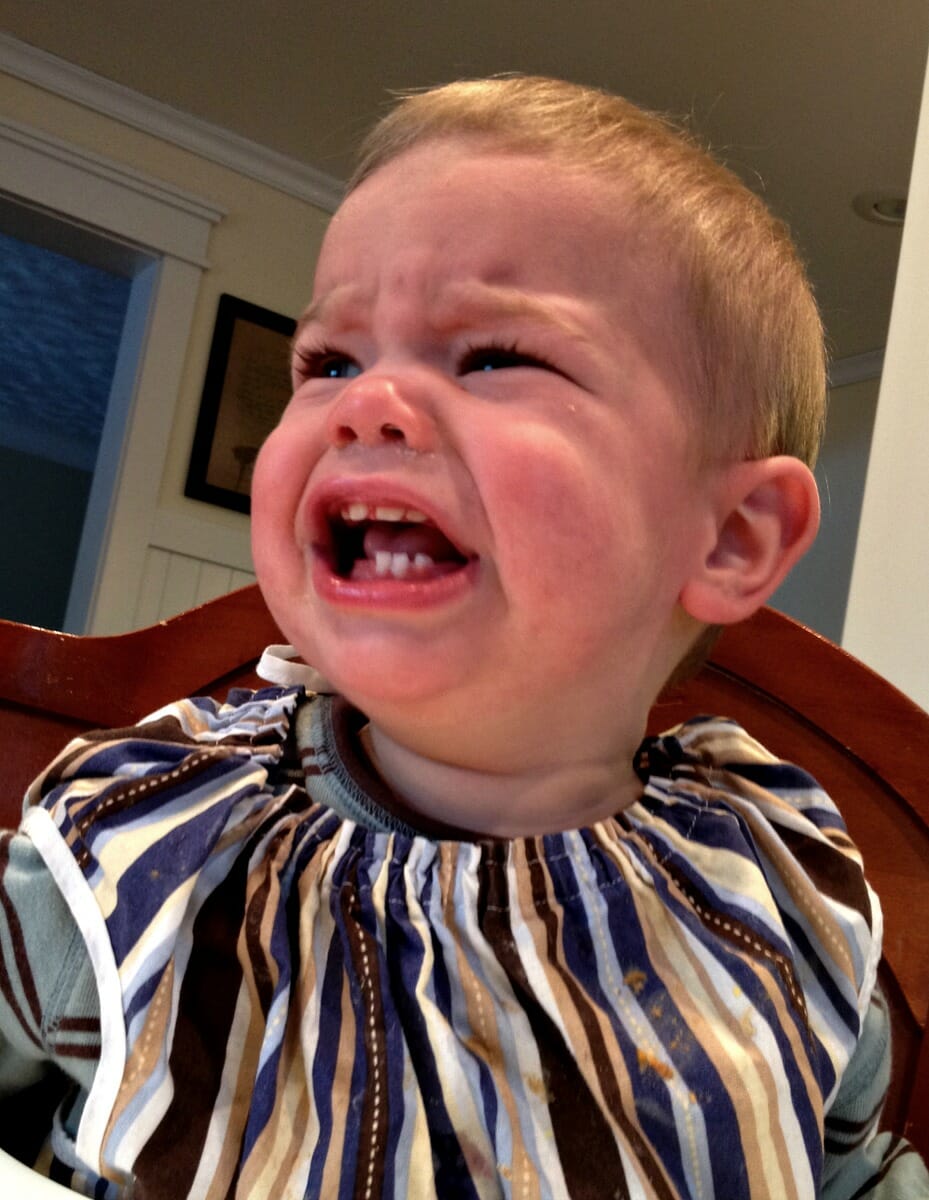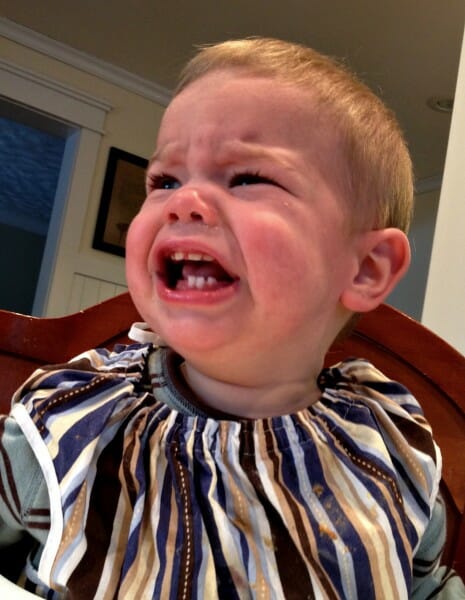 On a more positive note, he has started walking with his walker really well. He scoots all over the house with it, and I'm hoping this means he'll start walking solo pretty soon.
He's not a huge fan of snow or getting all his snow gear on, but he does seem to like being pulled in the sled… so a few times a week, we spend 20 minutes getting everyone bundled up, go outside for approximately 15 minutes, and then take another 10 minutes un-bundling everyone back inside again.
I realize this probably sounds insane to anyone living in a warm climate, but for those of you living with snow, you know that it's worth it for 15 minutes of fresh air (especially if the sun happens to be shining!)
Now that Simon is very mobile, he's starting to play and interact with Nora a bit more. She is not always so excited about this, but it is fun for me to see them "playing" and having fun together.
Almost every single day, Dave and I talk about how fun it's going to be once he starts talking… and Nora and Simon can have their own little-people conversations.
As many of you know, Nora is VERY verbal and pretty hilarious with some of the things she says. I can only imagine how much more fun it will be once they can talk with each other (also, I'm selfishly hoping for a break from Nora's 310 questions every day).
Speaking of Nora, she is quite concerned with party preparations for Simon's upcoming birthday party.
I asked her what she thought we should do, and she immediately said he should have a "red and blue Thomas the Train party, with a Thomas cake". She also suggested that she could dress up as the train conductor and push Simon into the party on our Thomas ride-on toy.
Looks like I'll have a party-planning assistant this time around 🙂
I think Simon will go for that since he loves riding on Thomas.
He also LOVES cars and trucks!
We've always had a small container of cars and trucks in our toy bin, but Nora was never interested in playing with them. Simon found that basket a couple weeks ago and hasn't let the cars out of his sight. He pushes them around everywhere and even pretends that other objects (like cell phones and remote controls) are cars.
He loves his baths in the "sink bathtub" as Nora calls it…
… and in general, he is still WAY WAY WAY more "chill" and relaxed than Nora has ever been.
Here's hoping next month brings a few more naps and a little less fussiness 🙂
Happy 11 months Simon!