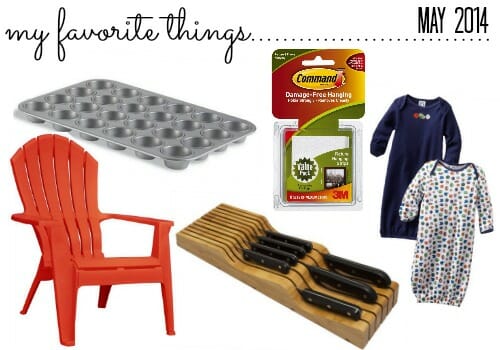 Here are a few of my favorite things for the month of May… and as always, be sure to check out some of my favorite things from past months.
DISCLOSURE: None of these products are sponsored in any way; however, some of the links below are affiliate links — which means I may get a VERY small percentage of the sale if you make a purchase through my links. However, I hope you know that I'm only promoting the products below because I use them EVERY SINGLE DAY in my own home and life! Read my full disclosure policy for more information.
In-Drawer Knife Block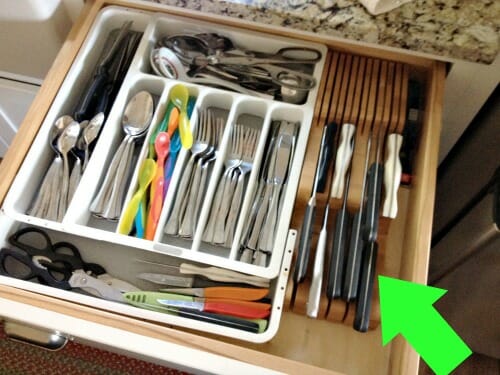 When we were designing our new kitchen (almost 2 years ago now!) I knew that I did not want a knife block sitting out on my counters. I've never liked the bulkiness of on-the-counter knife blocks, and honestly, I don't really like much of anything sitting out on my counters.

So when I realized the drawer I was planning to use for our silverware tray was 24″ wide — MUCH wider than our silverware organizer — I decided to look for an "in-drawer knife block" that would fit nicely next to the silverware.
Thankfully, it only took a few minutes on Amazon.com to find what I was looking for — and I've been super happy with it ever since. Here's the link to the exact knife block I have (pictured below) — but there are many more sizes and varieties if you just search.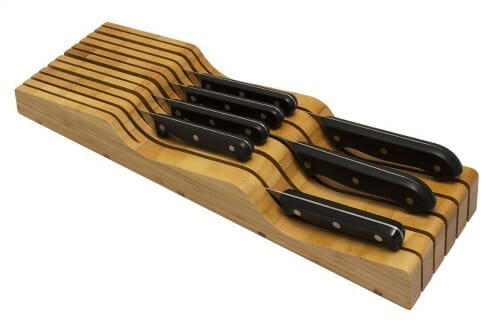 .
Resin Adirondack Chairs
I've ALWAYS loved the look of Adirondack chairs — especially the red ones. And while they don't beat the look of my lovely white Cracker Barrel Rocking Chairs, we still like the nice pop of red on our front porch, back deck, and various other places around our home and yard.

Originally, I thought we should splurge for the real wood Adirondack chairs — until I realized how ridiculously heavy and bulky they were. Don't get me wrong, I love the real wood chairs, but Dave and I ultimately opted for the resin Adirondack chairs from Lowe's.
We decided that since we'd ideally like to move them around our yard as needed (and store them inside during the winter) the stackable resin chairs would fit our needs a lot better. Plus, at less than $20 a pop, the price was right too 🙂
We've been using our chairs for a couple of years now and absolutely LOVE them. They have held up great to the crazy Michigan weather and are super easy to clean by just spraying them off with a hose.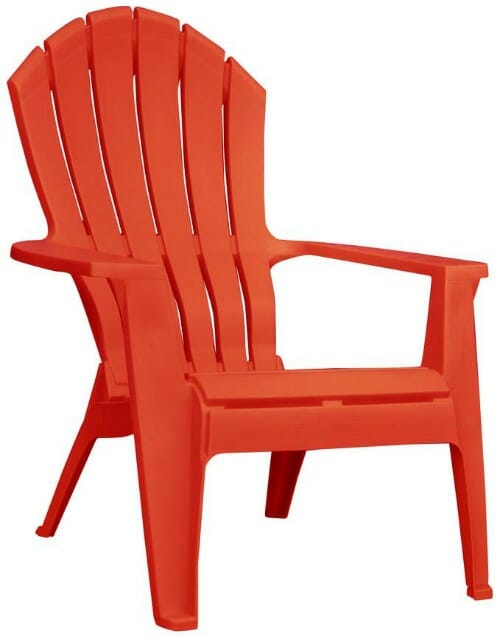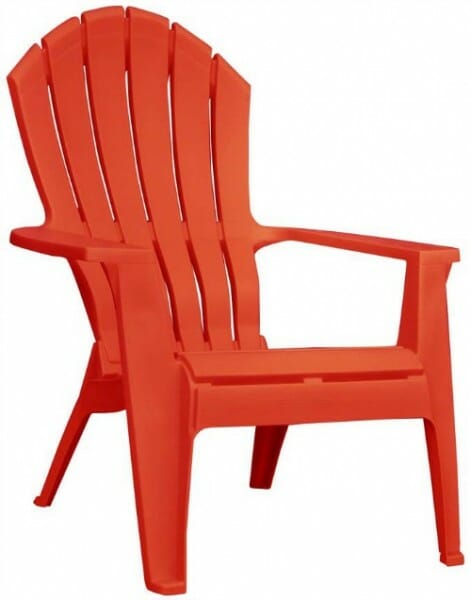 .
Infant Sleep Sacks
Before Nora was born, my sister gave me a set of 3 infant sleep sacks for a shower gift. At the time, I thought they were super cute and was excited to use them — but I had NO idea how awesome they would be for night time diaper changes.
I made sure to have a few thin and thick sleep sacks for Simon (Nora calls them his "dress pajamas)
I got all our sleep sacks second hand for around $0.50 each — but I would have gladly paid more based on how much they help to simplify those groggy in-the-middle-of-the-night diaper changes. No need to worry about zippers or snaps — just pull up the "dress," change the diaper, and pull it back down again.
I always put a thin sleep sack (like these from Amazon) on him… but if it's really cold out, I'll put our fleece zip-up sleep sack over top (see picture above). Not only are his hands completely covered, his whole body stays nice and warm all night long.
I think they should make these for adults 🙂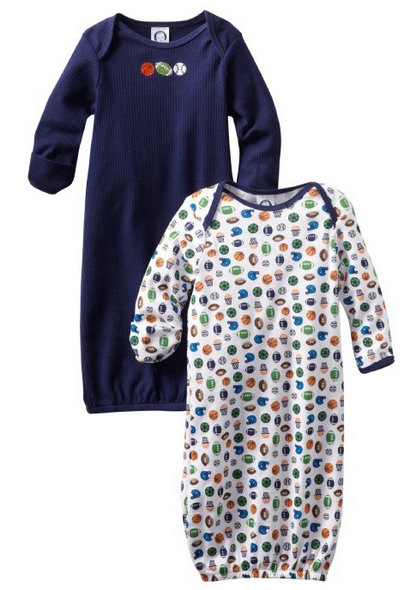 .
Mini Muffin Tins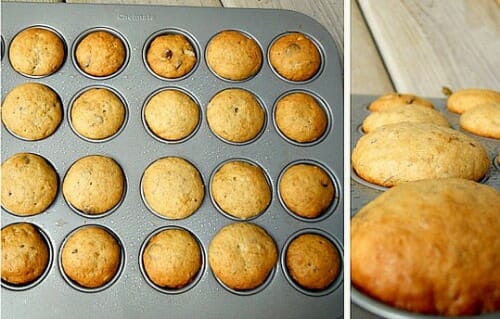 I just counted the other day and I have FIVE mini muffin pans — and honestly, they are almost in constant use.

Not only do I make almost all our muffins "mini style" per the request of my favorite 2 year old, I also bake cake batter, brownie batter, and cookie dough in muffin tins to make mini cupcakes, mini "brownie cupcakes", and mini cookie bites.
Most recently, I've been using my mini muffin tins to hard boil eggs… yes you read that right! I use this recipe and the eggs turn out fabulously perfect every single time.
And of course, never underestimate the organization power of a mini muffin tin (think office supplies, jewelry, beads, little girl hair ties, etc).
I have a few different brands of mini muffin tins — but my favorite is the Calphalon 24-cup Mini Muffin Pan. I've been using it for 8 years (it was a wedding gift) and it still looks almost brand new. It really is non-stick and everything bakes so evenly. I would highly recommend this mini muffin pan.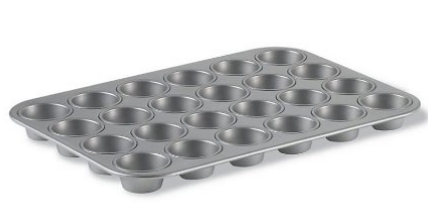 .
Command Picture Hanging Strips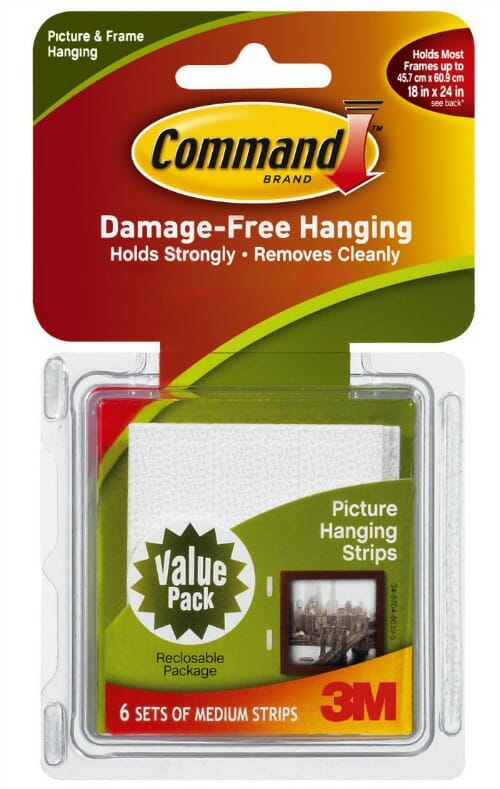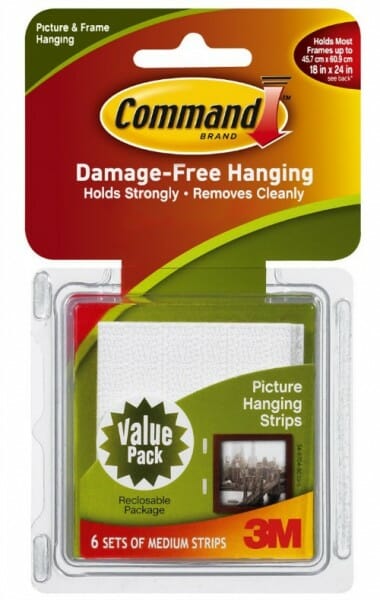 Since we have an old home, many of our walls are still plaster — which means I don't necessarily love putting more nail holes in the wall than I have to.

So almost any time I need to hang relatively light-weight things on the wall, I use the Command Picture Hanging Strips. I snatch them up in the biggest containers I can find when they go on sale so I always have a variety in the house.
I actually hung almost everything on our "collage wall" in our play room using these Command Picture Hanging Strips. They are especially nice since they allow you to hang almost anything on the wall — even if it doesn't have a convenient hook to hang from.
.
That's all for me this month.
Make sure you check out my previous months' favorite things — and feel free to share some of YOUR favorite things in the comments below!