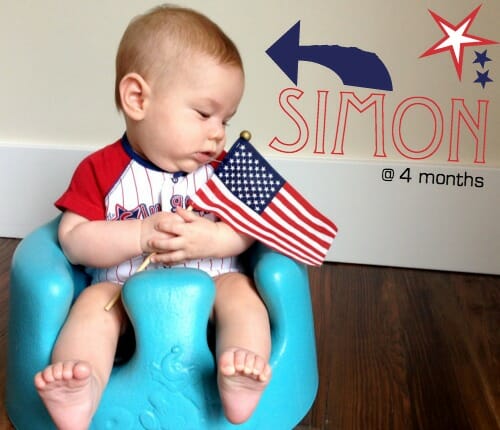 My little man is 4 months old… on the Fourth of July — how could I not take a few cute pictures for the blog?
I guess this is technically his "baby golden birthday" if there is such a thing!
Here are a few of his "real" 4-month pictures: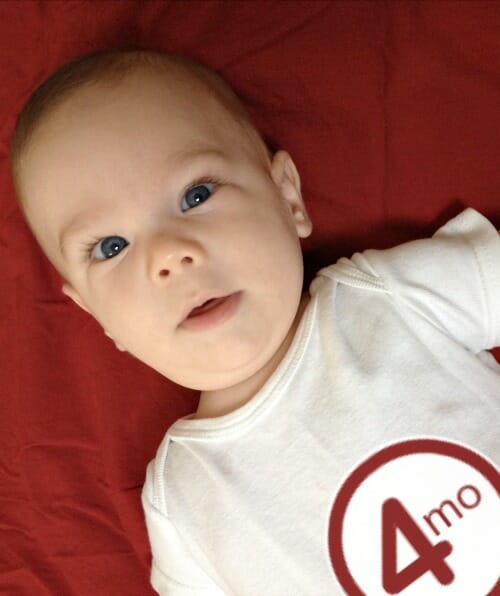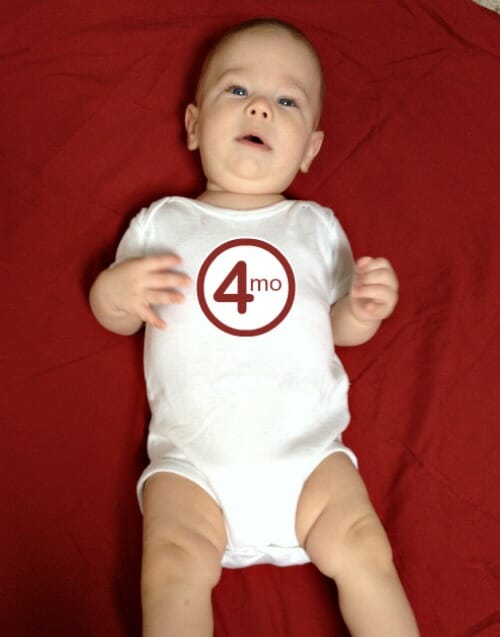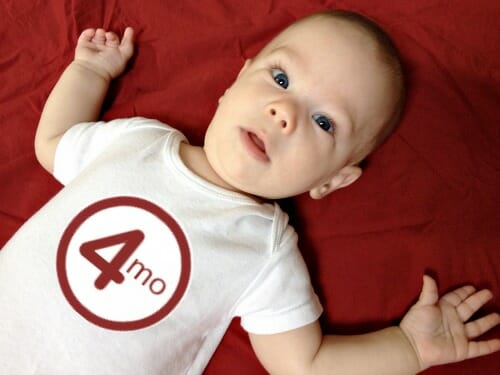 The past month has been pretty easy now that Dave is home for the summer and Simon is getting a little older. Even though he has no real schedule, we're starting to realize what he wants and when he wants it (which makes my life a lot less stressful!)
Compared to "normal" babies, he hardly naps (two 40-minute naps a day if I'm lucky) but compared to Nora, he's a napping champ. I know when he's tired, he falls asleep almost instantly after laying down, and he just rolls over and makes happy sounds when he wakes up.
So while I would love a longer nap from him, I really can't complain — especially since he's a relatively happy camper the rest of the day. Plus, he's often sleeping by 7:00pm (or earlier) so I guess he's making up for sleep at night (which I won't complain about either!)
Speaking of sleeping at night — he usually sleeps for about 12-13 hours, waking up once (usually around 4:00 or 5:00am). Yes, I have lots of friends with babies the same age who have been sleeping all the way through the night for several weeks/months already — but I'm ecstatic with how well he sleeps compared to Nora! I honestly feel like I won the sleeping baby lottery 🙂
I can see his two bottom teeth through his gums, but so far, I can't feel anything. However, he's been sucking on his 2 fingers constantly and drooling like crazy so I have a feeling they'll be popping through soon (hopefully!)
For the most part, Simon would much rather sit in his bouncy seat by himself than be held. He gets SO hot if we hold him for even a few minutes — and being hot and sweaty is not something he enjoys.
I caught a VERY rare snuggly moment when he fell asleep in my arms (otherwise he definitely prefers to sleep laying flat on his belly.)
We moved him to the "big boy" seat of our double stroller — which he seems to like much more than being in the carseat. Doesn't he look so old in the picture below?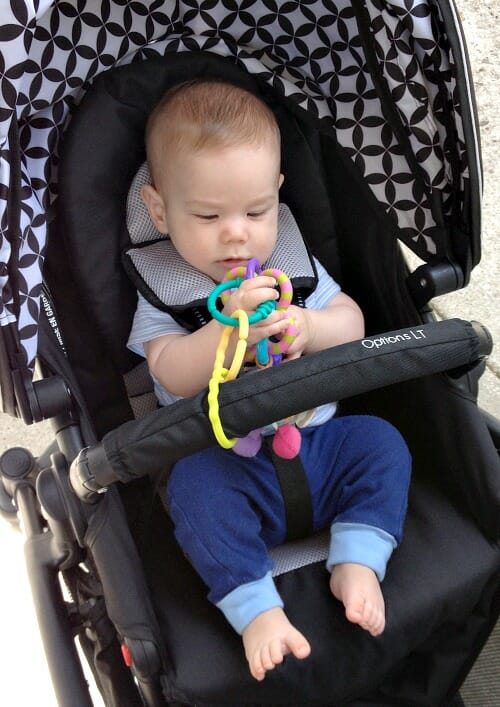 He's growing well, gaining lots of weight, and generally just a pretty "chill" little guy.
Nora loves him AND loves pestering him already. Dave said it will be a sad, sad day for Nora when Simon is finally big enough to push back 🙂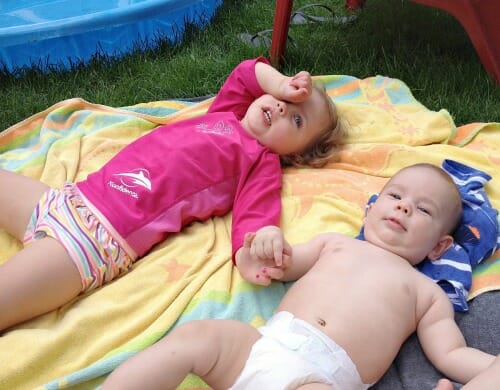 Happy 4 months Simon!