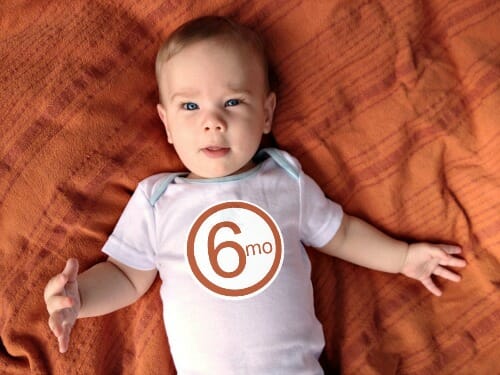 Simon is 6 months old!
And his photos are becoming increasingly difficult to take as any time I lay him down, he immediately rolls over on his belly. Plus, I have a super calm, quiet, angelic, 2-year-old 'helper' that makes the process just that much crazier 🙂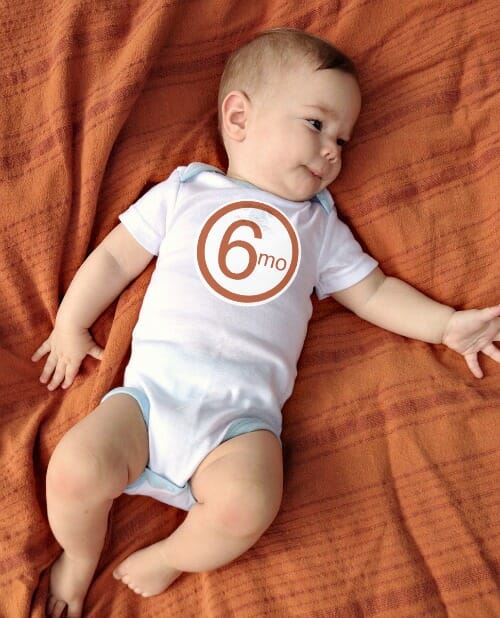 He really isn't even close to sitting up yet (which Nora was easily doing at this point) but he is SOOOO close to crawling. He's always on all fours, and can basically get wherever he needs to go… I just can't call it "crawling" yet 🙂
I wouldn't be surprised if he was full-blow crawling within a week, though!
His hair is growing 🙂
And he loves is mama.
He is VERY content to just sit in his swing, in the bouncer, or just lay on the ground with a couple toys. Sometimes, with Nora being so noisy, I forget he's even in the room.
We've tried a little bit of food — but not much success yet. He does really love his bib and spoon though — so that's already an improvement over Nora, who wouldn't wear a bib until she was TWO!
All it takes is minimal eye-contact and you'll usually get THIS big of a smile from him.
He is still going to bed REALLY early and then waking up REALLY early… but he's content to just chill on the living room floor with me for a couple hours until everyone else is awake.
Nora still smothers him any chance she gets.
She is always pretending she is the mom and Simon is her baby… which of course means she needs to hold him as much as possible.
Nora asked me if Simon would always be smaller than her. I informed her that based on his massive size, he will probably pass her up in a couple years.
Meanwhile, we're in the market for another rear-facing convertible carseat as he is already nearing the weight and height limit on our 30/30 infant carrier 😉
Happy 6 months Simon John!