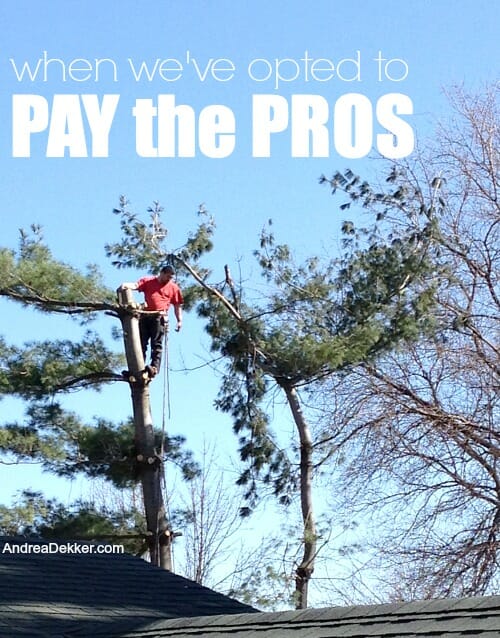 Although Dave and I really love saving a bunch of money on DIY projects, there have been many times over the past 8 years when we've eagerly opted to shell out our hard-earned cash to pay a pro to do the dirty work for us.
Our decisions to pay someone else are usually based on safety (either for ourselves or our home) but sometimes on convenience or the fact that we simply don't have the skills to do a particular task well.
I will say that EVERY SINGLE TIME we've paid someone to do something for us, we are thrilled with the results and always feel like it's worth our money to save boatloads of time, energy, stress… and potential injuries.
So when have we opted to pay the pros?
Below, I've listed several situations when we regularly hire professionals. I've also tried to estimate the rough out-of-pocket costs for most of the services; and for those in the area, I linked to the company websites as we would feel very confident recommending any of these companies.
NOTE: none of these services were discounted in anyway due to my blog. Most of these people don't even know what a blog is 🙂
Tree Removal:
We've lived in our home for almost 4 years now, and we've already cut down 11 very large, dying, over-grown trees and 10 smaller, gross-looking trees (my opinion!)
We still have almost 20 pine trees to cut down yet (they are all getting very old, starting to die from the inside, and shedding needles like crazy) and we're hoping to tackle this over the next 2 springs.
Why we hired the pros:
Tree trimming is extremely expensive — but also extremely dangerous since many of the trees we removed were well over 100 years old and VERY close to our house. We never even considered doing this task ourselves, but instead, opted to hire professionals from day one.
The company we went with is insured and very skilled, so although we've never had any issues, we know their insurance would take care of any problems if necessary.
Cost:
To date, we've spent over $4000 on tree removal and stump grinding (doing a little more each year) and we have about $2000 more to go. Ouch!
The company we use is All You Need Tree and Emergency Services.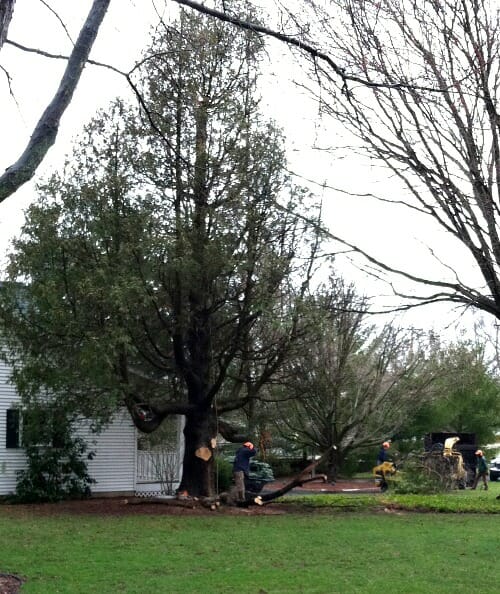 Roof Cleaning:
When we purchased our home, the back of the roof (north side) was very dirty and quite covered with a moldy looking substance. We asked about it in the home inspection and the inspector said it wasn't a big deal… yet.
The inspector said we'd definitely want to get it cleaned off within the next couple of years though, otherwise it could start to eat away at the shingles, resulting in a much pricier roof repair.
Why we hired the pros:
About a year after we moved in, we started looking into options to clean our roof and we realized it would cost us well over $100 in supplies — plus hours and hours of our time.
Our roof is quite steep, Dave is not fond of heights, and I was pregnant — not a great DIY combo! Also, everything we read about "DIY roof cleaning" made it sound like there was way more potential for damage than either one of us was comfortable with. And apparently, if you don't do it the right way, you could damage the shingles and cause a potential leak.
We got a one-year warranty on the cleanliness of our roof (in case some of the staining persisted — which it did not) and I could rest assured knowing my unborn child would still have a father around after she was born!
Cost and Company:
The total cost to clean the roof or our home, garage, and outbuilding was right around $500 — not bad considering it was done in about 3 hours and still looks AMAZING!
The company we use is Roof Shampoo.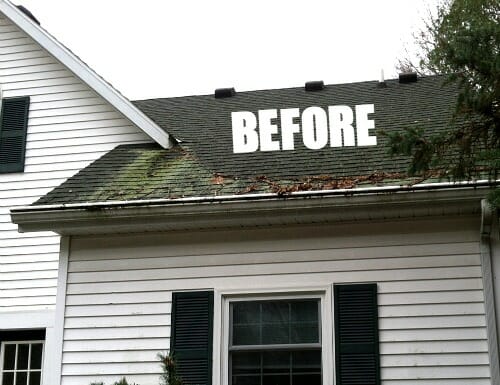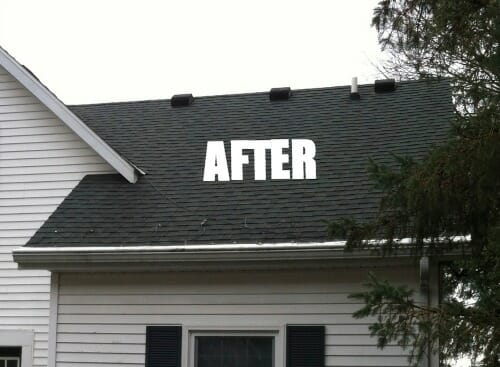 Pest Control:
Since living in our current home, we've had bats, mice, and bees — I know, gross! We took care of the mice ourselves. However, when it came to the bats and the bees, we called in the pros.
Why we hired the pros:
Everything we've read about bat removal says that it's crucial to close up the entry points (and then exit points) at the right time of year to avoid trapping baby bats inside your attic (YIKES!) and since we had no idea where they were coming in, we knew we had to seek out a professional for help.
Also, we don't deal with bees… ever!
Both companies we hired had warranties in case the problems persisted, and both had insurance in case something crazy happened.
Cost and Companies:
The bat removal was $425 (including the initial inspection) and that was considerably less than many other companies we looked into.
The bee removal was $150. We were too frantic to worry about getting any other estimates since the bees were coming into Nora's room and the guy could come out that day!
We went with Advantage Animal Control for the bats, and Schultz Pest and Radon Services for the bees.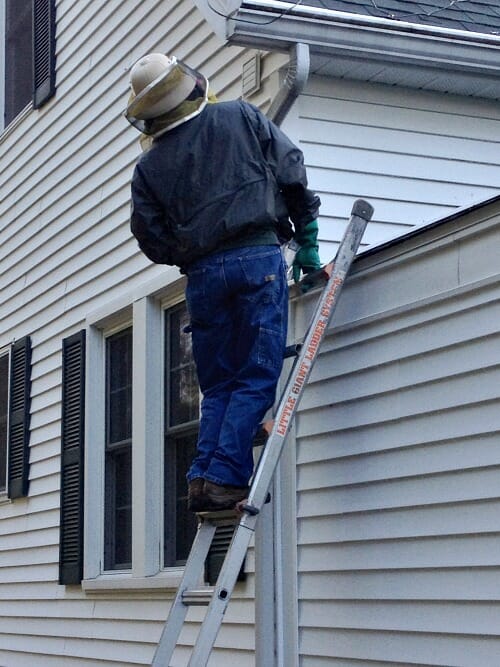 Carpet Cleaning:
Our old house was almost ALL carpeted, so this was more of a need back then. However, we've had the carpet in our current house cleaned once a year just to help it last longer. Even after installing all our reclaimed barn wood floors, we still have carpet in the living room, both bedrooms upstairs, and the play room.
The upstairs carpeting is new as of this year, so we haven't had it cleaned yet. However the living room carpeting is still here from when we moved in. We will eventually replace it (once we finish renovating the living room) but for now, it's a nice neutral color so I'm OK with it (as long as it's clean!)
Why we hired the pros:
I know how dirty carpet can get — and I am totally grossed out by dirty 'fabrics' (which is why we mainly have hardwood flooring). I have no desire to try and clean my carpeting with a small rentable unit as I've seen first hand how incredibly clean the pros can get my carpet — especially the ground in "stains" that they magically remove.
It's important to me to know that my floors are regularly cleaned (especially with all our house projects) so this has always been budgeted into our finances every year.
Cost and Company:
The yearly cost to clean our carpeting has been around $150 and it's totally finished within an hour.
The company we use is TLC Carpet Cleaning.
All Plumbing Needs:
We will try a lot of things ourselves — plumbing is not one of them, for the obvious reason that we have NO idea what we're doing 🙂
Why we hired the pros:
Water is a BIG deal — especially when it's leaking inside your walls or in your basement. We don't ever want to deal with faulty plumbing so we have ALWAYS hired out all plumbing projects.
Cost and Company:
It's hard to estimate the cost as we've had our plumber out so often these past 4 years… but it's expensive!
The company we use is DeVree & Sons Plumbing and Electric.
All Auto Services:
Dave is quite handy with our lawn tractors, but when it comes to our vehicles, the only thing we do is wash them and put gas in them. All other maintenance and repairs are handled by a pro.
Why we hired the pros:
Plain and simple… we have NO idea what we're doing with cars!
Cost and Company:
We pay about $35-$45 per vehicle for a few oil changes each year, and then any other repairs necessary throughout the year.
The company we use is Rozema Car Care.
Obviously, all of these expenses add up over time — but I'm sure many homeowners (and car owners) will attest to the fact that there is ALWAYS something you can be doing to fix, improve, or maintain!
Sometimes it's hard to write the check… but we know that by spending a little upfront on maintenance, we should eventually save A LOT down the road.
For example, $4000 for tree removal is somewhat hard to swallow — but if one of the dead trees fell on our house, it would cost SO much more than $4000, not to mention the inconvenience and the spike in our insurance rates.
And $500 for roof cleaning might sound ridiculous, but it sounds a lot better than a $20,000 new roof!
Also, we'd much rather shell out $45 for an oil change or other smaller car repairs to prolong the life of our vehicles and (hopefully) be able to use them for many more years (Dave is going on 12 years with his car from college!)
I'm sure there are more examples I could give — but this will do for now.
Oh, and one more thing I want to mention… many of you probably have never heard of any of the companies we've used, and that's what we like. We try REALLY hard to seek out small business owners (often one-man companies or family-owned business) because we'd much rather give them our money than a huge national chain. Plus, I know from personal experience that small businesses with everything riding on their success will often do a much better job for a much more reasonable price.
When have you decided to pay the pros? Were you happy with that decision or not?