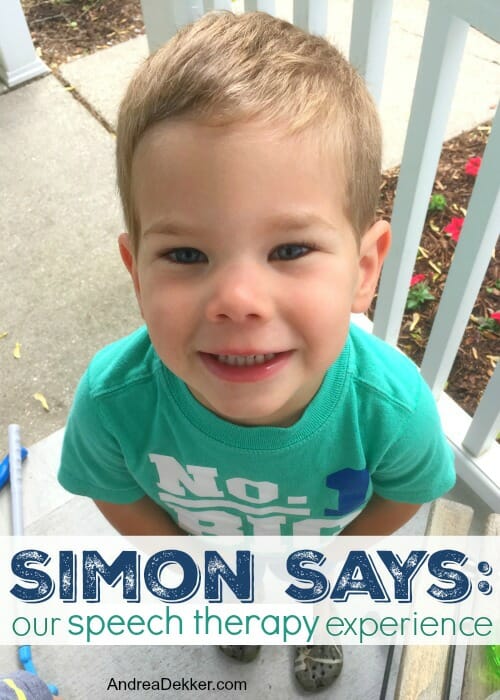 Over the last 2 years, many of you have asked me to share more about Simon's speech therapy and how he's doing after finishing his therapy program… and it looks like today is the day!
For those of you who don't know, Simon never talked (like literally never even said one word) until he was about 18-20 months old — not even "mama", "dada", "no", "ball" — NOTHING! He didn't even babble.
He grunted and pointed and did a few signs, but never really even attempted to talk until right around 18 months old — when we were finally able to start a speech therapy program.
Side Note: both Nora and James were extremely verbal by 11-12 months already and putting short sentences together by 18 months old!
In our area, there aren't many speech therapy programs that will work with children before 18 months, but once he was 18 months old, we qualified for the in-home speech therapy program through our county's Early Childhood Programs.
This meant a trained speech therapist came directly to our house FOR FREE to work with Simon. The only "catch" was that she only came once a month — which isn't all that much. However, she gave me exercises to work on with him in between her visits, so that helped a lot too.
Simon really enjoyed working with this therapist, and I really appreciated that she was able to come directly to our house as Simon was much more open to learning in a familiar environment (plus, it was SO much easier for me!)
His first word… "Good!"
We made very little progress for the first several months… and then, all of a sudden, he said his first word!
"Good" was his very first word (so fitting for such a sweet boy). I can vividly remember getting him up from his nap, asking him how he slept, and having him respond clear as day "Good!"
I think he was just as shocked as I was — because he got really quiet and then said "good, good, good, good" several times.
By the time he was 2, we had a short list of words he could sort-of say. He was still significantly below "average" for the number of words in his vocabulary, and almost no one besides our family could understand any of the words.
Finally, a breakthrough…
Around 2.5, we spent a weekend with his cousin who is exactly the same age as Simon, and after that weekend, we noticed a huge (and immediate) improvement in his speech.
It was like a switch turned on and he miraculously starting putting sounds together to form words.
Over that summer, we continued to work with the Speech Therapist from the Early Childhood Center, and we also enrolled him in an 8-week program through a local college. We went once a week and he worked one-on-one with a graduate student in the Speech Pathology program. He was pretty shy most of the time, but I think the extra weekly appointments helped to spur his progress along.
One Year Later:
It's been almost 1 year since Simon's big speech breakthrough last summer, and since then, his vocabulary has grown leaps and bounds — to the point that he "graduated" from the speech therapy program just before his 3rd birthday!
He fully caught up and even scored ABOVE the age-appropriate levels for all the speech, language comprehension, and oral motor categories!
I'm certain I don't need to explain how wonderful it was to be able to easily communicate with Simon after so many frustrating months and years of grunting and guessing what he might want.
He continues to learn new words every day, he loves singing, he has so much fun playing with Nora now they they can communicate with each other, and even James enjoys getting in on the conversations now that he is talking in short sentences.
Just listen to what Simon says now!
Isn't he the sweetest!?!
(Click here to see the video if you're reading this via email)
I love his little lisp and how he can't quite say his r's or v's or th's yet!
.
Obviously I'm not an expert, but if you're worried about your toddler's speech, here are a few things to consider first.
NOTE: Please don't get completely freaked out if your child has any of these warning signs — they could mean absolutely nothing.
A Few Potential "Warning" Signs
1 Hearing Problems:
Over and over again, we were told to get Simon's hearing checked — but thankfully, his hearing is perfect and he always understood and comprehended everything others said to him.
However, if you have a toddler that doesn't seem to understand what others say to them, I would strongly encourage checking their hearing.
If they can't hear when others speak, it will be very difficult (if not impossible) for them to ever learn to properly speak on their own.
2. Regular Ear Infections:
If your child has regular ear infections, there could be an issue with excess fluid in the ear — making it difficult for the child to hear and speak.
Also, they will most likely be very uncomfortable if they regularly get ear infections!
If your child regularly gets ear infections, it might not be a bad idea to talk with an Ear Nose Throat doctor about possibly putting tubes in their ears. We have 2 different friends who did this with their toddlers and the results were astonishing. The child almost immediately started talking after the tubes were in!
3. Tongue Tie:
Simon actually has a VERY slight "tongue tie" but all the doctors and speech therapists who looked at him said it wasn't be a big enough tongue tie to cause speaking issues.
They said we could have it snipped just a teeny tiny bit, but the pain for Simon probably wouldn't be worth it since it most likely wouldn't make any difference — so we opted not to have it snipped.
4. Lazy Tongue:
Out of everything listed above, a "lazy tongue" is what we assume was the biggest issue for Simon — his tongue was ALWAYS hanging out of his mouth and he drooled all the time.
Some of the things we did to help strengthen his tongue was limit how often he could have his pacifier, have him drink from a straw instead of a sippy cup, and play silly games where we had him lick various things with his tongue (holding suckers on either side of his mouth, putting food around his lips and having him lick it off, etc.)
Helpful Tips for Parents
1. Learn a few basic signs.
Baby sign language is huge these days — even for babies and toddlers without any speech delays. However, it can be extra helpful if your toddler has a speech delay.
We didn't go crazy, but I did teach Simon a handful of helpful signs like:
more
all done
water
hungry
yes
no
please
thank you
It's amazing how much more we could communicate with just a few signs. If you're interested, we used the Ting Signs program and I would highly recommend it to anyone.
2. Try not to overuse the phrase: "can you say ___________?"
Learning language skills is very tiring for little people and having adults constantly request saying certain words or phrases over and over all day long is very overwhelming.
And often times, they literally cannot move the muscles in their mouth to say whatever it is that you're asking them to say, which means lots of built-up frustration on their part — to the point where they could completely shut down and stop trying to communicate altogether.
3. Use TONS of repetition.
Instead of constantly asking your toddler to say certain words, YOU continually say the words over and over and over again — something like: "Mommy likes to drink juice. Juice is yummy. Does Simon like juice? Yes, juice. Yummy juice. Would you like some juice? Ok, here's your juice. Yummy juice. JUICE!"
It sounds crazy, but our speech therapist told me it's one of the best and easiest ways for parents to help their toddler expand their vocabulary.
4. Research free programs in your area.
Before you opt for pricey private programs, do a little research for what your county, city, state, or local area offers in terms of "special education" and "early childhood education". It's amazing all the free resources that might be available in your area!
5. Try not to panic or think the very worst.
There is a very large window of time as to when children finally start talking. In our family, Nora and James were very verbal by 1 year old already, while it took Simon until he was 2 to really start saying much of anything at all.
In fact, Dave and I joked that James might talk in sentences sooner than Simon did — and that was almost true!
I completely understand how frustrating it is to not be able to understand your child, but at the same time, if you are fairly confident there are no physical or mental reasons they aren't able to speak, it's most likely just a matter of time before it happens.
Until then, do your best to relax and give your child the time they need.
6. Be informed… but don't go crazy doing research!
I'll be honest, I didn't do a ton of research in the beginning — because it all seemed overwhelming. But slowly, I asked around, talked to the speech therapist, and found a few helpful online resources.
I really liked the website: Teach Me to Talk — specifically this blog post which lists all the different types of toddler speech delays and goes into a bit of detail about each one. It was pretty interesting for me 🙂
So that's our story — hopefully we won't have much more to add to it.
Simon will go to preschool in the Fall of 2018, and we don't have any specific plans for working on his speech before then. If his preschool teachers decide he needs more help, we will deal with it at that time.
Did you ever have a child with speech delays? If so, I'd love to know what worked for you!