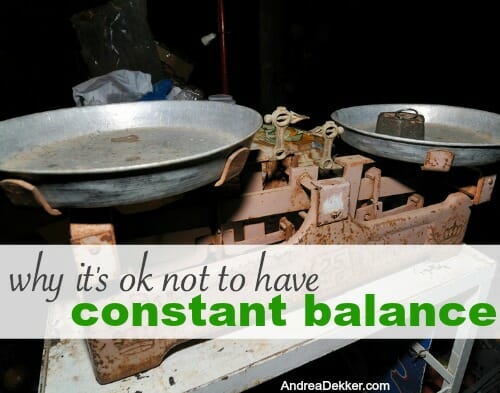 Most people think that in order to achieve a simple organized life, we also need to have complete and constant balance in every aspect of life… but in my opinion, constant balance is nearly impossible to achieve.
I fully agree that balance is a good thing — after all, I'd be lying if I said I don't personally strive for some sort of "balance" when trying to manage the different aspects of caring for my family, running my business, managing my home, and maintaining some semblance of a personal life.
A lot of times, I DO feel like I have a pretty good balance in my life… but not ALL the time.
And I'm OK with that.
Sure, it would be lovely to have a perfectly structured life that never felt crazy or chaotic or "out of balance"… but can you honestly imagine how much physical and mental energy we would waste trying to keep everything in perfect balance and harmony 100% of the time?
It would be like constantly trying to do a handstand or balance on one foot 24 hours a day, 7 days a week.
Nora trying to balance on one foot a few years ago 🙂
I don't know about you, but I'm pretty coordinated, and even still, I KNOW I could not balance on my head or on one foot for more than a few minutes… let alone forever!
I would most likely need to devote 100% of my mental energy to focus on the one simple task of balancing… meanwhile, I'd be missing everything else going on around me.
Don't you agree?
Similarly, in our daily lives, trying to achieve that perfect balance 100% of the time would require so much mental energy that we'd most likely miss out on hundreds of little things each day — that's not how I want to live my life.
Plus, I've found that in the times when things get a little out of balance and life starts to feel somewhat stressed and chaotic, I actually learn A LOT about myself. I learn more about my strengths and weaknesses. I learn how to tweak certain systems and schedules to hopefully make life run a bit smoother. I learn how my family works and functions best. I learn new time-saving tips and tricks. And often, I'll find a better, more efficient way to do something than I was previously using.
So while I definitely DO strive for balance between work, family, home, and personal aspects of my life (and I'm always striving to simplify, organize, and de-stress various parts of my life) I also realize that there will be LOTS of times when things are NOT perfectly balanced.
The goal for me is to have my life balanced enough so I don't feel stressed or chaotic, but still with plenty of room for imperfection, last-minute schedule changes, priority shifts, and REAL life to pan out.

I guess it kind of all comes back to my "all things in moderation" and "good enough" mottoes for my life.
This doesn't mean I don't get a bit flustered when my balanced life suddenly shifts and everything comes crashing down. However, it DOES mean that I don't spend exorbitant amounts of time trying to keep everything perfectly organized, inline, structured, etc. while missing out on living my life in the process.
In my opinion, I think ALL of life is a balancing act that we need to devote at least some attention to — otherwise things would be crazy and chaotic all the time. However, by creating some general structure, systems, routines, etc. we can be better prepared for the times when everything changes, the balance is gone, and all we have to show for our day are piles of dirty laundry, dirty dishes, dirty kids, fast food remnants, and an un-done to-do list.
I hate those kind of days as much as you do, but I also realize that those days don't define my life… nor do they mean I'm a complete mess. Those days simply mean my current systems, schedules, and routines need to be tweaked a bit… and in my experience, tweaking usually leads to a better, more efficient way of doing things!
Is balance great — absolutely!
Is it OK not to have a blissfully balanced life 100% of the time — for sure!
The key for me is to learn something from the unbalanced times… and then try to improve for the future.
What have YOU learned about yourself and your life when things get a little out of balance?