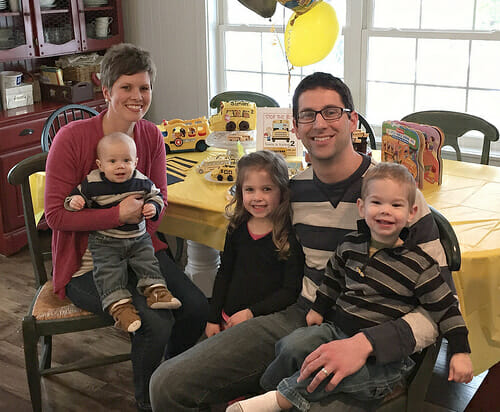 My sweet squinty-eyed Simon turned 2 last Friday!
We had so much fun celebrating at his School Bus birthday party this past weekend!
I know I originally mentioned that I was planning to do a Hungry Caterpillar or Clifford birthday party for him; but a few weeks ago, I started thinking about how much Simon loves school buses, and thought that would be a more fitting party theme.
As many of you know, Simon is a boy of very few words (I joke that he just takes after his dad, but the truth is, he doesn't really talk yet.) However, "bus" is one word he CAN say, and we hear it often during the day.
Any and every time he hears a school bus drive past our house (probably 30 times a day as we live 1 mile from our school district's bus barn) we hear "BUUUUUUHH!!!" coming from a frantic Simon who is charging towards the living room windows to see it drive by.
He also has a toy school bus that he sleeps with EVERY SINGLE NIGHT!
Yup… Simon LOVES school buses 🙂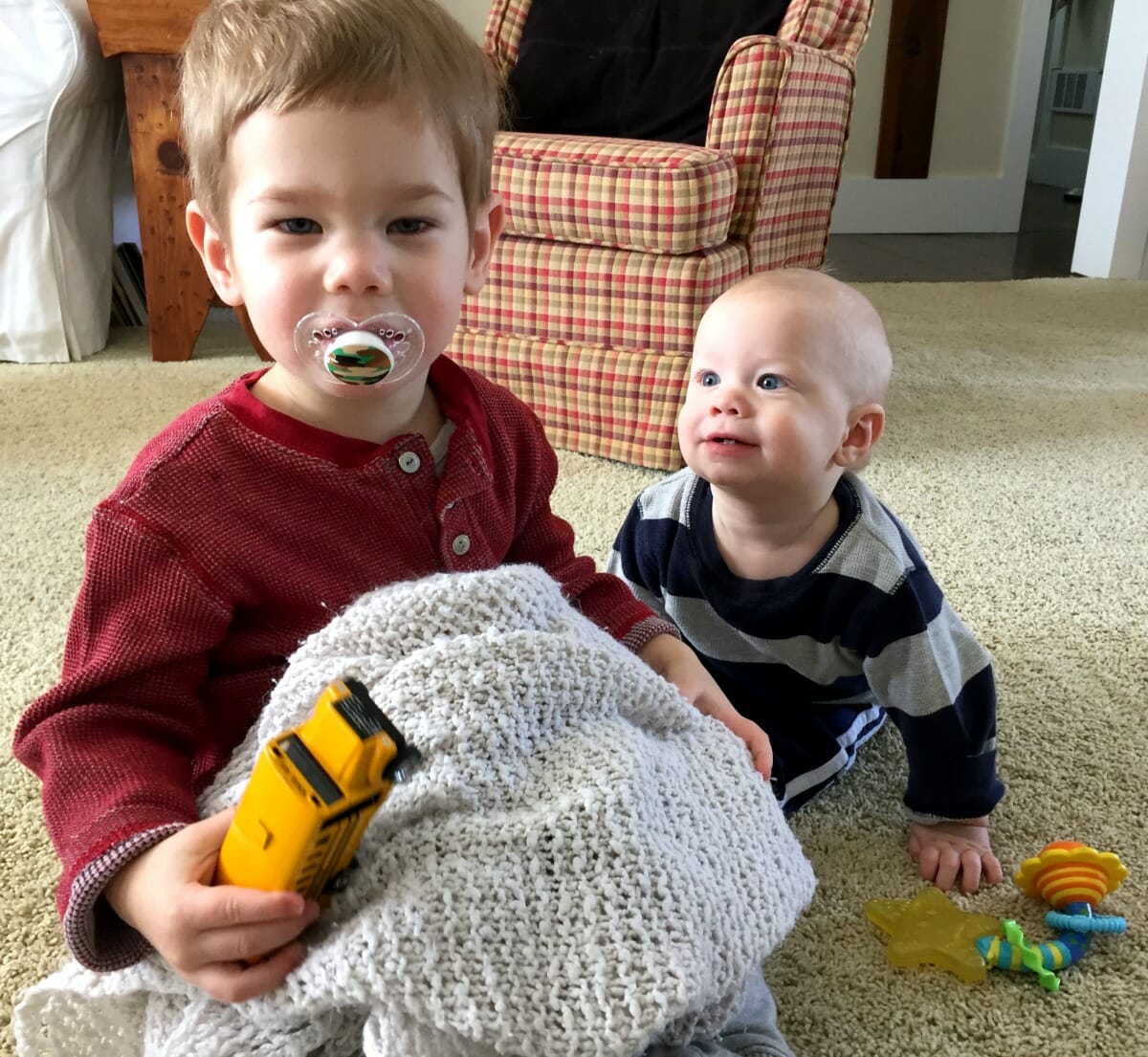 Simon is just about as stubborn and strong-willed as his big sister, but since he can't talk much yet, his stubbornness is SO much easier to handle (at least for me).
I don't know why, but the fact that he simply whines and cries instead of verbally argues or complains is so much less annoying and draining for me. In fact, he probably gets away with a lot more than Nora did because he's just so stinkin' cute and doesn't talk back to me all the time.
Every night when I'm putting Simon to bed I say, "I love you so much… you know that you're mom's favorite big boy, right?" And he just smiles at me with his sleepy eyes and says "yah" and then gives me a big hug and pats me on the back. Then he snuggles up with his blankets (and school bus) and eventually drifts off to sleep after playing or babbling in his crib for a bit.
Simon is by-far our best sleeper and napper. He LOVES his crib, he loves sleeping, and he almost always comes right to us with his blanket and school bus to tell us he's ready to go to bed. It's amazing, and I appreciate his love for sleeping more than he will ever know!
He is also getting much better at actually playing with Nora — which is very fun for me, and even more fun for Nora.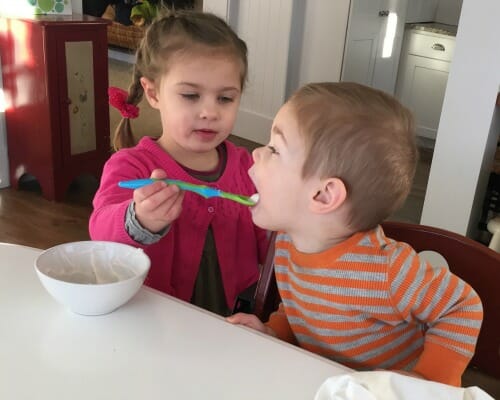 Most of the time, he is quite gracious about letting her boss him around, but if he really has an opinion about something, he will put his foot down.
We've joked with Nora for almost a year now, telling her that eventually Simon will be bigger and stronger than her and he'll "push her right back". Well, he's not quite bigger than her yet, but he is a very strong and solid little boy — and he has caused a few tears from Miss Nora after pushing her, hitting her, or pulling a toy away from her.
Since he can't talk yet, he can't say "sorry". Instead, he tilts his head to the side and makes a little noise; then he gives Nora a hug and a kiss — it is SO sweet!
Simon also enjoys being the big brother to James… I have a feeling these two will be best buds in another year or so!
It is almost impossible not to instantly fall in love with Simon — he just has such a sweet and silly personality.
Our family wouldn't be nearly as fun without him.
.
Simon's School Bus Party
Like always, I tried to create a fun party while keeping things as simple as possible — especially since all Simon really cares about is the cake and the balloons!
Here's the invitation that I emailed to our VERY small guest list (just our immediate family members). I made it with some clip art — although Nora is convinced that the boy on the invitation really is a drawing of Simon!
.
We didn't have any decorations — just a few black and yellow balloons, the Little People's school bus we gave Simon on his actual birthday (the day before the party) and a few other school bus things we already had.
And the food was simple too…
I made chocolate cupcakes (from a box) with chocolate frosting and a little school bus cookie on top.
I made a cake in bread loaf pans and then stacked it, trimmed it, and frosted it to look like a school bus.
I used mini vanilla wafers for the people — Dave is the driver, Nora and Simon are on the side with the stop sign, and I'm with James on the other side 🙂
I wrapped Hershey's Nuggets to look like tiny school buses using a free printable I found online (see resource links below).
School Bus Party Planning Resources:
If you're planning a school bus party, here are a few of the websites I used for ideas, inspiration, and free printables.
Free printable school bus chocolate wrappers
My inspiration for the cake and cookie toppers
The recipe for the frosting I used
The egg carton craft Nora did before the party
A printable 3D school bus we made earlier in the week
Another simple cake idea (for a 9″ x 13″ cake)
This is an insanely cool school bus party (I didn't use any of the ideas, but it is cool if you're feeling ambitious!)
A few party pictures!
I made a mini school bus cake just for Simon using leftover scraps from when I "carved" the bigger school bus. He only ate a few bites, but it was fun for him to have his own little cake!
Happy 2nd birthday, Simon!
We love you so much.