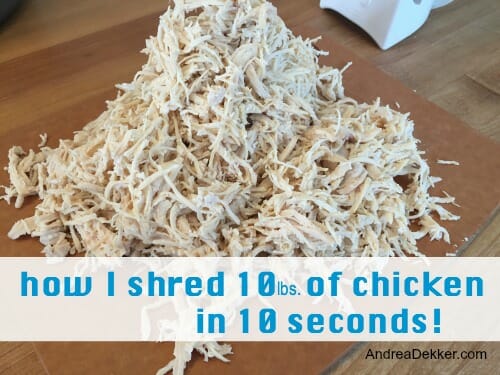 Since I share lots and lots of chicken recipes here on my blog, and since I frequently cook up several pounds of chicken to shred and put in the freezer, I was simply ECSTATIC when a reader emailed me a fabulous chicken-shredding tip a few months ago.
Her tip was SO simple… it almost seemed too good to be true!
She told me to try using my stand mixer to shred chicken.
What?!?
Since I don't have a stand mixer, I used my hand mixer instead (not completely sure if it would work). Approximately 10 seconds later, I was shocked that my little hand mixer had almost INSTANTLY shred 10 pounds of big, fat, cooked chicken breasts!
Yes, I mean instantly!
I went from this….
to this…
in less than 10 seconds!
10 seconds!
The chicken is perfectly shredded into uniform pieces that are perfect for soups, stews, casseroles, tacos, enchiladas, chicken salad, or just to freeze for later.
The most my hand mixer can do at a time is about 12-13 pounds, but I'm guessing a stand mixer could handle more since it's sturdier than a hand mixer.
Also, I'm guessing a food processor would work well too — but I hate washing all the little pieces of a food processor!
This might just be my new favorite kitchen quick-tip!
Oh, and speaking of shredding lots and lots of chicken — I'll soon be shredding close to 40 pounds of chicken breasts!
Several months ago, a friend told me about Zaycon Fresh meats. At the time, I thought they only sold chicken breasts; however, I now realize they sell LOTS and LOTS of different meats (including fish). Their meat is super high-quality, straight from the farm, and extremely reasonably priced ($1.69 per pound for boneless, skinless chicken breasts!)
The only "catch" is that you need to order larger quantities and you need to pick up the meat yourself (they have pickup locations all across the country — the closest one to me is 10 miles away.)
Anyway, since one of my healthier habits for 2016 is to eat less processed meats, I decided to order 40 pounds of chicken breasts!! Yes, that's a lot of chicken for our little family!
I'm sure we'll be freezing several raw chicken breasts for grilling… but the majority will be boiled and shredded! (I boil it for about an hour, drain it, shred it, and bag it for the freezer.)
I'm SO thankful I learned this tip before I picked up my massive amount of chicken — I can't even imagine how much time it will save me!
Have you ever tried shredding your chicken with a mixer?