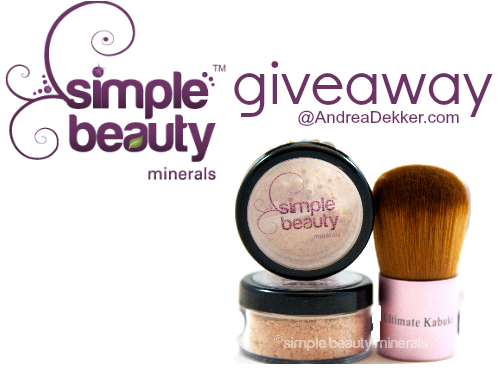 NOTE: This giveaway is now closed.
Aside from a few very special occasions (like my wedding) I've never worn any makeup other than mascara and bronzer. It's not that I'm against makeup or that I don't have the time to put it on… I've just never been that into spending extensive amounts of time "getting ready" every single day, and I REALLY don't like the feeling of thick makeup on my skin.
Yes, I like to look presentable and I don't want to look like I just rolled out of bed, but way back in high school, I vowed that I never wanted to be one of those women who shocked anyone who saw her without makeup 🙂
In my opinion, I look basically the same with and without makeup — just a little more polished and "awake" with makeup (thanks to my ridiculously short, blond eyelashes!)
However… a couple months ago (right around Simon's 1st birthday) I decided that since I'm almost 30 and almost have 3 kids, it was time I got some "big girl makeup" and actually started wearing it more than once or twice a year.
.
I did a little research online and decided mineral makeup was probably the best bet for me as it was light and airy on my skin — and supposedly was very good for my skin too.

Ironically, about 3 weeks after I started researching makeup options, Lisa from Simple Beauty Minerals contacted me to see if I would be interested in doing a review and giveaway of her mineral makeup on my blog.
Talk about PERFECT timing!


Not only did Lisa's proposition help me to decide what brand of mineral makeup to test out, it also gave me the opportunity to learn more about mineral makeup than I did before…. and to do some "fun" before/after pictures of myself with and without makeup!
Plus, I've never done a makeup giveaway on my blog before, so I figured it might be kind of fun for something different.
The Process:
Ordering my makeup was the part I was most worried about. I've never really bought "big girl makeup" before, I just bought whatever mascara and concealer were on sale in the cosmetic aisle of my local grocery store (or whatever I could get free after rebate!)
However, Simple Beauty Minerals made the entire process completely painless.
I simply used the Foundation Shade Finder and then waited about 24 hours for my customized product suggestions to arrive via email.
I emailed back and forth with Lisa a couple of times and then I ordered a few samples of the foundation to assure I got the correct color for my skin.
NOTE: They also offer complimentary video consultations.
Once the samples arrived, it was fairly obvious which color to select — so I placed my final order and waited for the products to arrive.
The Products:
I kept it pretty simple as I knew I wasn't interested in primers, finishing powders, eyeliners, eye shadows, lipstick, or even blush.
These are the products I ordered:
Concealer in Fair (plus fine-point brush)

Foundation in Neutral 1 (plus Kabuki brush)

Bronzer in Natural Glow (plus Flattop Bronzer brush — not pictured)

Ultimate Mascara in Black

Lip Gloss in Mauvelous

Lip Balm in Peppermint
The Experience
So far, I'm really happy with the mineral makeup.
I'd be lying if I said I was wearing it all every day — but that wasn't really my goal. I wanted to have a simple makeup routine that was a little more "polished" than mascara + bronzer + Vaseline, so I COULD look a bit more put together when I wanted to.
It took a couple of tries before I figured out my system, but after only a week or so, I had my new makeup routine down to about 7-10 minutes (it's less than this on the days I just do mascara + bronzer).
The Results:
Personally, I'm thrilled with how simple the mineral makeup is to apply — and how nice it feels on my skin.
I'm also happy with how natural, yet polished it makes me look.
Here's my "before" picture with NO makeup on (and NO editing at all).
Not horrible (at least in my opinion) but I definitely have some reddish areas as well as other blotchy and discolored areas.
And yes, I look tired, but that's because I'm 7 months pregnant, not sleeping well at night due to being uncomfortable, and chasing 2 little people around all day 🙂
Also, I should mention that these pictures were taken with a simple iPhone camera in less-than-stellar lighting, while Simon was literally pulling on my legs. I had a very short window of time to snap these photos, so this is as good as it's going to get!
Here is my "after picture" (also with no editing and only wearing the products I got from Simple Beauty Minerals).
So while I certainly think there is a very noticeable difference between the 2 photos, I also still feel like I look pretty natural in the after picture.
I've always assumed that wearing any type of foundation would make me look like I had a mask on or that my skin was dry — but that was definitely not the case with the mineral makeup.
Not too bad of a transformation for less than 10 minutes.
Crazy enough, the product I'm most thrilled about is the lip gloss!
I've NEVER ever found any type of lipstick or lip gloss that I've loved — which is why I stick to Vaseline. I almost didn't even order a lip gloss because I figured I wouldn't like it. However, the minute I put it on my lips, I immediately noticed a difference.
It was minty and tingly, and not at all sticky or gloppy like other lip glosses I've tried.
All in all, I'm very happy with Simple Beauty Minerals makeup — and I'm super excited to be sharing a couple of great giveaways with you all today!
More About Simple Beauty Minerals:
Simple Beauty Minerals is a small family-owned cosmetic company inspiring confidence with Pure Minerals & Love… for beauty you feel, inside and out! Their goal is to help you to be Simply Healthy. Simply Beautiful.
Visit Simple Beauty Minerals on the web:

Website: simplebeautyminerals.com
Facebook: SimpleBeautyMinerals
Instagram: SimpleBeautyMinerals
Pinterest: Simple Beauty Minerals
This giveaway is now closed!