Although Dave and I are oddballs and moved into our house the week before Christmas (yes, in frigid West Michigan), spring is actually the peak "moving season" in most parts of the country.
Already this spring, we've seen numerous homes go up for sale along our walking path… and I'm surprised how quickly many of them have sold. It must be a seller's market where we live (although Dave and I definitely are not interested in selling!)
I'm often asked questions about how to stay organized when moving and/or how to simplify the moving process, so I figured it was time to do a blog post about it.
Keep in mind however, that I don't have a ton of personal experience moving. Growing up, my family never ever moved. My parents still live in the same house I grew up in — and my dad owned that house before my parents were married (so yes, a long time!) I "moved" to college — if you can really call that moving.
I "moved" into my first house with Dave after we got married — but again, that wasn't really a true moving experience because we hardly had to MOVE anything there. We mostly needed to accumulate things once we were moved in (it's crazy how little we had when we first moved there!)
So my only personal experience truly moving all our possessions from one home to another was back in December of 2010 when we moved to our farmhouse. And based on that experience, I'm thankful we have no plans to move anywhere any time soon 🙂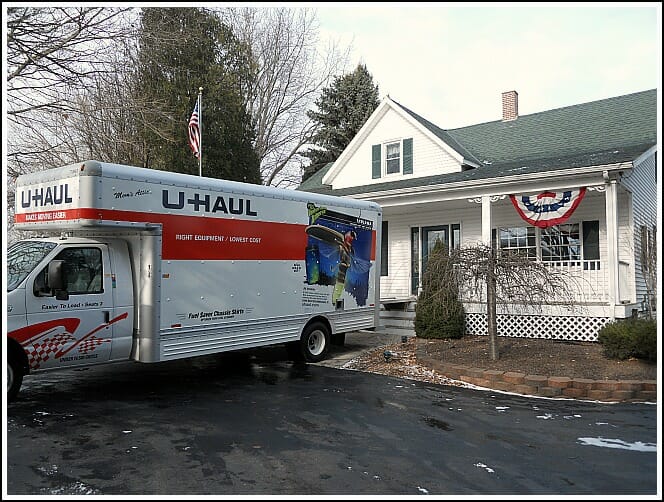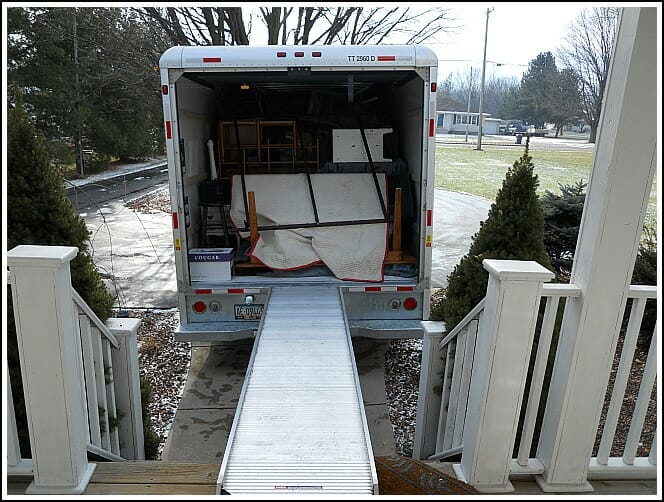 That said, I have helped many other people pack and prepare for a big move (friends, family, and organizing clients) as well as unpack and put everything away in the new house. I'll let you in on a secret, when it's not YOUR stuff and YOUR house, the process of packing, unpacking, and organizing all the stuff is actually kind of fun!
Whether it's for a new job, a relationship, more space, or a fresh start, moving can be a stressful and emotional time. After all, you're not just boxing up pictures, toys, books, and clothes. You're boxing up memories, stories and special moments. It's stuff, but it's also your life. It's everything you own — valuables full of meaning — and it requires you to handle it with care.
If you have plans to move this spring or summer (or if you're dutifully helping friends or family move) here are 6 tips that should simplify and streamline the moving process!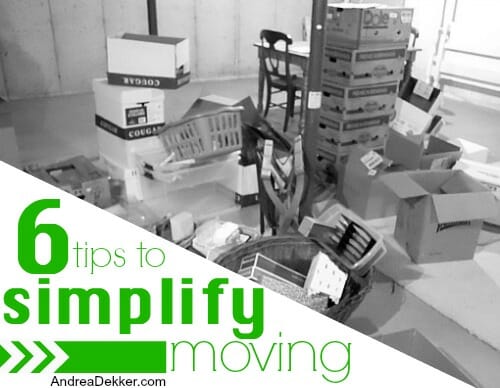 1. Create a Plan and a Schedule
Moving can be a very stressful process… however, as with almost anything in life, having a plan in place should help things run a lot smoother.
Know what date you'll be closing on your new house, know when you'll get the keys, make sure you have it properly insured before you step foot in the door, figure out your exact move-in date, and rally up a bunch of friends or family members to help out.
Also, once you have your moving date set, start gathering medium-size boxes with good handles. We snagged a bunch of extra banana boxes from our local grocery store (they were the perfect size for so many thing), and we also got a bunch of FREE packing and moving supplies on Craigslist. When we were finished moving, we put all our moving boxes back on Craigslist (for free) and ended up getting rid of them to a lady who lived down the street!
2. Purge, Purge, Purge
If you have a ton of old junk that you just don't need or use anymore, consider using a local dumpster company to declutter your home before moving day.
Clearly, moving LESS stuff will be simpler, easier, and faster than moving MORE stuff — especially if it's a long-distance move.
When we moved, it was only about 5 miles away (and we didn't even have kids at the time). However, I can not even tell you how much stuff I purged, sold, donated, and trashed before the big day. And yes, it felt REALLY good!
Even after just 4.5 years of marriage, there were so many things we weren't using, didn't need, didn't love, didn't want, etc. etc. and moving was the perfect excuse to purge them all.
In fact, the year before we moved was the year I really started getting into Craigslist (with no kids, I had much more time to devote to online sales) and I actually made almost $10,000 that year selling furniture, home decor, yard tools, electronics, and other home gadgets we didn't want to take with us. It took a considerable amount of time; but almost $10,000… I think that's worth it!!!!
Oh, and once you purge, take a second look through everything and purge a little bit more. I guarantee you won't regret it once moving day arrives!
3. Designate a home for everything you're going to keep.
As you go through your things, try to picture where each item will live in your NEW home. If you can't come up with a proper storage space for it, consider doing a bit more purging.
This might sound like a super simple tip, but it's actually one of my best tips for simplifying the moving process. Whenever I help anyone pack for a big move, I constantly ask them, "Where will this go in the new house?" or, "What will you do with this in the new house?" or, "Where will you store this in the new house?"
If they can't come up with an answer, they are much more willing to purge.
Recently, I was talking with a friend who just moved from a home with many small rooms to a home with a very open floor plan. She said that she never thought about the fact that she hardly had any walls in the new house, so a lot of the furniture, artwork, and wall decorations she had in her old house had absolutely no place to go in the new house.
She ended up selling and donating massive amounts of stuff within a month after moving — if she had just considered where her things would go in the new house, she could have saved herself loads of time and hassle moving those items twice.
4. Pack anything you can live without for a few weeks/months.
The tricky part of moving for me is that I'd ideally like to have everything packed up well in advance — but when you're still living in your old house, that's nearly impossible to do.
So for me, I like to start by packing up anything I know I can live without for a few weeks to a month — things like seasonal decorations, off-season clothing, non-essential kitchen gadgets, books, DVD's, memorabilia, extra linens, etc.
Just leave the basics unpacked.
This exercise can also be really eye opening as to how much of our stuff we can actually live without for more than a couple weeks (possibly forever). I can't even tell you how many people I've worked with (usually unpacking into the new home) who are so surprised that they never missed their favorite jacket, the extra toaster, the wine glasses, or the random decorations they had packed away months ago.
Often, they decided to donate or sell many of the things that had been packed away after realizing they could easily live without them. This brings me back to step #2… and how essential it is to PURGE as much as you possibly can before you move!
5. Pack your things with "unpacking" in mind.
As you pack your things, continually keep the process of unpacking in mind. Again, this might sound obvious to many of you, but it's surprising how many people never consider this.
Although many of the rooms in your new home will function the same (or very similar) as rooms in your current home, there are bound to be some differences. If you consider this during your packing process, your unpacking process will be SO much simpler and more organized!
For example, maybe your children were sharing a room before, but they will all have their own rooms in the new house. If this is the case, make sure to pack each child's things separately so you can unpack them separately into their new rooms.
You can even go so far as to label each box with the room it will need to be unpacked in (this will help a ton if you have friends and family helping you move).
6. Label Everything.
And speaking of labeling the boxes, please take the time to LABEL EVERYTHING as you pack. There is nothing worse than looking for one specific item in a sea of unlabeled moving boxes.
While I try to be very organized when I'm packing (all 'like' things together) that's almost impossible to do towards the end when all the little miscellaneous things get thrown in the last few boxes 🙂
One idea I thought was pretty clever was to label each box with a number… and then take a picture of the contents. That way, you can scroll through your pictures until you find what you need — and then simply go to that number box. You could even go so far as to print off the pictures and tape them to the box.
Obviously, there are many other factors to consider when moving (like the financial and legal aspects — both of which can be quite stressful); however, when it comes to packing and unpacking, I hope these 6 tips will help to simplify and de-stress that part of the moving process!
What are your best tips to simplify the moving process?