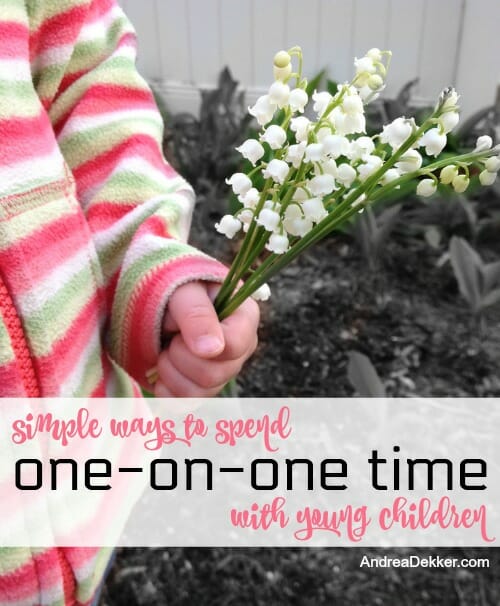 A few weeks ago, I shared that one of the hardest parts of adjusting to life with 4 young children (and having an infant in the house again) is feeling like I have zero one-on-one time with the older kids.
Several of you left so many great comments with ideas of super simple ways to give children some individual love and attention — and interestingly enough, I realized I was actually doing lots of these ideas already!
Score!
I guess I've always thought that in order to get quality one-on-one time with a child, you had to make a big deal out of it, actually GO somewhere, spend money, have it planed in advance, etc. etc.
But after reading so many of your wonderful suggestions, I realized that Dave and I get tons of one-on-one time even though we almost never GO anywhere or do anything big and fancy. We just like being home together, watching TV together, having a special snack, ordering takeout, folding laundry, etc.
I started thinking about different things and activities I already do with my kids on a daily and weekly basis, and while there is always room for improvement, I realized I actually do get little pockets of one-on-one time with each child on a weekly (sometimes even daily) basis.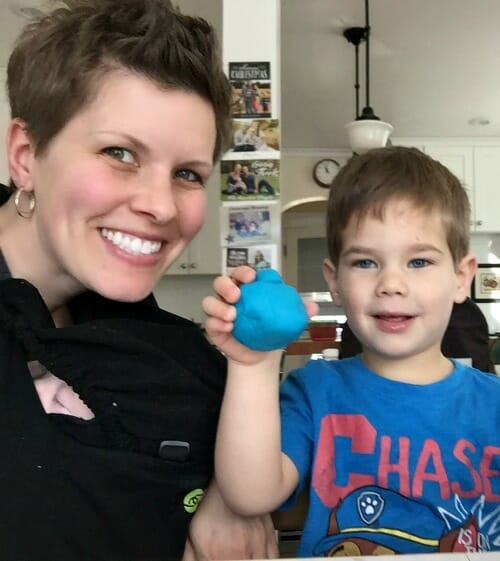 So, as we celebrate Valentine's Day today, I thought it might be nice to share some super simple, frugal, easy, non-stressful ways you can show a little extra love to the little (or not so little) kiddos in your life!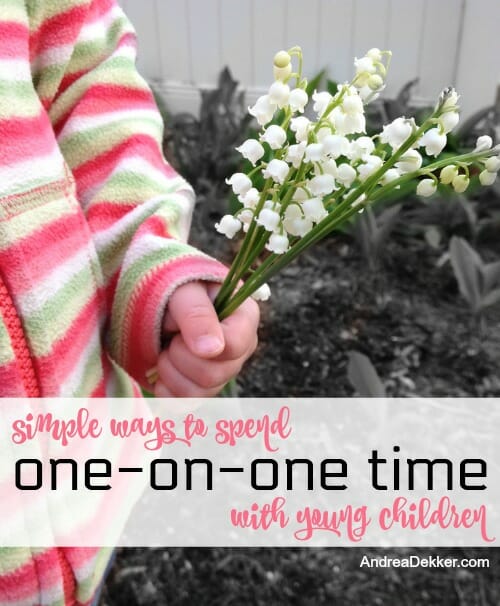 Go for a walk or bike ride with just them.
Play in a separate part of the house or yard with just them, while the other kids play somewhere else.
Cook or bake with them as your special helper while other children watch a show or play a game in another room.
Let them stay up 30 minutes later then other siblings (or get up 30 minutes earlier if they are morning people) to read or play a game together.
Do a craft with them first (as a trial run) and then bring the other kids in to do the craft with everyone.
Take one child with you to run errands while other stay home with a spouse, friend, neighbor, etc.
Let one child be the 'special child' for the day — they get to pick the meals, the snacks, the games, the books, the shows, what they play, for the whole day (or just the morning).
Have a special snack with one child on the front porch while the others have a "normal" snack inside.
Pick one child up from school while the others ride the bus home (and then do something fun at home with the one child you picked up)
Read books in a child's bed together while the other kids play somewhere else.
Watch a movie on the couch with blankets and pillows while younger children nap or while older children are at school.
Let them help you wrap gifts for an upcoming party or holiday celebration.
Go for a drive with them — maybe stop for ice cream or a fun treat.
Let one child help you with simple household chores or gardening tasks (watering plants is always a fun one for us!)
Wash the car together (or go through a carwash).
Deliver a meal or goodies to a friend or family member with just one child, then stay and visit for a few minutes (my kids always feel really grown up when they help with this).
Go through their clothing together to see what fits and what you might need to buy for them. Then go shopping together another time to buy those needed items.
I'm sure I could list 200 more ideas, but I'll stop here for now.
That said, feel free to share any of your simple ideas for one-on-one time in the comments below!
A Few Notes…
1. It will be helpful to know your child's love language.
It can be difficult to know your child's love language (and their love languages can change over time) but if you have a good idea of what their love language it, it will be SO much easier to get the most "bang for your buck" when you spend one-on-one time with your individual children.
For example, Nora's love languages are Physical Touch and Quality Time (the 2 hardest ones for me to show). So I have to work really hard to make these a priority for her — even though she's getting so big, I'll let her sit on my lap while she reads a book to me — she always thinks it's hilarious when I let her sit on my lap. And she LOVES being the "only one" to come with me to run errands because that's quality time together — even better if we hold hands while walking through the store 🙂
Simon, on the other hand, is definitely Words of Affirmation — so we play games and he helps me bake, and I tell him over and over how good he's doing and how much of a helper he is. If I don't tell him often enough, he just asks, "Mom, aren't I doing such a good job with this? Mom, aren't I such a good helper? Mom, aren't you so glad I'm helping you today? Mom, aren't I getting good at this game?"
I'm not sure what James' love language is — but he is quite possibly the happiest little boy I've ever met, so it's very easy to enjoy any amount of one-on-one time we have together!
.
2. A little bit of time can make a big difference.
If you were like me and assumed your one-on-one time had to be a grand gesture, please think again. I've realized that sometimes it's the littlest, simplest things that make my kids the happiest.
Yes, you might see the pictures your friends post about taking their 3 year olds out for "coffee" or getting pedicures with their 5 year olds, but that definitely isn't a requirement of one-on-one time with your kids.
Even 5 extra minutes spent with each child before bed, telling them a story or listening to THEM tell you a story is fantastic.
Don't get too worked up about making your one-on-one time super special and memorable… just do anything and your child will most likely enjoy it (especially if they are younger).
.
3. I only have experience with young children… your situation might be different than mine!
Obviously, if your children are older, you won't necessarily need to find someone or something to watch or occupy the other children. However, in my case, I usually need to come up with a way to keep at least 2 of the kids occupied while Clara naps and I get a little one-on-one time with the 4th child.
Sometimes this is as easy as turning a show on or sending everyone upstairs to play with Dave while I'm on the main floor with the other child. Other times, this is more of a challenge (which is why I don't get a ton of one-on-one time right now).
If your children are older, you might also need to work around school schedules and extra curricular — and while I don't necessarily advocate for letting your child skip school, I do have a friend with older kids who lets her kids each take 1 morning off of school every semester and they can choose whatever they want to do (within reason) for the morning. She makes sure they don't have tests or other pressing reasons to be at school, but that's one way she gets several hours of super fun, quality time with each of her children.
You know your kids, your family, your schedule, etc. so while my ideas might not work for you, I do think they can be adapted for older kids… and at the very least, I hope they will help you think of several simple ideas you could use for one-on-one time with your kids!
4. One-on-one time is NOT the most important thing in a child's life.
Honestly, if you're busy caring for a newborn or a sick loved one, if you're smack in the middle of a busy season at work, or if you are simply being pulled in too many directions at once to make time for one more thing… I promise you, it will be OK.
I realize this basically contradicts everything I just wrote in today's post, but I'm confident your children will not have horrible memories of their childhoods simply because you weren't able to carve out a few minutes of one-on-one time with them every day or every week.
Life will go on, you will eventually (hopefully) reach a point in your life when you have a little more breathing room and a few extra discretionary minutes to spare. The idea of spending one-on-one time with your children will probably seem less overwhelming and more fun once your own schedule calms down a bit.
In the mean time, give yourself some grace, tell them that you love them, and don't stress about whether each child got exactly 8.2 minutes of individual time with you today!
The fact that you are even slightly concerned about finding time for one-on-one time probably means you're doing a great job parenting your kiddos.
.
What are your favorite simple ways to get one-on-one time with your kids?