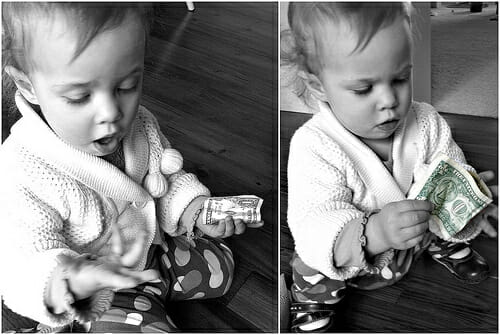 Just after New Year's, I opened my computer to enter a few receipts into my Finance Tracking Workbook when I realized I still needed to create my 2018 workbook (basically just saving a new, blank copy of the Excel workbook).
5 minutes later, I was entering the first of many expenses into the blank Excel spreadsheets, and I started wondering,]…
"What is our biggest monthly expense?"
I'll be honest, I haven't been overly aware of how much we're spending in what categories over the past 6 months (I blame it on baby #4 arriving 5 months ago!) I have been faithfully entering all our expenses (I'm sure I missed a few) so I know we're not over-extending ourselves. However, I truly haven't paid much attention to exactly how much we're spending in various categories — which is usually something I check up on every month.
Curiosity got the best of me, so I quickly opened our Finance Tracking Workbooks for the last several years… and I was totally shocked at what I found!
Would you believe that in 2017, our largest monthly expense was GROCERIES!
What!
From the lady who used to coupon like it was her job and regularly spent less than $40 per week on groceries!
Craziness!
As I mentioned above, I was completely shocked when I realized this… but after looking through several of our past Finance Tracking Workbooks, I realized this isn't actually THAT shocking and I'm not actually spending THAT much on groceries.
So how did this happen? Let me explain…
1. We have 4 children!
I think it goes without saying that tripling our household (from 2 people to 6 people) should greatly increase our grocery spending as well!
As I mention in #9 below, I include diapers, socks, vitamins, and all sorts of other random (kid and adult) purchases in our grocery spending, so even though our kids don't eat as much as Dave and I do, the things I purchase for them make up a sizable portion of our grocery spending every month.
2. We opt for convenience more often these days.
Shopping with any number of small children makes my blood pressure rise — so my goal is always to get in and out of the store as quickly as possible.
I take many steps to aid with my in-and-out shopping method — things like writing my list based on the layout of the store and getting to the store early in the morning (or really late at night when the kids are sleeping) but even still, I like to move quickly.
This means I don't dilly-dally over what brand or price is the absolute cheapest — but rather, just buy the items I know we like and need for that week whether they are on sale or not.
I also do not use coupons (except the digital mPerks which basically require no time from me) and I do NOT shop at multiple stores — I buy EVERYTHING I need for the week at Meijer and go to Costco once a month (or once every 2 months) as more of a fun outing for the kids.
While I do love deal-shopping, I just won't do it at this point in my life. I have other ways of saving money that cause me less stress. I'll get back to coupons and shopping all the sales after my kids are all in school!
3. We rarely spend money going out to eat.
Dave and I ask for restaurant gift cards for our birthdays or Christmas and that's usually the only time we go out to eat.
We do get Culver's roughy one a month, but we use gift cards we buy in December and tons of coupons so we only spend about $150 at Culver's for the entire year (I buy $150 worth of gift cards every December and get lots of freebie coupons as a result).
Also, Dave never goes out to eat for lunch (he can't because of his school schedule) and Nora doesn't get hot lunch, so we all eat or pack 3 meals a day from home.
Obviously, since we don't go out to eat, we eat at home almost all the time — which means buying more groceries.
4. We have people over for meals on a regular basis.
Although we don't go out to eat every often, we DO invite people over to eat at our house quite often.
Grandparents, neighbors, family friends, people from church, etc. — our kids love having company over and I don't mind making extra food, so it's a win-win (except for the fact that it increases our grocery spending!)
5. We eat an insane amount of produce… and it's not cheap!
We are still working on expending our children's love for vegetables, but they willingly eat an insane amount of fruit every week… and about 3 years ago, I decided I just wasn't going to worry how much I spent on produce, as long as people were eating it.
I buy large amounts of strawberries, blackberries, raspberries, blueberries, bananas, apples, and grapes every week, along with oranges, cantaloupe, watermelon, kiwi, peaches, pears, plumbs, and pineapple when they are "in season" and taste so much better!
And even though my kids much prefer fruit over veggies, they are pretty good about eating cooked carrots, beans, broccoli, cauliflower, zucchini, and corn — so I always keep those veggies in our fridge.
I like to buy good lettuce and spinach for salads throughout the week, plus I buy mushrooms, onions, potatoes, and fresh herbs for cooking, along with peppers, pea pods, and cherry tomatoes for eating raw.
When these items aren't in season, prices can be high — but I figure it's still cheaper (and healthier) than going out to eat, and since I enjoy cooking and baking, it's not a burden for me to spend time preparing these foods each week.
6. We buy more expensive foods.
I definitely would NOT consider myself a "foodie" and I have no issue eating some processed foods, but I will say that the foods we buy now are more expensive (and probably more quality) than the foods I bought 10-12 years ago.
Along with all the fruits and veggies I mentioned above, I buy good quality meats and cheeses, healthier fats, more nutritious breads, tons of full-fat dairy products, more specialty oils and vinegars, SO many eggs, real maple syrup, whole wheat flour (and other grains like flax seed, wheat germ) etc.
All of these extras add up each month!
7. We buy in bulk.
We were gifted a quarter of a cow from Dave's parents for Christmas, but we also purchase a decent amount of bulk meat from Zaycon Fresh every year (I have 20 pounds of sausage links arriving next week!)
I realize the point of buying in bulk is to SAVE money, but having so much mean on hand makes it much easier to cook with meat on a very regular basis — which probably means we end up eating and buying quite a bit more meat on a yearly basis.
Not necessarily a bad thing for our growing kids, but it does add to our grocery spending each month.
8. We have a Costco Membership
Speaking of buying in bulk… we still have our Costco membership!
We got a free membership for 1 year… that was 3 years ago 🙂
I wanted to cancel after the free year was up, but Dave convinced me that it was worth the (roughly) $1 per week since we do buy several items at reduced prices via our Costco store and online. Plus, Dave benefits from the optical center, and the kids really love their samples!
I include the membership price in our grocery spending — and, of course, everything I buy there adds to our grocery spending each month.
9. We include lots of mics. items in our grocery spending.
I know some people might not do this, but I basically include everything I purchase at our grocery store in our grocery spending (even if it's not actually "groceries").
This includes the Valentine's candy and cards I just purchased for Nora's class, the gift card I just purchased for a friend, the toilet paper and paper towels I recently stocked up on, the 2 Hot Wheels cars I let the boys pick out last week "just because", the motor oil I bought for Dave, the socks I picked up for James, the vitamins I purchased for the kids, and hair products I stocked up on via a recent sale.
Have I mentioned how much I LOVE Meijer grocery stores — literally a one-stop shop for everything I need!
Obviously, all of these things significantly increase the amount I enter for "groceries" each month, but it makes sense for me and for the way I get groceries to include everything under my "groceries" tab.
10. We have made our house more efficient.
This might not seem like a factor, but our gas and electric bills are so much less expensive now because we put in all new insulation, all new windows and doors, LED lights, etc. So the fact that our utility bills are so much lower, makes our grocery spending seem higher.
We also no longer pay for Cable, the Newspaper, or any other paper/magazine subscriptions. And our cell phone bills are now only $70 a month (total for both phones) since we both have older phones and are "Grandfathered" into the lowest data/call/text package possible.
Another biggie… we paid off our mortgage, so we no longer have that monthly expense!
11. We don't get out much!
Again, this might not seem like a factor for our grocery spending — but since we don't do a lot of outside activities, we don't spend money on outside activities and we don't need gas to get to outside activities.
In fact, for the past several years, we've spent almost nothing on "entertainment" because we just don't do much!
We participate in lots of free community and church programs (most of which are VERY family-friendly) and the few times we've gone on any type of vacation, our parents have footed the bill since it was a big extended family event and they wanted to pay for everyone (I know, we're lucky!)
Our kids don't do clubs, lessons, sports, or any paid extracurricular activities yet, and other than our monthly trips to the local thrift store, a few Amazon purchases, and our weekly grocery trips, we really don't buy anything!
The huge LACK of spending on gas, vacations, entertainment, etc. makes it much easier for our grocery spending to seem higher.
So how much do we spend on groceries each month?
Roughly $600 – $650 per month (or roughly $7,500 a year!)
.
I include the numbers above ONLY because I know I'll get so many questions if I don't.
I'm not trying to say that $600 per month is a lot or not a lot, I'm simply stating that $600 roughly what I spend on grocery (and related items) every month.
If you spend significantly more, it's probably because your family eats more or your grocery prices are higher or you have more children. If you spend less, it's probably because you're a better shopper than I am or you're willing to shop at multiple stores every week or you eat out at restaurants more.
Either way, I really do NOT think there is a "right" amount of money for any given family to spend each month — as long as you have the money to spend.
Personally, I feel pretty good about the food I buy and make for my family, and the fact I can do it all for around $600 per month.
I also know that number will most likely keep getting higher!
.
Next year, with 2 kids in school, our Christian school tuition will most likely surpass our grocery spending… however, since we live a fairly frugal lifestyle and don't have many other monthly expenses, I will continue to justify higher weekly and monthly grocery bills.
If we reach a point where I feel I need to cut back, I will… but for now, spending more on groceries seems to be one solution to simplify my life with a growing family and so many other decisions and choices to make every day!