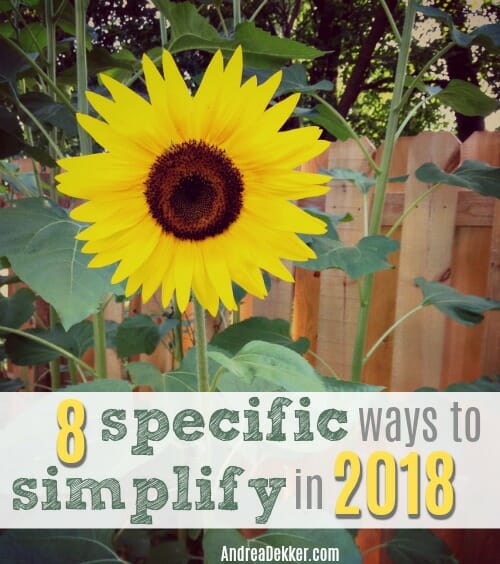 Several weeks ago, as I was thinking about different posts I'd still like to write over the summer, the idea came to me to share some super specific ways we can all simplify various parts of our homes, schedules, lives, etc. in the remainder of the year (there are still 5 months left to simplify!)
I originally wanted to share 18 tips (for 2018) — but that seemed a little overwhelming!
I settled on 8 instead!
I know what you might be thinking… "I've read articles like this before and they just tell me things I already know."
pay off debt
get more organized
say 'no' more often
stop multi-tasking
spend less time online
watch what you eat
get more sleep
purge
Sound familiar?
Yes, those are all good tips… but they are VERY general ideas that might not be easy to apply to our own homes, families, schedules, and lives.
.
Today, my goal is to share 8 VERY SPECIFIC things you can do right now (or any time over the next few months) to simplify some part of your home, your schedule, or your life.
These ideas and tips will NOT radically change your life overnight (sorry, I'm not that good!) but practiced consistently, these tips will begin to form new habits, and over time, these new habits have the potential to hugely impact your entire life!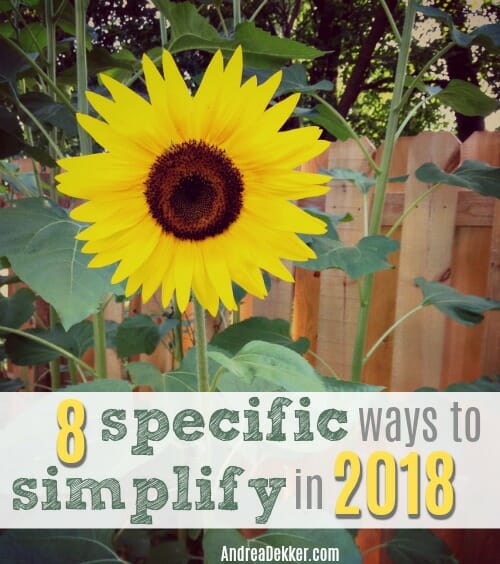 1. Wake up 20-30 minutes earlier.
I know… sometimes it just isn't possible to wake up even 5 minutes earlier than what you are (I get it, really!) but if you are in a stage of life where you have more control over your own sleep, then you should be able to wake up 20-30 minutes earlier.
You might not want to, but I'm SO confident you will see huge benefits from this… which is why I kept it at the very top of my list.
It's amazing how much better my entire day flows when my mornings are more simplified and peaceful… and in order for my mornings to be simplified and peaceful, I absolutely MUST wake up before the rest of my family.
If you are looking for a little more "simple" and a little more "peace" in your days, bump up your alarm a few minutes (and actually get up when it goes off). I think you'll be surprised how much of a difference it can make on your entire day!
2. Purge 100 things from your home.
Like I mentioned earlier, this tip will not magically simplify your entire home… BUT, it's a START!
If you can get in the habit of regularly purging things you don't need, use, want, or love, you will be well on your way to a simpler, more organized home and life.
And if you think purging 100 things will be too difficult for you… read this post for a little motivation!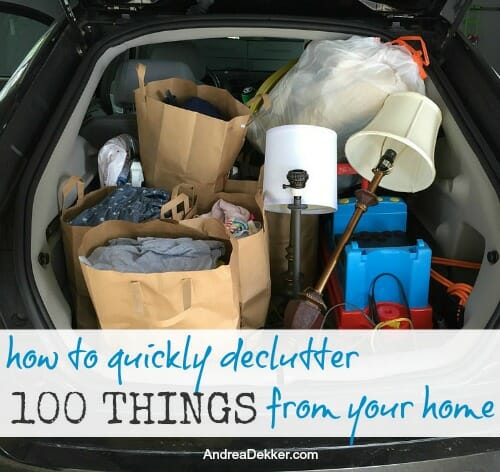 3. Make your to-do list the night before.
When I think about everything I do in a day, one of the MOST IMPORTANT steps for me to be more productive and use my time most efficiently is to make my to-do list the night before.
Every single night… no questions asked!
Dave and I both do this now, usually without even giving it a second thought. As we're packing up for the night, getting ready for bed, and finishing our evening snack, we glance over our planners and think through what we'd ideally want to accomplish the following day. Then we write out our to-do lists before we climb into bed.
This might sound overly simple, but by making our to-do list the night before, we sleep better because we don't worry about forgetting something, AND we can jump right into our list in the morning, even if we are a little groggy and can't remember everything we wanted to do right after waking up.
If you've never tried making your list the night before (or if you still don't even make a list), this step could be a total game-changer for you!
NOTE: I want to piggy-back on this tip and mention that it's also extremely helpful if you review your daily and weekly to-dos, meetings, meal plans, and anything else with the other people who live with you. This will help alleviate scheduling conflicts and miscommunications!
4. Designate an area in your home for items that need to leave.
Do you have library books that need to be returned? A dish that needs to go back to a family from church? What about something to drop off at the post office? A return to bring back to the store? A gift for a neighbor friend? A few bags to bring to the donation center?
Where do you currently keep these items right now?
If you don't have a designated space for them, chances are they live in a disorganized heap in the corner of a bedroom, in the floor of a closet, or in a pile on your kitchen counters — not ideal!
Since all of these things need to leave your home eventually, it makes the most sense to designate a space for them near your back door (we have a spot in our laundry room for all these items). You might also want to move these items directly into your vehicle… which brings me to my next tip…
5. Clean out your vehicle.
I honestly don't care what the outside of your vehicle looks like — as long as the inside is decently neat and organized.
If you think about how much time the average person/family spends INSIDE their vehicle, it totally makes sense to keep this space organized, decluttered, and somewhat clean.
Here are a few tips to help you get started!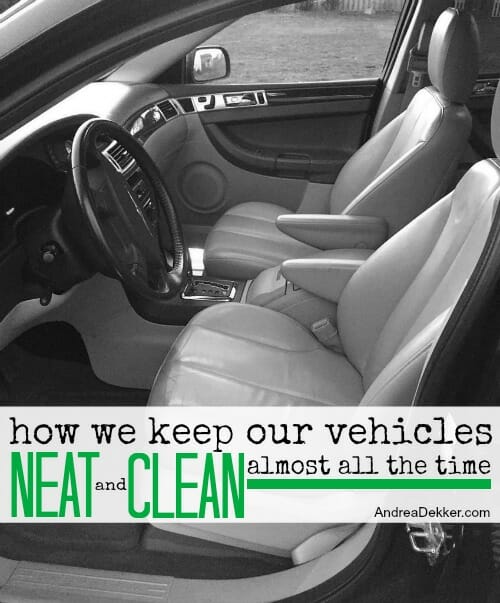 6. Throw out expired foods.
No, you don't need to have a Pinterest-worthy pantry, no you don't need labeled bins in your deep freezer or cute snack cubbies in your fridge… however, I would encourage you to do a once-over of all the food in your entire house and purge anything that's expired.
You don't even need to clean, wipe down, or organize the remaining food — just toss everything that is expired!
This would also be a great opportunity to take stock of what you currently have lurking in the back corners of your pantry, freezer, fridge, etc. Take note of items that are close to the expiration date and set up appropriate meal plans to use up those ingredients over the next couple of weeks.
7. Create a laundry routine.
Clothing is such a time-suck isn't it! We shop for it, buy it, decide we don't like it, return it, constantly question if we look "good" in it, figure out where to store it, keep it organized, and then wash it!
If you're like most households I know, laundry piles up quickly, and without some type of system or routine, it can feel VERY overwhelming (especially if you put it off for too long!)
In general, I'm not very strict with creating specific cleaning routines every day or every week — I just clean things when they get dirty enough! However, when it comes to laundry, I found that since there were always dirty clothes, I felt like I should ALWAYS be doing laundry (which obviously isn't ideal).
By simply creating a loose laundry routine each week, I can now tackle laundry a couple of times each week and then forget about it on the days in between. Wow, did that one routine make a HUGE difference in my weeks!
Here's the laundry routine that has been working well for our family for the past couple of years — however, the point is NOT to do what I do, but rather to find a routine that works for you, your family, your stage of life, etc. etc.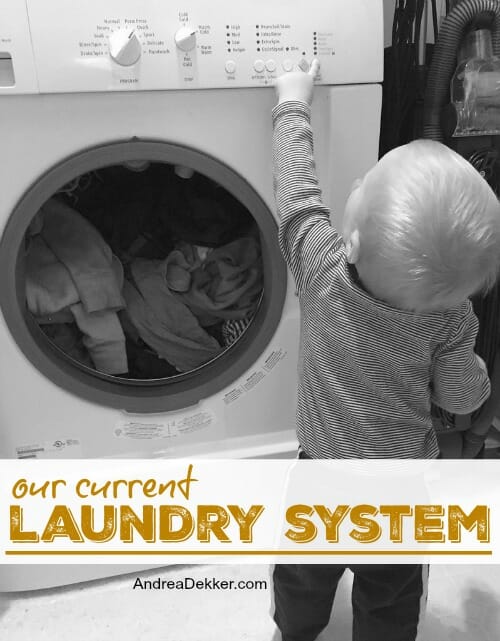 8. Find a planner method that works for you.
I don't care if you use a paper planner, a digital planner, create your own printable planner sheets, or use Google Calendar… all I care about is that you have some sort of system that helps YOU to organize your days and plan ahead.
As I've mentioned many times already, I've always been a paper planner gal — and I honestly don't see that changing any time in the near future (even with older children and more things to schedule).
I could see using BOTH paper and digital, but I really feel like I need a paper copy in front of me all day long — serving as a reminder of what still needs to be accomplished.
If you don't like paper, find a digital system that works for you. If you like using sticky notes, then at least put them in a notebook so they are somewhat organized and portable (not just in a pile on your counter)!
All I'm asking is that you don't rely on your memory! Even if you have a fantastic memory, you are still using up SO much brain power trying not to forget all those commitments, meetings, menu plans, errands, to-do's, etc. Just write it down (or type it out), get it out of your brain, and enjoy a simpler, more organized schedule for the rest of the year (and beyond!)
.
I realize there are countless other tasks, tips, and to-do's I could add to this list… but in an effort to keep things SIMPLE and SPECIFIC, I feel these 8 ideas are a really good starting point for anyone looking to finish the year better than they started (at least from a simple-living standpoint!)
What task will YOU start on first?
Do you have any other simple and specific ways to simplify?