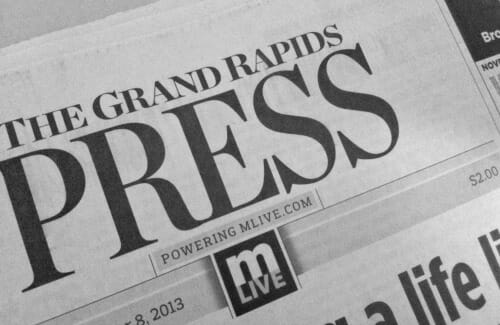 I'm sad, and even slightly ashamed, to admit that (as of 2 months ago) Dave and I canceled our subscription to the local newspaper.
The newspaper was the first subscription we set up right after purchasing our house (a few weeks before we got married). Dave was still living and teaching in California at the time, but because we put our engagement and wedding photos in the Press, we got a really good deal on our first year of service — I think it was about $75 for a full year of 7-days-a-week delivery.
For the next seven years, we dutifully supported our local newspaper by purchasing the full subscription each year.
Dave read it cover to cover every day — laughing out loud at the comics and finishing every single puzzle. I used the ads and coupons to save hundreds and hundreds of dollars on our groceries and other necessities each month. I used the paper itself as a creative and frugal way to wrap gifts.
However over the past couple of years, there have been lots of changes with the newspaper — namely that the coupons have majorly gone downhill and I rarely even use them anymore. Plus, Dave decided that he was spending WAY too much reading the paper, re-reading the paper, and doing the puzzles (seriously, it was all his decision – I didn't even bring it up!)
So before school started, he decided that it would probably be better for his productivity if we stopped getting the paper… and after weighing the pros and cons, we decided to save the $140 per year (and mass amounts of paper recycling) and we canceled our subscription.
But we are surviving just fine.
Dave can still get the major news online or on TV — and if there is something we want to learn more about, we can find it in within minutes on our local news website.
Since I strongly dislike shopping, I've really only been using the Meijer ad for the past few years, and I can get that for free using the Weekly Ads & Sales App on my iPhone or iPad (seriously, you can find ANY ad for ANY store in your area using this App — it's really cool.)
I use Meijer's online coupons (that are sent right to my phone) or print higher value coupons off the internet if I find a good deal — and I still get discount coupons sent to me from Meijer directly (with our credit card statement) and they are often better than anything I could find in the newspaper. Also, Dave's mom often gives me her coupons from the paper so I always have that to fall back on too 🙂
We still get our beloved Culver's and Arby's coupons mailed to us (at least for the time being — and we hope this doesn't stop any time soon!)
I got Dave a book of puzzles from our local dollar store.
The best part of it all is that we almost have NO paper clutter around our house anymore! Since we just get a few freebie magazine subscriptions each month, and since I'm pretty good about managing and eliminating the junk mail that comes to our house, I'm hardly ever picking up piles of paper or bringing the paper recycling to the Paper Gator at church.
That part has definitely been nice.
So while I feel bad that we are no longer supporting our local newspaper — and really bad that we are one less customer for our single-mom delivery lady — I think this was a good decision for us, for our current needs, for our time, and even for our space.
If we change our minds later, we can always start our subscription again — and maybe we'll even get a discounted rate for coming back!
How about you, have you recently canceled any paper subscriptions or opted to switch to a digital-only subscription?