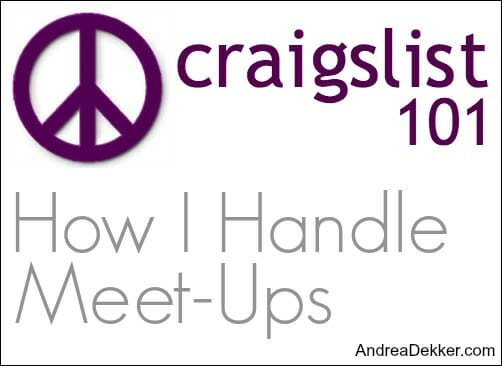 It's no secret that I do A LOT of Craigslist shopping.
As I look around the various rooms of our house, the majority of stuff we own is a direct result of a Craigslist transaction… seriously!
It's one of my favorite online shopping sources for good reason, and it's my go-to "store" ANY time I need or want something.
However, along with being an experienced Craigslist buyer, I have also made thousands of dollars over the past 7 years by selling our unwanted and unneeded items on Craigslist. At one point before my blog and before kids, it was literally a substantial part-time income for me.
I've scaled back on the selling part these days. Instead, I just pick a weekend every few months, list 15-20 things and enjoy a little extra spending (or saving) money — but I'll be the first to admit that my Craigslist pocket money adds up. I did a few calculations and figured out that I've made over $3600 since January 2013, not too shabby for taking a few pictures and sending a few emails to interested parties.
I really enjoy using Craigslist, and thankfully, I live in an area where I feel very safe and don't worry too much about crazy people coming to my house. However, I realize there are LOTS of you who don't necessarily share my bravery when it comes to selling items on Craigslist, and quite regularly, I get emails asking how exactly I handle my Craigslist sales.
Do I let people come to our house?

Do I let people come IN our house? Even if Dave isn't home?

Do I give out my phone number?

Do I hold items for people? If so, how long?

Do I accept anything other than cash?

Do I ever ship items I sell?
I could go on and on — but those are the main questions I get time and time again.
So here are my answers!
Do I let people come to our house?
Yes, I have no problem giving out our home address — but I don't just give it out willy-nilly.
Basically, if someone is interested, I give them my approximate location (by this school and these cross streets) and then ask them to confirm a time (either that day or the next day) that they will come. Then I give them my phone number and say "call me when you are ready to leave and I'll give you our exact address."
This way, it's up to THEM to call me and get my address when they are ready to leave. If they wait a few days to call, there's a good chance the item will already be gone so I don't have to feel bad about not holding an item for them. In the mean time, I also don't have to worry about random people showing up at my house because I've given out my address 50 times.
This method has worked really well for me and people are usually more than willing to make a quick phone call for my address versus me giving it to them days in advance.
If you don't feel comfortable having people come to your house, I'd suggest meeting at a smaller parking lot (like a fast food restaurant). The only negative thing with this is you have to load up the items, leave your house (possibly pack up your kids), and then wait for someone who could potentially not show up. For these reason, I've always opted to have the people come to our house — but that's just my own personal preference.
Do I let people come IN our house – even if Dave isn't home?
Yes and yes. And I know some of you might be totally freaked out by this!
To be perfectly honest, Dave isn't home a lot of the time so that would really limit me if I had to wait until he was home. And thankfully, he feels totally safe having me sell out of our home.
I promise I'm really safe about it — and if someone seems at all sketchy on the phone or via email, I just tell them the item is sold. Most of the people buying my things are other women — usually my age or a little older, and they usually show up with their kids in tow. So not super intimidating.
While I usually just move whatever I'm selling out to the garage or the front porch for easy loading, there are times when it just makes sense to keep an item inside. In that case, I try to have the items ready to go, sitting by the door so we don't need to walk all the way through the house.
While this might sound scary or risky to some of you, I can honestly say that after hundreds of transactions over the past 7 years, I have NEVER ONCE felt unsafe, scared, or insecure about letting someone into our home. And if I ever did have a weird feeling, I'm a pretty fast thinker and would probably come up with some excuse not to let them in. Then, I would go inside, lock the doors, close the blinds, and call my sister who lives down the road and has a husband with a really big truck!
Do I give out my phone number?
I kind of already answered this above — but yes, I do give out my phone number.
I DO NOT post my phone number on the actual listing — you can do this, but you'll probably get crazy phone calls at all hours of the day if you do 🙂
Basically, as I mentioned above, once an interested buyer emails me with a time/date they can come (in the near future), I'll email them my phone number (and approximate location) and ask them to call me when they are ready to come.
At first I felt a little weird giving out my phone number, but it's pretty easy to find a phone number now days and it practically eliminates the problem of no-shows or being asked to "hold" an item for someone — so it's totally worth it for me.
Do I hold items for people? If so, how long?
I would answer "no" to this question ALMOST every single time — but it does depend.
If it's a low-value or free item, I will not hold it for any reason. However, if it's several hundred dollars or a specialty item that probably won't sell very quickly, I might hold it for a day or so. I just use my own judgement to decide on a per-item basis.
If the person sounds responsible and reliable and if I'm fairly confident they will show up when they say they will, then I'm more likely to hold it for a short while.
But for the most part, my method of having them call me when they are ready to come eliminates the need to hold anything. If they call me sooner, it's more likely the item will still be around — and if they wait too long, I can simply tell them it's no longer available and save them the trip.
Do I accept anything other than cash?
Definitely NO.
Well, I suppose we did accept a cashier's check when we sold our house — but that's a little bit different 🙂
The most expensive thing I've ever sold on Craigslist (besides our house) was $3000 and even then, she paid me cash. I would never accept a personal check, and I don't really even like doing PayPal either because PayPal takes 3% out of transactions — so that's less money for me.
I would probably take a cashier's check for larger items, but I've found that anyone who is a seasoned Craigslist buyer knows to come with cash. I also clearly state that I only accept cash at the bottom of all my listings.
Also, I always ask for EXACT cash so I don't have to worry about making change — especially for smaller items.
Do I ever ship items I sell?
For the most part, no.
I have shipped items on 2 separate occasions, but in both situations, the items were small and inexpensive. However, I did require the buyer to mail me the cash (including the shipping costs quoted to me by the post office) before I would mail the items. So in both cases, the buyers must have trusted me because they sent cash in the mail to a stranger and then had to wait several days for their package to arrive.
In general, I would not advise you to ship products OR to pay for products on Craigslist via the mail. These 2 situations were definitely unique. However, I figured that if they trusted me enough to send cash, it was the least I could do to ship their items.
So those are my answers to the FACQ's (frequently asked craigslist questions) I get on a very regular basis.
If you're interested in buying and selling on Craigslist and would like to read more of my tips, you can read all my Craigslist 101 posts here.
And if you have more questions or something to add to what I've mentioned above, feel free to leave them in the comments below. I'll do my best to answer!