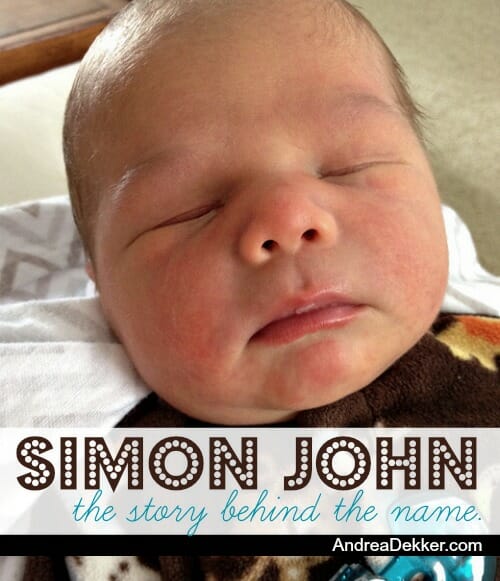 Thanks so much for all your emails, comments, messages, and support after the birth of baby Simon. We were so excited to FINALLY share his birth (and his name) with all of you last week! We were/are simply amazed by how much joy and excitement we have felt from people we've never even met!
We are so blessed!
Since many of you have asked, I promised I'd share the story behind Simon's name — and today is the day 🙂
It all started back when Dave and I were dating…
Dave's grandpa, Simon Dekker, died about 4 months before we were married — and after that, Dave told me that if we ever had a baby boy, he wanted to name that boy Simon John.

I thought it was a cute name, but I honestly never thought the name would stick.

Well 8 years later, we have that baby boy… and Dave stuck to his original plan the whole time!
So as I mentioned back in the birth post, Simon is named after Dave's paternal grandpa (Simon) and Dave's dad (John). Dave's middle name is also John.
this picture is of Dave as a baby with his Grandpa Simon Dekker
However, what you don't know is that our little Simon is the first, and potentially the ONLY, true 4th-generation of all Dekker males.
Although Dave's dad comes from a very large family (7 children, 20 grandkids, and 26+ great-grandkids) his dad only has 1 brother, and that brother has no male grandkids. So unless Dave's brother has a boy, or unless we have another boy in the future, our little Simon is the only person with the ability to carry on the Dekker name.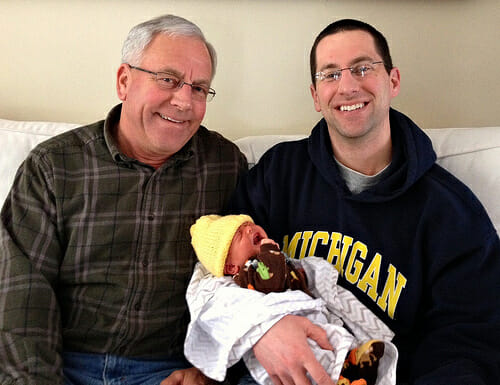 3 generation picture with Simon, Dave and Dave's dad
Unfortunately, since Dave's Grandpa Dekker passed away 8 years ago, we'll never be able to get a 4-generation picture like we did with Nora — but it's still nice to know that we're doing our part to carry on the family name.
Plus, we both think Simon is a pretty cute name for a pretty cute little boy 🙂
It's not too long, not too difficult to say or spell, not too trendy, not too weird, it doesn't have any obvious nicknames, it doesn't make Dave think of any naughty students — basically it meets all our baby name requirements AND is a family name that goes many generations back in the Dekker family!
Oh, and this is what his name means:
SIMON: "To be heard"

JOHN: "God is gracious"
So that's the story behind Simon's name… nothing spectacular, but still really special for our family.