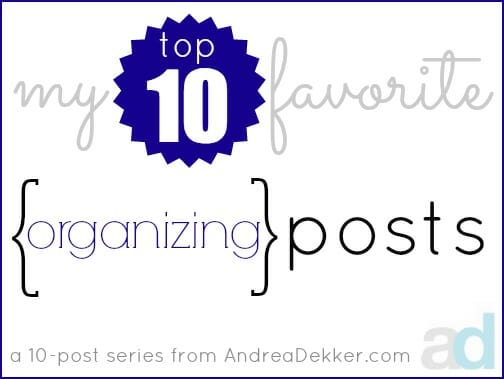 As I planned ahead for the arrival of baby Simon, I thought it might be fun to resurrect some of MY favorite posts from the past 3.5 years of blogging. I'll be publishing this 10-post series during the 4 weeks after his birth (read all the posts here).

I hope you enjoy reading (or re-reading) these posts as much as I'll be enjoying the extra snuggles, books, smiles, and naps with Nora and Simon!
This blog originally started out as an organizing blog — so it's no surprise that I have TONS of posts about organization. It was pretty difficult to narrow it down to my top 10, so there are a few extra links sprinkled in there!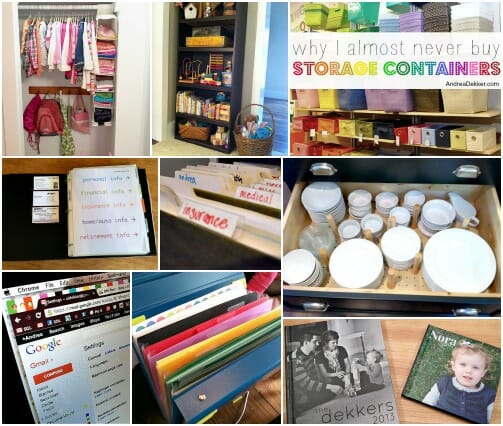 Here are my Top 10 Favorite Organizing posts — in no particular order.
Clothes clutter is the #1 thing I'm asked about on a very regular basis. And if you have a question about clothes clutter, this post should cover it. I talk about our clothing, kids clothing, out-of-season clothing, clothing storage, accessories, etc. etc. There are also links to many of my other clothes clutter tips within this post.
.
Photo storage and organization is another huge issue for so many people — and I can totally relate, because I was right there in that overwhelmed boat just a few years ago. This post talks about how I finally got our photos organized once and for all, and the digital photo album system I've been using faithfully for the past 5+ years!
Related post = Digital Photo Album FAQ's (a follow-up post answering lots of photo organization questions)
.
I LOVE storage containers — but for the most part, I resist buying them because I know that I can almost always find a suitable storage container around my house for free.
If you're addicted to pretty storage bins and containers, read this post — it might just change your perspective!
Related post = Organization Should be Practical, Not Always Pretty
.
Got paper clutter? This post goes into detail about how we've MAJORLY pared down our paper clutter over the years — it also links to many other paper purging resources.
.
This post could potentially be my MOST favorite organizing post ever published on my blog — I LOVE it! There are so many good points within this post — and I honestly don't think anyone (myself included) can say they've never made any of these 10 excuses.
If you've been struggling to purge lately, this post might offer some encouragement!
Related post = To Sell or Donate: that is the question
.
After Nora was born, I had a mini panic attack, wondering "what if something happened to me and/or to Dave?" so I set to work organizing ALL our important documents, information, passwords, login information, etc. etc. It's all in one nice neat binder — our close family members know where to find it and how to utilize the information if it's ever necessary.
Oh, and there's a free printable document you can download to help you get started organizing your own important documents!
.
Have you ever wondered: "what would Andrea say about this?" If so, then read this post! It basically walks you through how I decide if we should keep something or let it go — and of course, it's NOT a super complex algorithm 🙂
.
When we renovated our kitchen two summers ago, I was determined to incorporate as many drawers as possible (our old kitchen only had a couple TINY drawers). I was so thankful that we were able to include TEN large drawers into our new kitchen — and yes, I had SO much fun organizing them!
Related posts:
.
Nora's new play room was probably one of my favorite projects from the past few months. I really enjoyed figuring out the best place to store everything — and of course, having ALL our toys in one place.
Related posts:
.
Email is a such a huge form of clutter for most people — and even though we can't SEE it sitting out, it's still there. For me, Gmail filters have been the absolute BEST and easiest way I've found to keep my inbox clutter-free and keep my email super organized.
Related posts:
.
So that's my list…
Which organizing posts are your favorites?