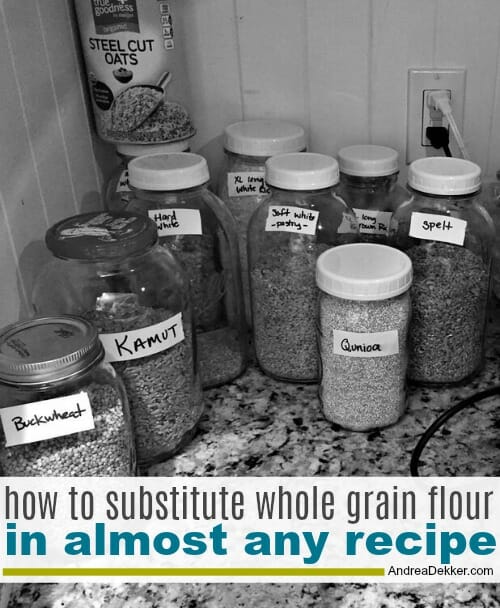 For the last 5+ months, I've been cooking, baking, and eating whole grains every single day.
I've read and learned so much, I've made many amazingly delicious foods, and I've had some total flops (see below!)
Most of the time, I've enjoyed this learning and experimenting process, but Dave will tell you I've also been extremely frustrated on more then one occasion!
As someone who has baked exclusively with all-purpose flour my entire life, and has thoroughly enjoyed white bread, white rice, white pasta, white tortillas, etc., I honestly have NO idea where my desire to integrate whole grains into my kitchen started.
I'm really not a health food nut, I was not raised on whole grain, and I'm still a strong advocate for "all things in moderation" (including white flour).
For me, it has felt more like a challenge to conquer and a "project" to work on over the winter months when house and yard projects are lacking!
Whatever the case, I have been somewhat obsessed (in the best possible use of that word!) with learning as much as I can about whole grains… and wow, have I learned a lot!
I won't bore you with too many details… but I WILL share a super simple way to substitute whole grain flour for all purpose in almost any of your favorite recipes — giving you more fiber and more nutrients with very little hassle or extra effort on your part!
How to Substitute Whole Grain Flour in Almost Any Recipe:

Simply swap UP TO HALF of the all-purpose flour for whole grain / whole wheat flour and make the rest of the recipe exactly as written (allowing roughly 10-15 minutes for the batter/dough to "rest" and the flour to absorb the liquid before baking).
Any time I've substituted half whole grain, my recipe has still turned out wonderfully.
Yes, there are some flavor differences. Yes, the color of the finished food is often darker. Yes, some of the foods are slightly heavier. BUT, not in a bad way — just a different way.
All my cakes, cookies, quick breads, muffins, rolls, pancakes, waffles, corn breads, brownies, yeast breads, etc. turn out wonderfully with no other alterations, as long as I don't substitute more than 50% of the all purpose flour for whole grain or whole wheat flour.
This means that virtually any recipe in your recipe box, any recipe in your favorite cookbook, and any recipe on my blog can be made using 50% whole grain flour without wondering or worrying if the finished product will turn out.
If you want to substitute more than 50% whole grain flour (something I regularly do) I would highly recommend starting with pancakes, or quick breads.
Those recipes are the most "forgiving" in terms of tweaking them and swapping out ingredients. If your batter seems a little dry or thick, add more milk or water. If it seems too runny, add a bit more flour and let it rest for 10-15 minutes again.
If you want to try your hand at 100% whole grain yeast bread, you will most likely want to do a little research first. I have found that I often need to alter the amount of liquid in the recipes when I'm using 100% whole grain. I also frequently add dough conditioners, and I sometimes let the flour/water mixture rest for several hours before adding the yeast, salt, oil, etc. It just depends on the recipe.
There are SO many different variables to tweak when making yeast breads — which is why using 100% whole grain has been SO frustrating for me at times!!
If you want to experiment with whole grain and turn it into a little hobby like I have, go for it!
However, if you'd simply like to add a little more fiber and nutrients in your everyday cooking and baking, I'd suggest simply replacing 50% of the all purpose flour in any of your favorite recipes with whole grain flour. Your family probably won't even notice the difference!
One Final Tip:

I usually grind my grain immediately before baking, but if I have extras, or if I buy bags of already ground flour, I store them in the freezer as whole grain flour goes rancid quite quickly (in as little as one week).
What are your tips for baking and cooking with whole grains?