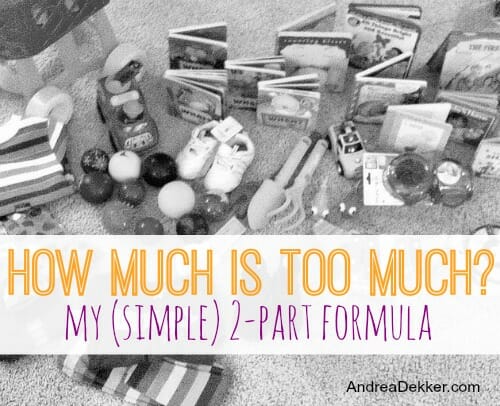 Over the years, I can't even begin to count the number of times I've been asked:
How much is too much _______________________? (toys, clothes, shoes, bags, books, electronics, kitchen gadgets, tools, etc.)
If only I had the magical answer for exactly how many of a certain item every individual person should keep to suffice their need, but not cross the line into excess clutter!
I'm good… but not THAT good 🙂
No, I most likely won't have the perfect or right or best answer for how many pairs of shoes YOU should own, how many toys YOU should allow YOUR children to have, or how many cookbooks to keep on YOUR shelf.
HOWEVER, I do have a very simple 2-part "formula" of sorts that might just help you think through your stuff a bit more… and determine (for yourself) exactly "how much is too much".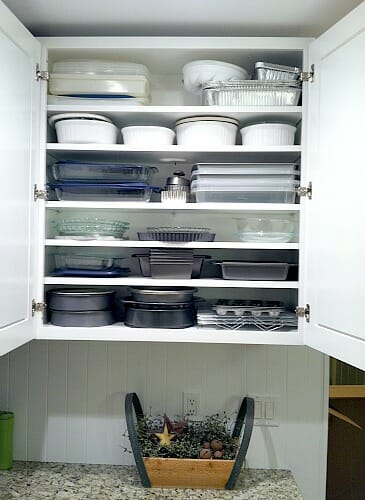 My 2-Part Formula for How Much Is Too Much:
PART 1 = Honestly evaluate how many of a certain item you actually NEED and USE.
Do you need to wear certain shoes for work, but prefer other shoes for casual outings with friends or running errands during the week. Do you live in a varied climate and need certain shoes for cold weather, rainy weather, and warm weather? Or do you find yourself wearing the same 3 or 4 pairs day in and day out?
Do you cook every day and enjoy trying new recipes and learning new techniques from your array of cookbooks? Or do you usually turn to online resources (or fast food takeout) to find your meal inspirations?
Do you have several younger children who are home for large portions of the day and play endlessly with your large assortment of toys and games? Or are your children getting older, gone for most of the day, and not really all that interested in the piles of toys that go unused for weeks at a time?
I'm sure you can see where I'm going with this — but if you actually need and use the items in question, there's a fairly good chance you don't have "too much" of whatever it is your wondering about.
However, if the items are simply collecting dust, serving as sentimental reminders of "the good old days", or waiting for you to finally use them "someday", I would encourage you to free up some space by letting those items go.
.
PART 2 = Consider the SPACE you have to store the items.
Do you have a massive walk-in closet or a spacious mudroom to accommodate your ever-growing collection of footwear? Or do you constantly trip over piles of shoes by the back door, the front door, in your bedroom, etc.?
Do you have some sort of storage system for your children's toys? Or is your home cluttered and overrun with legos, baby dolls, trucks, and action figures?
Do you have a designated shelf in your kitchen for your beloved cookbooks, or do they regularly take up valuable real estate on your counters, your table, or other kitchen surfaces?
I know this step doesn't seem all that fair for those with less physical storage space — but the truth is, if you don't have a space to store your items, they will always sit out and become constant clutter.
In my opinion, if you don't have a space to store an item, it means you have "too much" and need to get rid of something.
.
But what if you need something and don't have the space for it?
I know, I know — I get this question ALL the time.
I DO understand the frustration that occurs when you truly need and use something that you might not have the space to store — HOWEVER, in my own experience, there has always been some sort of solution.
On one hand, there have been many times when, after thoughtful evaluation, I have decided that I really didn't NEED or USE the item in question as much as I thought. I could get by using or wearing something else to save the space — problem solved!
On the other hand, I have also been able to put my creative juices to the test time and time again in an effort to come up with better, more efficient storage solutions for my things. Whether it's toys, clothing, books, or gardening tools, I will NOT let myself keep them if I don't have a space to put them — and if I'm not willing to let the items go, I need to find a storage space.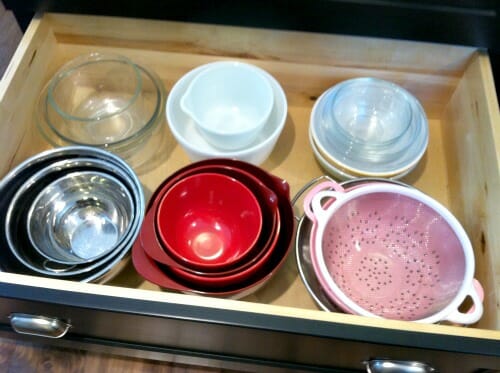 3 Ways to Find (or Make) More Storage Space:
1. Use Vertical Space:
Hang over-the-door shoe organizers on the backs of your doors — we use ours for gloves and mittens, small kid's toys, bathroom essentials, and so much more.
Also, use vertical bookcases to store toys, games, books, and more. You can even find decorative baskets or bins if you want it to look nice. And when it comes to bookcases, put the shelves as close together as you can so you can fit more shelves and store more things!
Can you put shelves or a cabinet above your toilet to store extra bathroom items? What about adding a shelf divider in your kitchen cabinets to "double stack" shorter items?
Think of how much extra space you could gain by adding shelves or an extra rod to your closet to maximize your vertical space.
Can you hang a loft in your garage to store extra outdoor gear, holiday decorations, or outdoor toys?
Here are a TON of ways we use vertical space to maximize storage in our home.
2. Rearrange What You Already Have:
Sometimes simply rearranging what you already have will magically create more storage space — for example, HOW you fold or hang your clothing can make a huge difference in the amount of usable storage space you have.
If you triple fold your pants, they will take up more vertical space and less horizontal space than if you double fold them.
Slim hangers take up less space than traditional plastic hangers.
Folding your t-shirts and tank tops like I do takes up considerably less space than laying them flat in a drawer.
Storing your shoes in over-the-door shoe organizers on the back of your closet door takes up much less space than storing them all in the boxes or laying them all out on shoe shelves.
A few more examples:
Storing items in rectangular containers versus round containers is a much more efficient use of space.
Taking things out of the original packaging will save loads of space (seriously, you wouldn't believe how many people I know who store things in the original boxes!)
Use drawer dividers to corral like items and make it easier to store more in less space (while still being able to find what you need)
3. Use Double-Duty Storage:
This is one of my favorite tips — because it's SO quick and easy. All you have to do is look for ways to store items within something that serves a useful purpose.
Use a storage ottoman or bench instead of a coffee table and store blankets or games inside.
Use decorative baskets (with lids) to store craft supplies, photos, DVD's, etc. and then stack the baskets to make a side table next to a chair or couch
Use bunk beds with built-in storage shelves or beds with under-bed drawers for extra storage.
Use a decorative cabinet to store extra linens, kids' toys, computer equipment, gift wrap, or almost anything — while simply looking like a nice piece of furniture in whatever room it lives.
I realize this might all sound too simple, but my 2-step "formula" for determining whether I have too much of something almost always holds true for my own home and life… and I have a feeling it will work for you too!
If you have a NEED or a USE for it, and you have the SPACE to store it, it's more than likely you do not have too much of whatever item is in question. However, if you truly don't need or use the item, or you just don't have the space to store it, I'd encourage you to let it go!
What might you have TOO MUCH of?