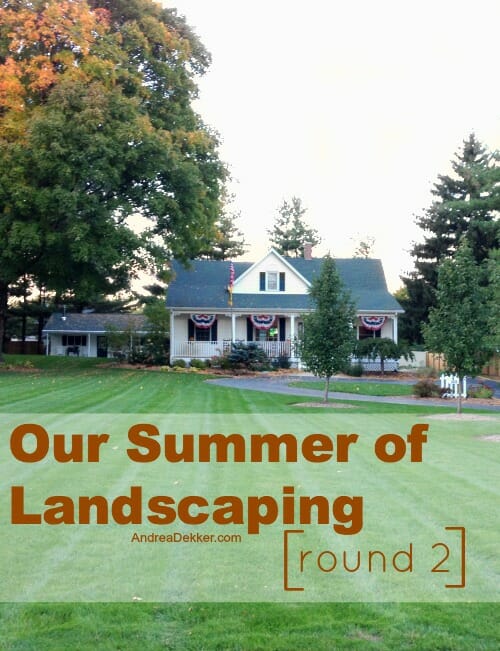 Since we're nearing the end of October and summer is obviously LONG gone, I figured it was finally time I share some of our 2014 landscaping before and after photos.
To give you a general idea of what we're working with, here's a fully "to-scale" drawing of our property along with a fairly accurate placement of trees and planting beds.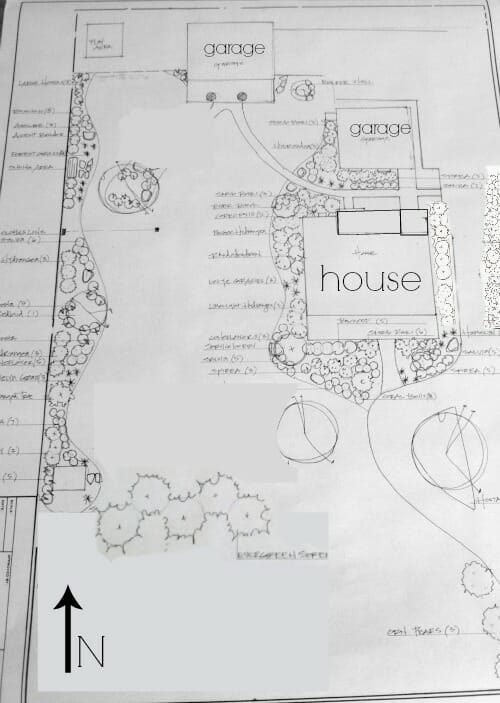 When we started our landscape overhaul last summer, we had the intentions of making it a three-year project. We did the most expensive and most time-consuming work last year; removing several massive trees, "undoing" and then relandscaping all around our house, garage, and 2nd garage, as well as some MAJOR lawn/grass repair (read more on that here).
Our goals for this summer were to finish our fence, add generous planting beds along the new fence on both sides of our property, and transform the area inside our driveway turnaround.
We actually finished the fence and added lots of plants/trees along the west side of our property before school was even finished in June… but then we ended up investing all our extra time into the new mudroom, the new deck, the new shed, growing grass in several areas around our property, and maintaining all the plants we planted last year.
We finished the driveway turnaround area the day before school started for Dave, but the planting bed along the East side of our property did not happen as planned this year. However, Dave and I are not discouraged — we both agree that we'd MUCH rather have the new mudroom and larger deck than plants along the East fence… and there's always next summer 🙂
Speaking of "next summer", we hope to finish everything (although you know that landscape work is never really finished). That will involve putting in a new mailbox, landscaping around our mailbox, adding plants along the East fence and the east side of our house, potentially building a raised-bed vegetable garden, and maybe even adding a few "bermmed" planting beds to break up all the grass in our front yard.
Of course, we'll just wait and see how the next 6 months go and what (if any) inside projects we decide to tackle over the winter and early spring. At the very least, we WILL get the new mailbox area finished and maintain all the new landscaping we've done so far!
.
But that's enough chit-chat, let's get to the pictures!
I'm starting with my favorite transformation of the summer…
The driveway area in front of our house.
2013: Before The white arrow is pointing to the big (half-dead) maple tree we had cut down from the middle of our driveway turnaround.
2014: After the tree was removed and sod was planted.
It feels so great to have that huge tree out of the way. I feel like we can actually see our house and all our landscaping now.
From the sidewalk, looking back at our house.
2012: Before
2013: New fence and spruce trees
2014: Extended fence + more plants around the spruce trees
Also, if you look to the right side of the picture, you'll see the new fence we put up along that side of our property this summer as well as the missing maple tree we cut down in our turnaround driveway area.
A close-up view of the same area.
2013: No extra plants and unfinished fence area.
2014: More plants, the new shed, and an extended fence.
.
From our driveway turnaround looking back towards the new shed.
2012: Before (but after we cut down a BUNCH of over-grown bushes along the property line.
2014: New fence, new shed, lots of new landscaping, reseeded lawn.
NOTE: all the junk in our lawn is mulched leaves as Dave had just mowed — and I waited WAY too long in the season to take the after pictures 🙂
.
Standing by the new shed looking towards our back yard.
2012: Before (but again, this is after we removed the bazillion over-grown bushes along the property line)
2013: New fence and all plants/shrubs removed
2014: Lots more plants, the new shed, wood chips, grass seed, regrading, etc.
.
Now let's move to the other side of our property — along the driveway and closer to our house and garage.
Standing by the front of the house looking back towards the garage.
2013: Before we didn't even touch this area last year.
2014: After cutting down trees, clearing out tons of ground cover and brush, and starting on the fence.
2014: Done with the fence but no plants as we ran out of time and energy to do any more projects this year!
Our 2015 plan: cut down a few more pine trees, remove all the existing grass in the photo area above, and add in a bunch of shrubs, trees, and perennials. This area is what we see right outside our kitchen and dining room windows, so we have big plans to create a really beautiful space that we'll be able to enjoy looking at all year long!
.
We also cleared out the area along the side of our house (between the house and driveway). We removed over 300 landscape bricks (sold on Craigslist), removed all the lava rocks, removed a bunch of dirt, and leveled it with the driveway.
We put a thin layer of mulch down just to stop erosion and most of the weeds, but this will hopefully be on the project list for next spring!
We will put plants and more mulch in next spring when we add plants along the fence line.
.
Here are a couple photos from the backyard looking out towards the front yard.
Standing by our 2nd garage looking over the back yard area.
2013: Progress: we had already built the fence and removed the huge cement pad in the middle of our yard,
2014: New grass, shed, and plants along the fence
.
Standing by the swingset looking towards the front / side yard.
2012: Before
2014: New fence and landscaping as well as removing the cement pad and growing lots of grass.
.
And last but not least, a before and after of the new deck/mudroom area.
2012 Before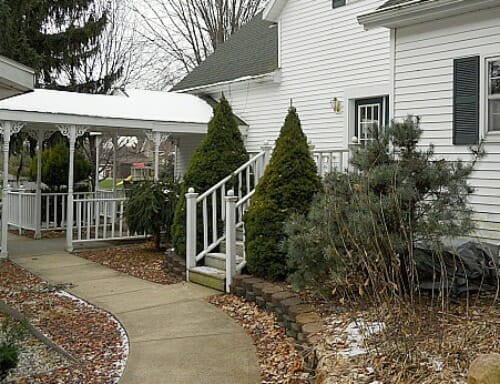 2014: After new mudroom, new deck, new plants.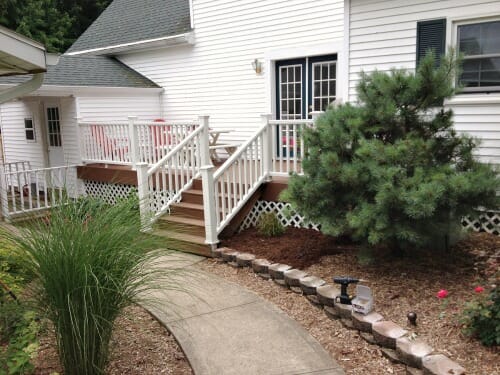 .
So that's it for this year.
As I was typing up this post, I suddenly felt like we really didn't accomplish all that much yard work after all. However, I need to keep reminding myself that we spent a decent amount of time and money on the mudroom, the deck, and the shed (none of which were originally on our "outdoor projects list" for this summer) so I need to be OK with the fact that we weren't able to cross everything off our list this summer.
It's exciting to see how much bigger everything we planted last year had gotten — I was tempted to add a bunch more pictures at the end of this post to show the growth… but we'll save that for next year after all the landscaping is (hopefully) finished!