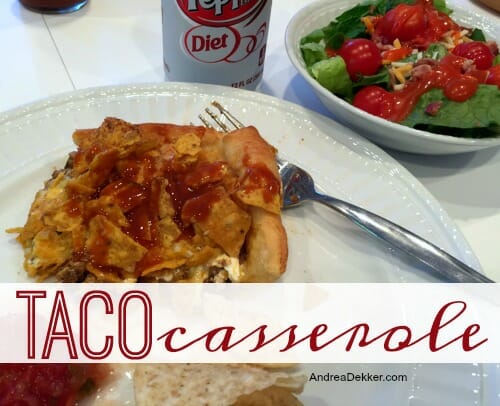 I'm back with another Kids in the Kitchen post today — and honestly, this recipe is so simple, even a very young child could help.
There are so many fun steps for kids — pressing out the dough, sprinkling shredded cheese, crushing up Dorito chips, crumbling the chips over the top of the casserole, eating a few chips while you work, etc. etc. 🙂
My kids LOVE taco meat, they love cheese, and they loves Doritos — so this meal is always a big hit with them.
Of course, I love the fact that if I have taco meat made up ahead of time (which I usually do) it only takes me 5-10 minutes to have this meal ready for the oven, and only another 20 minutes to bake.
I whip up a couple of salads and clean up the kitchen while food is in the oven, and I can literally have dinner on the table in less than 30 minutes!
Taco casserole is one of my favorite quick-meal options for busy weeknights — plus, the kids love that they can help.
Recipe for Taco Casserole
serves 6-8
INGREDIENTS:
1 pkg. refrigerated crescent roll dough
1 pound prepared taco meat (however you prepare your taco meat**)
1 c. sour cream
1 c. shredded cheese
2 c. crushed Cool Ranch Doritos
**I usually make my taco meat with diced onions and pepper. I only use 1/2 c. water to mix in with the taco seasoning and sub in 1/4 c. taco sauce for the other 1/4c. water (see photo below).
DIRECTIONS:
Preheat oven to 350ºF.
Press crescent roll dough in the bottom of a lightly greased 9″ x 13″ casserole dish
Spread taco meat mixture over dough
Spread sour cream over meat mixture and then sprinkle cheese over that.
Crush chips (I didn't have a full bag, so I just crushed them right in the bag) and pour over top of cheese
Bake in preheated oven for 20 minutes.
Serve with taco sauce, salsa, diced tomatoes, lettuce, or more sour cream (optional)
I personally would not freeze this recipe because I don't think the crescent roll dough would freeze well — but you can easily freeze the prepared taco meat to use whenever you're ready to make this casserole (or so many other meals!)
The rest of the meal is so quick and simple to throw together that, as I mentioned above, you can have it ready for the oven before your oven is even preheated!
What are your favorite 30-minute recipes?
Visit my virtual recipe box for more simple, delicious, family friendly recipes!