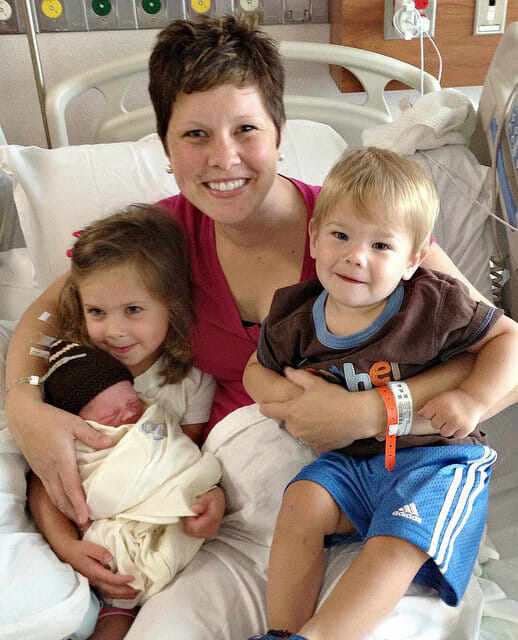 Just weeks after Nora was born, I went to the doctor for my routine 6-week checkup. Of course, Nora came with me because she was ALWAYS with me. I figured it wouldn't be a huge deal to take her along, and I wanted the doctors and nurses to see how cute she was.

She SCREAMED the entire time — to the point where I was actually crying in my room while I was waiting for the doctor to come (he was unfortunately running way behind schedule). Thankfully, a kind nurse came and took Nora, fed her a bottle, and held her while the doctor finally came in and finished my checkup.

We left the doctor's office and both of us sobbed the entire 25-minute drive home. When we got home, I fed Nora again and we both slept on the couch for a solid 2 hours (which was ridiculously long for Nora to sleep back then.)

I remember waking up from that nap and thinking "There is no way I can ever do this again." And for the first time in my life, I seriously considered only having one child — even though I knew Dave and I both wanted several children.
I remember that day so vividly (I even remember what Nora and I were wearing). It's permanently etched on my brain as a reminder of how extremely difficult and challenging that tiny newborn phase of life is — especially for anyone with a fussy, colicky, overly-sensitive, or high-needs baby.
Oh, and for the record, I went to all my other 6-week checkups child-free 🙂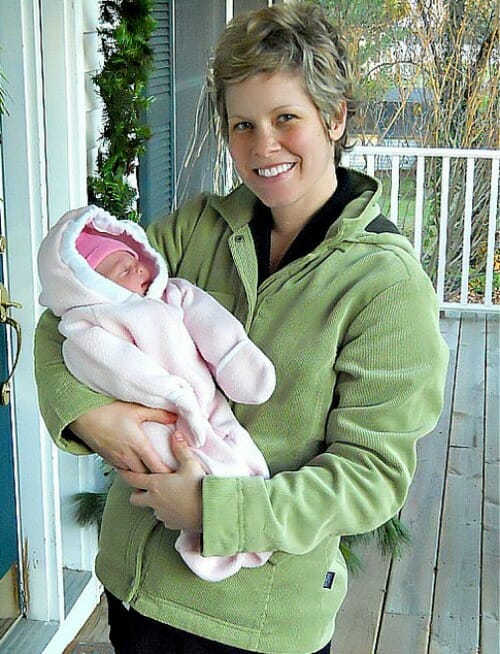 (our first day home from the hospital — I felt as tired as I looked!)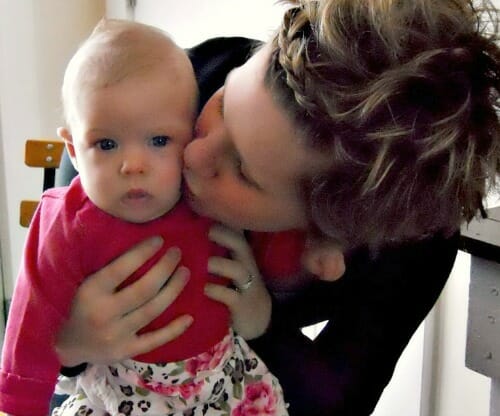 (Nora @ 12 weeks old)
.
It was at that same 6-week doctor's visit that I first heard the term "The 4th Trimester". The nurse was trying to encourage me and said, "Just wait until the 4th trimester is over… things will start to get better."
I must have stared at her with that overly-tired new-mom zombi stare for a bit too long, because after an awkward silence, she went on to explain that the 4th trimester is considered the first 12 weeks after a baby is born and learning to adjust to life outside the womb.
While her assurance of "things getting better" didn't offer me any real comfort at the time, I continued to think about the concept of a 4th trimester long after that day…
(Simon @ 12 weeks old)
Now, looking back on 3 very different pregnancies and 3 VERY different babies, I can honestly say that "The 4th Trimester" is real.
With each of my babies, I noticed a significant change in myself and the baby after those first 12 weeks passed.
Even though Nora was by-far my most challenging baby, I can remember feeling so much better mid February (right around 12 weeks). At the time, I thought it was simply because one of the international students living with us moved out at the beginning of February due to major behavior issues. And while I'm sure that didn't hurt anything, I know that I personally felt slightly less exhausted and overwhelmed right around that time. I can remember going to bed early on Valentine's night (Dave offered to stay up with Nora) and thinking that I was starting to feel like I sort of knew what I was doing 🙂
Then with Simon, I felt another huge shift in my physical and mental state right around the beginning of June (almost exactly 12 weeks from when he was born). Of course, I assumed it was because Dave was just finishing up school and was home for the rest of the summer. And again, that didn't hurt the situation, but there was still the fact that I felt physically, mentally, and emotionally more "with it" after those first 12 weeks.
After James was born smack in the middle of Dave's summer vacation, I thought I certainly wouldn't feel as exhausted because I had Dave home with me. However, the exhaustion was still there even with all his extra help. I was dreading the beginning of the school year and doing it "on my own"… and it was a lot of work. But would you know, right around the middle of October, I realized that I felt SO much better — physically, mentally, emotionally, etc. — and that's right around the 12 week mark!
(James @ 13 weeks)
By 12 weeks, I had lost my baby weight and was fitting into all my normal clothes again. By 12 weeks, I had developed some sort of "routine" and loose "schedule" for life with a new person around. By 12 weeks, my baby had fallen into some sort of pattern as to his/her eating and sleeping needs (Simon was almost sleeping 12 straight hours by this point!)
Looking back, 12 weeks seems like nothing — just a short page in the long novel of my life. However, as I was going through those first 12 weeks, they seemed to drag on forever (especially with Nora). With James, I tried really hard to keep pushing ahead and telling myself "It will only be for a few weeks" and that did help to keep things in perspective.
After all, if I can get through the tired queasy feelings of the 1st trimester and the sleepless full body aching weeks of the 3rd trimester, I can certainly make it through the 4th trimester with a new baby in my arms.
As with any new change, it takes time to find a new normal — and apparently in my case, it takes roughly 12 weeks to find that new normal when another baby enters our family.
If you're preparing to welcome a new baby to your family (or if you just recently did) I'd encourage you not to set any expectations for you or your new baby for those first 12 weeks. You will most certainly have many exhausting days, sleepless night, and moments where you think you are going insane… but in my experience, it's amazing how many of those things work themselves out after that 12 week mark.
I'm not saying life will be complete bliss after 12 weeks, but I do think that "making it through the 4th trimester" is a great goal to work towards (if you love goals like I do!)
.
And if you're not dealing with a new baby, but instead, trying to implement a new habit (exercising, eating healthier, getting more organized, saving more and spending less, etc.) give yourself a 12-week grace period where you allow yourself to make a few mistakes as you work towards realizing your "new normal".
What are your thoughts on "The 4th Trimester"?