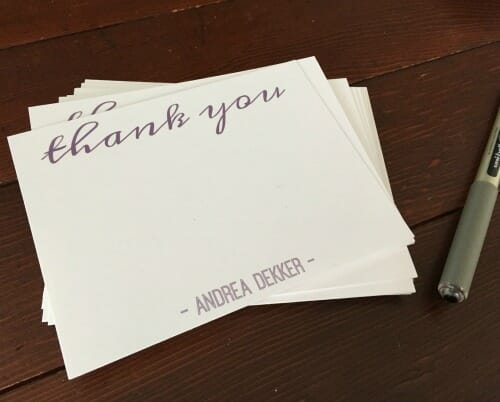 Many of Dave and my conversations are about the blog — talking about various comments we find funny or interesting, dreaming about all sorts of projects, bouncing around ideas for future posts, etc. etc.
It's a topic that's on our minds quite regularly, so I surprised us both a couple of weeks ago when I blurted out the possibility of shutting down the blog — Dave looked at me like a deer in the headlights!
Honestly, I do NOT want to shut it down, but I told him I was open to the possibility if other opportunities came along, or if we felt it was the right decision for our family.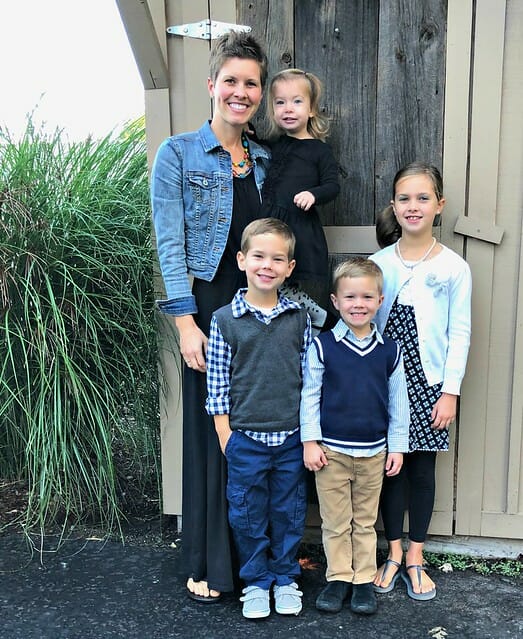 Prior to our conversation, I had been thinking about how different my life will be in just a couple of years when all 4 kids are in school for the majority of the day — how much more time I'll have to do some of the things I've been dreaming about for years now!
Will blogging be on that list yet?
I don't know… but honestly, I hope it is!
After talking with Dave the other day, I thought more about what I could do outside of blogging… certainly, I'm qualified and capable of working many other types of jobs. But at this point in my life, I truly cannot imagine doing anything I love even half as much as sharing my home, my life, and my ideas online.
Maybe my thought process will morph over the next few years as my children get older and as our family's priorities change, but over the past 2 weeks (since I first mentioned shutting down the blog to Dave) it has become VERY clear to me that blogging is exactly where I'm supposed to be right now!
The VERY NEXT MORNING (after my late-night conversation with Dave) I woke up to several encouraging emails from long-time readers who just wanted to tell me "how much they enjoyed my blog and appreciated all the time and energy I put into updating it every day."

Later that SAME DAY, one of my recent posts went "viral", causing my blog traffic and ad revenue to skyrocket.

The NEXT DAY another older post went "viral", resulting in even more traffic for the rest of the week. (2 viral posts in a row has NEVER happened to me.)

The following day, I found myself scrolling through a variety of online articles related to growing a blog, managing a blog, improving online visibility, etc. — all topics I usually don't search out, but had simply "landed on" in the process of looking for other information online.

And later that week, I had a huge burst of energy and drafted out countless blog posts for the coming weeks and months ahead (something that normally doesn't happen all at one time).
To me, it all felt very providential and affirming that I am doing what I'm supposed to be doing right now.
And you know what? I'm thrilled!
As I continued to mull over so many random thoughts related to my blog and my business, the one that kept coming back to me was the fact that I wanted to say THANK YOU to all of YOU.
Without you, I couldn't earn a living working from home — and without you, I certainly wouldn't enjoy my time blogging nearly as much!
So… THANK YOU!
Thank you for faithfully reading every day, for sharing on social media, and for subscribing to my daily emails.
Thank you for your thoughtful, interesting, helpful, and funny comments.
Thank you for your tips, ideas, and suggestions on everything from how to get Nora to sleep and Simon to talk to how to finally get my whole grain bread to rise!
Thank you for giving this semi-introvert an opportunity to voice myself without actually being around people all day long.
Thank you for being so gracious when Dave and I both miss glaring typos (I have a couple of readers who religiously send me a private message by 7 am any time they see a typo in my post. It's so helpful and appreciated.)
Thank you for not expecting too much from me and for patiently waiting while I take time away from the blog each year.
Thank you for loving our children "from afar" and sharing helpful tips, advice, ideas (and funny stories) to make my parenting journey easier and more enjoyable.
Thank you for your cards, gift cards, and packages for myself, for Dave, and for our children.
Thank you for trying my recipes and then coming back (time and time again) to tell me when one is a huge success for you.
Thank you for your emails filled with encouragement, affirmation, and appreciation for what I do and all that I offer online.
Thank you for celebrating birthdays, anniversaries, new babies, and exciting events alongside our family.
Thank you for emailing me coupon codes for places you know we'll use (Culver's, Blurb, Amazon, ThredUP, Shutterfly, and most recently, American Girl).
Thank you for introducing yourself to me at Meijer, at the Zoo, at various thrift stores, and other places when I'm out and about.
Thank you for mailing me a replica model of the Titanic all the way across the United States to use for a cake I decorated for Nora's class! 🙂
Thank YOU for allowing me to do the things I love doing most… all while taking care of the people I love most!
I smile as I remember a conversation I had with my dad back when I was in college…
He told me I'd be "successful" if I found a way to get paid for doing something I love — even if I didn't make a huge salary.
At the time, I felt discouraged by that advice because the things I loved doing and felt passionate about were all the normal, mundane, everyday things like cleaning, organizing, cooking, gardening, sewing, etc.
Certainly, I couldn't get paid to do those things… right?
I told a friend that I just wanted to be a "small-scale Martha Stewart"… and while my blog doesn't amount to even a tiny fraction of Martha Stewart's success, I can't deny the fact that I now make my living (and am "successful" in my own small way) doing exactly what I LOVE to do — cleaning, organizing, cooking, gardening, sewing, mothering, etc. etc.
This past decade has been a wild ride, to say the least.
I've thought about throwing in the towel more than a few times, but thanks to so many of YOU (and probably a little bit of my own determination), I've stuck with it day after day, week after week, month after month, year after year.
And I'm SO happy I did!
Thanks again!
(baby Nora — circa. 2012)