Are mornings stressful and chaotic in your home? If so, you can join the apparent 95% of Americans who say they "hate mornings" and continue living in chaos. OR, you can read today's post, and implement a few of my morning must-dos for stress-free mornings.
I know which option I'd choose!
And don't worry, you do NOT need to wake up at 4 am to make this happen!
.
Over the course of my adult life, my morning must-dos have changed and shifted…
I started with a "normal" alarm (6:30 am) before I had children or any reason not to sleep amazingly well every night!
Then I banned all alarm clocks from my life for a few years as I rocked a sleepless Nora in my arms, praying she'd sleep for just 30 more minutes.
I eventually shifted to slightly earlier alarms (5:30) when I felt my life slowly returning after having 2 little boys in 16 months' time.
Finally, after all my children were consistently sleeping through the night, Dave and I decided to wake up at 4 am every day. We've been doing this for roughly 15 months now and hope to continue for the foreseeable future!
All of this to say… there are most definitely "seasons of life" for morning productivity. Please don't feel bad if you love to sleep in… or even if you NEED to sleep in to regain a little sanity.
HOWEVER, if you are tired of stressful mornings and want a few simple tips that should work for just about any busy family, I'm confident that my 5 "morning must-dos" will help you enjoy stress-free mornings once again!
5 Morning Must-Dos for Stress-Free Mornings
This post may contain affiliate links. Read my disclosure.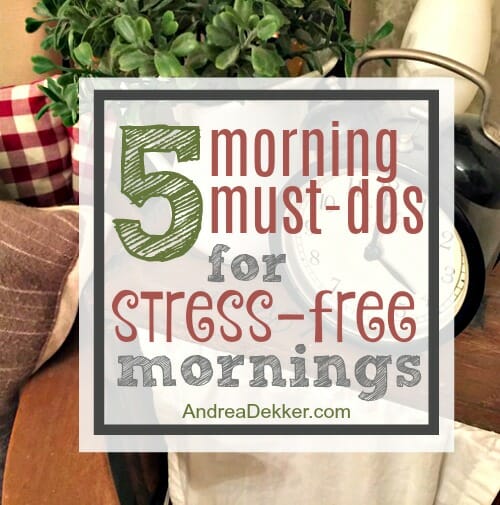 1. Start With a Plan
My first 2 tips for stress-free mornings start the night before — but I promise, this one will only take you a few minutes!
Simply use an actual piece of paper and pen (or a to-do app) to physically write or type 2-3 things you'd like to accomplish the next morning. Do not think you will "remember" them… because you probably won't! Write them down!
You can also make a "Top 5 List" for the next day and/or write out a detailed to-do for the entire day (that's up to you). My main request is that you simply have a plan for what you will do once you wake up (see #3 and #4 below).
With a plan in place before your alarm goes off, you will automatically set yourself up to be more productive and efficient with your morning minutes… which is the foundation of stress-free mornings!
2. Get Organized The Night Before
No matter how busy I've been or how tired I am, I do as much as I possibly can the night before. I know from experience that anything I can do the night before will help to de-stress the morning craziness.
I pack lunches, load up backpacks, plan breakfast and dinner for the next day, pick out clothing, clean out the dishwasher, declutter the mudroom, pick up the living room, and often even pack the van if we'll be driving somewhere early in the morning.
I make sure we have the library books in the van if we're going to story hour. I locate the papers that need to go back to school. I make pancake batter so it's ready to go when we wake up. Honesty, I've even thought about sleeping in my clothing for the next day — but I decided that was taking things a little bit too far!
If you can muster up the energy to devote 30 minutes every night to prep for the next day, your mornings will be SIGNIFICANTLY less stressful!
NOTE: Here's an older post with a listing of everything Dave and I do the night before.
3. Wake Up Before Everyone Else
The exact time of your alarm is NOT important here — 4 am or 10 am — it really doesn't matter.
The important thing is that you wake up at least 15-30 minutes before anyone else AND that you use that time as efficiently as possible!
I don't expect you to wake up hours and hours before the rest of your tribe — although that's an option Dave and I have tried with much success. All I know is that you WILL enjoy many more stress-free mornings if you wake up before everyone else. So let's start with 15-30 minutes!
After you wake up, DO NOT sit down at your computer and scroll through Facebook, do not read your book, and do not start a big project you'll never finish in 15-30 minutes.
Use that 15-30 minutes to jump-start your day in a way that will drastically reduce the stress and craziness in your life for the next 12-24 hours!
4. Get Dressed and Ready First
As I just mentioned above, the key to stress-free mornings is to jump-start your morning. For me, this means getting dressed and ready FIRST. (You might consider picking your clothing out the night before to save time in the morning.)
Here's how I almost always utilize the first 15-30 of my mornings:
(5 minutes) get out of bed and make the bed
(3 minutes) go to the bathroom and get my hair wet (here's how I style my hair)
(5 minutes) get fully dressed in whatever I will wear that day (with any accessories, jewelry, etc)
(5-7 minutes) do my makeup and finish my hair (it dries in about 5 minutes!)
(2-5 minutes) look at my to-do list (see #1 above) and start on the first thing (laundry, breakfast, etc.)
Yes, I'm moving quickly, but that's the point!
I don't let myself get distracted. I don't check my phone or computer. I don't get side-tracked by a bigger project like picking up the house, starting the laundry, or working on my blog.
I simply do the basics I absolutely must do to be able to get out the door and move on with my day. I get dressed and ready to the point where I can leave the house without any further "preparation".
If you only have 15-30 minutes before others wake up, use that time to get dressed and ready. In my experience, it is the best use of those precious few minutes and will drastically lessen the craziness of the next hour.
NOTE: if it takes you significantly longer than 30 minutes to get dressed and ready, I highly recommend waking up early enough so you have time to get dressed and fully ready before anyone else is awake (either that or figure out a way to streamline your morning routine!)
5. Give Yourself 10 Extra Minutes
While I don't necessarily think arriving 10 minutes early for every occasion is wise or acceptable, I DO think it's a good idea to give yourself at least a 10-minute buffer every morning (maybe longer if your travel time is more substantial).
I do this daily as it's one of the only ways I'm able to regularly arrive on time with all my children (here's how we "kill the time" when we arrive too early).
If I need to be somewhere at 7:30, I plan to get there at 7:20. If I have an appointment at 9:00, I plan to arrive at 8:50 and then structure the rest of my morning accordingly.
Yes, this might mean you will eventually need to wake up another 10 minutes earlier… but what will help you more over the course of your entire day? Will you benefit more from 10 extra minutes of sleep or from actually getting out the door on time and not feeling the stress that comes with rushing throughout your entire day?
I know what my answer is!
Now, certainly there are so many more factors that go into enjoying a stress-free DAY, but when it comes to de-stressing the mornings around our house, these are 5 tips that often seem to help us.
You don't need to hate mornings.
Arriving late and frazzled for your morning meetings does not have to be the norm.
Screaming at your children to "hurry", "eat faster", or "run out to the bus" should not be an every morning ritual.
By implementing even a few of my 5 mornings must-dos, I feel confident that you and your family will be able to enjoy stress-free mornings!
What are YOUR best tips for stress-free mornings?