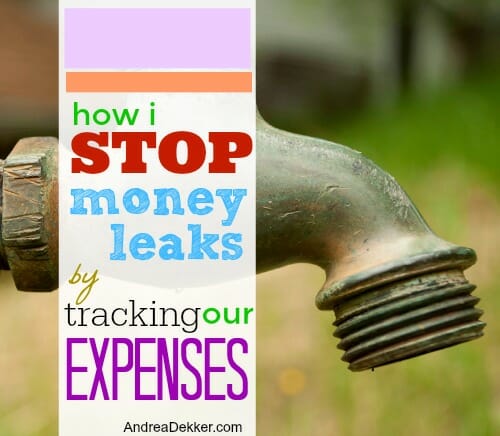 For the past 15 years (since my sophomore year of college) I have tracked almost every dollar I've spent, given, and earned. Certainly I have forgotten a few transactions here and there, but for the most part, all my spending is accounted for in my finance-tracking workbooks.
I save a new copy to my computer every year and enter in any expenditures on a weekly (often daily) basis — it takes me less than a minute and it's a habit now, so I rarely forget.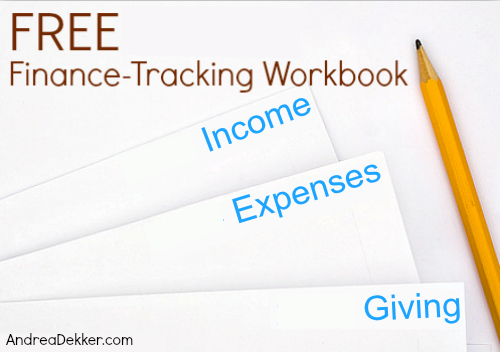 .
As I've mentioned many times before, my finance-tracking workbook is NOT a budget. It does not limit how much I can spend in various areas or categories… but instead, it tells me how much I actually do spend.
I can look back over the years and see how my grocery budget has exponentially increased from rarely spending more than $20 per week back in college to my current weekly bill — close to $150 at times!
I can track how various utility bills have gone up over the years (partially because we use more, but also because the rates are increasing).
I can pinpoint when we've added novelty expenses like smartphones with monthly data packages, Netflix, or Amazon Prime.
I can even see how our expenses have increased almost immediately after each child is born.
.
When I first started tracking my expenses back in college, I did it because I had NO idea how much money I actually spent each month… which meant I had NO idea how much to budget for various categories like food, gas, utilities, clothing, entertainment, etc.
I was on a very limited monthly income and I knew I'd have a nice pile of student loans waiting for me when I graduated, so I was bound and determined to keep my monthly expenses as low as possible.
By tracking my expenses, I could quickly see where I was spending my money – as well as where I could potentially cut back to save even more.
.
Now, 15 years (and almost half my life) later, I still track our income, expenses, and giving… but it's no longer because I'm worried we won't have enough money in our bank account to cover our monthly bills.
Instead, I track our expenses to see how our spending habits change over the years AND to pinpoint potential "money leaks".
It's always amazing for me to see how easily overlooked various little expenses are. They creep in each month or each year — even for a very frugal person like myself.
The cell phone bill goes up by $5 a month
Your cable or internet bill goes up by $8 a month
Netflix raises its prices by $1 a month
The electric rate increases just a bit
The garbage company tacks on a random $12 charge
Your kids decide they like getting hot lunch more regularly
There are more mouths to feed — which means more groceries (again!)
We buy more gifts for people at Christmas
We end up at thrift stores more often than necessary
Obviously, some of these expenses might be caused by a growing family, changing needs, a new job, or a larger home; but some of these expenses are simply because we don't even realize how much more we're spending month after month.
Can anyone relate?
.
While I don't analyze our finances every month, I do try to take a few minutes to glance at it every 4-6 months, and it's quite interesting how many little "money leaks" I've found throughout the years.
Everything from grocery splurges that continued on for months at a time, to a pile of "extra expenses" that filled up the miscellaneous category each month. Sometimes my extra expenses are legitimate, but other times they are money leaks that, once spotted, I can "fix" and stop leaking (wasting) even more money each month.
Things like…
canceling our newspaper because we didn't read it enough to warrant the increased price
dropping cable due to increased rates
calling the garbage company to negotiate a lower rate after a random $38 increase from last year (I just did this last month)
shopping at Aldi to reduce our ever-rising grocery bill
canceling various subscriptions we don't use regularly (we're still waffling about Netflix right now… the price has gone up so much but the kids do use it)
noticing when house project expenses start to creep up and become more than we originally budgeted for
I could share countless other stories like these from the past 15 years — times when I most likely wouldn't have even noticed a slight gradual increase in spending over many months and years. However, by looking back over my finance-tracking workbooks, I was able to spot the increased spending, consider if the higher costs were worth it for our family, and then make changes to our budget accordingly.
Of course, I'm not opposed to increasing expenses as our family grows.
For me, it's more the point of being good stewards of our financial resources, saving when we can, and not over-paying for convenience items when we don't have to.
While I know a finance tracking workbook won't work for every family (remember, it's NOT a budget) I'm certain we have saved thousands and thousands of dollars over the past several years, simply because I'm able to spot and stop money leaks — thanks to the fact that I faithfully track all our expenses month after month, year after year.
Do you track your expenses? If so, what system do you use to track the expenses? And have you found any money leaks over the years?
Feel free to download my simple Excel spreadsheets to track your own finances… and if you have other great tools you use to track your own expenses, please share them in the comments!