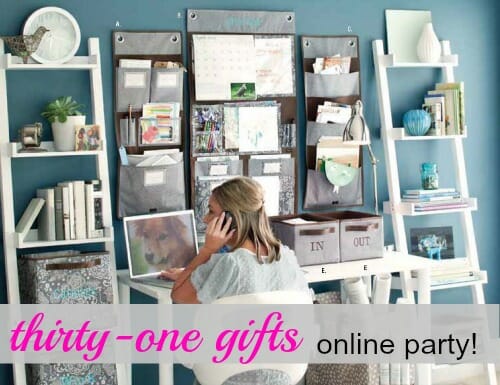 I'm switching things up a bit this weekend and posting my "normal" Weekend Giveaway tomorrow… because today, I'm hosting a fun Thirty-One Gifts online party!
I'm honestly not sure how it will go as I've never ever hosted any type of "sales" party before — either in real life or on my blog. However, I'm willing to give it a try because I personally use and enjoy many of the Thirty-One products, so I can confidently promote them on my blog. (If you've never heard of Thirty-One Gifts before, you can read more about them here.)
Plus, I rarely have time to attend these types of parties in person, so I figured this online party might be a great opportunity for those of you who, like me, want to purchase something but don't have the time or desire to attend a formal party.
Since January is a big month for getting organized, Thirty-One Gifts has some awesome sales going — which will hopefully allow you to find some fabulous deals 🙂
You may purchase anything you like through this link or just look without making a single purchase!
Here are a few of my favorite products!
1. Organizing Utility Tote — we use this for our diaper bag and love it!
2. Zippered Pouch — we have this pouch inside our diaper bag to hold the diapers and wipes.
3. Timeless Wristlet — love these wristlets (and they are awesome gifts)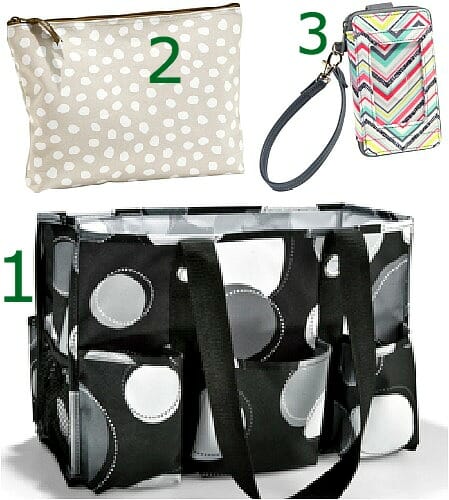 4. Large Utility Tote — these are awesome for carting lots of stuff around, and they fold down flat!
5. Cinch Sack — Nora has one of these and loves stuffing toys in it and carrying it around the house 🙂
6. Littles Carry-All Caddy — Another fun item to help kids stay organized
7. Metro Bag — LOVE this! It's an awesome beach bag or even a weekend bag
8. Small Magazine Basket — There's probably a use for this basket in every room of the house.
9. About Town Blanket — We keep one of these in our car all the time.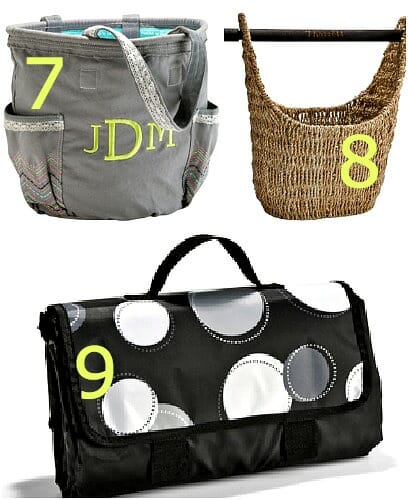 They also have a new "Collegiate" line of bags and totes that are available in many national college colors. These items could be fabulous graduation gifts (for those of you who want to plan ahead!)
January Specials:
As I mentioned earlier, they have a bunch of great organizing products on special for the month of January.
If you purchase at least $31 worth of products through this online sale (ending Jan. 28) you can also purchase one of the following home organizing products for HALF PRICE!
Hang Up Room Organizer (only $15)
Hang Up Home Organizer (only $22.50)
Hang Up Family Organizer (only $12.50)
Your Way Cube (only $17.50)
Your Way Rectangle (only $12.50)
Room for Two Utility Tote (only $30)
To get this special half-price offer, simply add $31 of other merchandise to your cart, then click on any of the links above (whichever product you want to purchase at 1/2 off) and add it to your cart. The item's price should automatically adjust to 1/2 off.
As a reminder, all purchases must be made through this link — and the sale closes Monday (Jan. 28) at 10:00pm EST.
QUESTIONS?
Since I've never hosted a party before, I probably won't be much help!! So if you have ANY questions about the specials, ordering, or the products, please email Hillary Reeves (the Thirty-One consultant I'm working with): hreeves3@comcast.net.
You can also visit Hillary's Facebook group to stay up-to-date on the latest Thirty-One Gifts information.
Happy shopping!