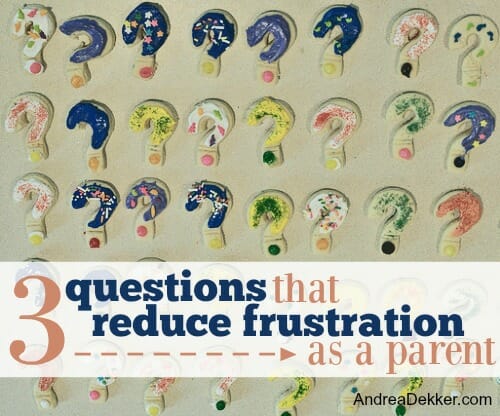 One comment I have gotten over and over throughout the years, is the readers appreciate the fact that I rarely give demanding advice or make bold statements like "you should always do _______" or "you should never do _______".
I share my experiences, what works for me, what doesn't work for me, what products I love (and don't love), and life lessons I'm learning as a mom — and today's post is another one of those "this is what works for me" type of posts.
I think it has the potential to improve almost any "adult-child relationship" — whether it's your child, your grandchild, a niece or nephew, a neighbor child, a friend's child, or whomever.
It's not necessarily "easy" to do (it has taken me a lot of practice and I still forget so often) but it's a very simple concept that has worked extremely well for me over the years — helping to reduce my frustration when interacting with our children.
It is especially good with stubborn or strong willed children… not that I have any experience with that 🙂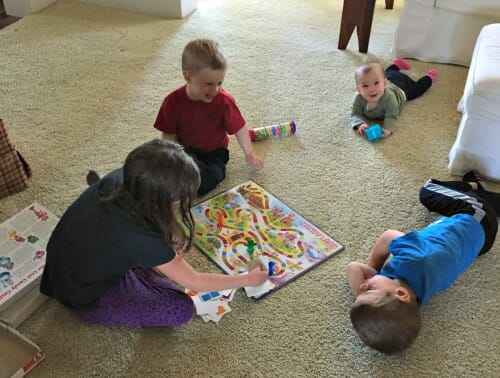 Basically, whenever my children are crying, whining, complaining, being stubborn, acting out, or being difficult, I try to ask myself THREE simple questions…
1. How would I feel if I were in their situation?
Although it is extremely difficult at times, I try to take a deep breath, pause for just a moment, and consider how I would feel in their situation.
What if I were really hot, cold, or just wanted to wear something different?
What if I were hungry, or full, or thirsty, or a particular food just didn't taste good to me anymore?
What if I were tired, or not tired, needed some company, or just needed a little alone time?
What if I wasn't feeling good, had a headache, a muscle ache, an itchy rash, or an upset stomach?
What if I just needed to vent and cry and complain about something?
What if I got out of my normal routine and was having a bad day?
What if I was trying to explain something to someone and they just couldn't understand me?
What if I was so tired of being micromanaged all day and just wanted to make my own decisions?
Usually, when I think of how I would feel in their situation, I instantly have a different frame of mind and can empathize with the child SO much better.
My frustrations and aggravations lessen, and my goal is now to "help" them find a suitable solution instead of "force" them to do it a certain way.
.
2. Is there a deeper reason for their behavior?
More often than not, when my kids are super whiny and difficult, it's because there is something wrong that they don't know how to express with words. This is especially true before their language skills are developed enough — however, I know it can be common with older children who simply don't know how to explain or express themselves.
If they keep getting out of bed or are unable to fall asleep, it usually means they are worried or nervous about something the next day.
If they are having random meltdowns or crying uncontrollably for no apparent reason, it usually means they are hungry or thirsty.
If they are constantly fighting with a sibling or extremely disagreeable, it usually means they are overly tired.
Stopping to ask myself this question is especially difficult for me because I usually need to suffer through the meltdown and then make serveral "educated guesses" before I get to the root of the problem; but once I do, life is SO much better for me and for them.
.
3. Does this really matter in the grand scheme of life?
Does their outfit choice or hairstyle really matter long-term? Nope… and if it's going to cause a huge argument and create tension every morning, then I'm just going to take a step back and let them pick out their own clothing and do their own hair. I will still reserve the right to choose clothing and hairstyles on certain occasions, but for the most part, they can do their own thing.
Does the fact that they just hit someone or yelled at me matter long-term? Yes! They cannot get away with being mean and rude to others without some sort of consequence and an apology.
This one gets trickier as the child gets older — and it can also circle around right back to question #2 above because there is often a deeper reason for the child's bad behavior. However, as long as it's not illegal, immoral, harming themselves, harming someone else, or blatantly breaking my rules or a law, I try to just take a deep breath and move on, knowing that it's most likely not worth the fight.
.
I could give hundreds of examples for all 3 of these questions, but I think you get the idea.
Like I said above, it's a very simple concept, but not nearly as easy to implement — especially in the heat of the moment. It takes lots and lots of repetition and practice (and even then, you might forget more often than not!)
I do feel strongly that children need to respect authority, listen to their parents, and get along with their peers. However, since I really don't get excited about living 18 years with arguments and fights about small petty issues ALL DAY LONG, I try really hard to pick and choose my battles and to ask myself these 3 questions over and over and over again.
Patience is a virtue I didn't get much of… but perseverance is one of my strong suits.
Needless to say, if I can do this, you can too!
I guess for me, it all comes down to treating my children how I would want to be treated and giving them the benefit of the doubt (until they break my trust too often). So basically, the same way we should treat all other human beings!
To be perfectly honest, I feel like these 3 questions could help us when interacting with older children, teens, and even other adults.
What do you think?